1913-2013 - Arena Opera Festival Centennial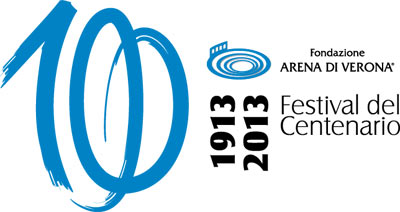 Verona Summer 2013 will be characterized by the events of the celebration for Arena Opera Festival Centennial.
Arena Opera Festival was in fact inaugurated in 1913 with the famous Aida, produced by Giovanni Zenatello, who would have later discovered Maria Callas, and the stage set designed by deco architect Ettore Fagiuoli.
A part from the dramatic years of war, Arena Opera Festival continued to be an important yearly event in Verona attended by music lovers from all over the world and in 2013 will celebrate its hundredth 'birthday'.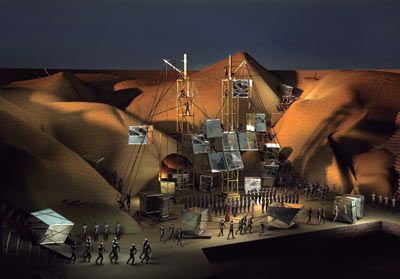 For the occasion the calendar of the events will be extended from June 14th until September 8th, with 58 opera shows and 3 gala evenings. Aida, most important among other Arena operas, will have two different productions, a new one designed by «Fura dels Baus» (in the picture a sketch for the setting) and a remake of the original 1913 stage set.
Art direction of 2013 Centennial Festival will be assigned to Placido Domingo. It is now many years since famous Spanish tenor has become an important collaborator of Verona festival.
Verdi Bicentennial
2013 will be also the bicentennial of Giuseppe Verdi birth. A further occasion for opera lovers to celebrate and attend important music events. Most operas performed at the Arena will be by the great Italian maestro.
The Events
Celebrations for Arena di Verona Opera Festival will not be just the performances inside the Roman amphitheater but will include also a wide series of events with shows, concerts, exhibitions in Verona theaters, squares, museums.
At the Opera Museum of Verona there will be important exhibitions related to the Centennial of Verona Opera Festival and to Verdi Bicentennial.
Follow us on this web page or on

for updades.
ARENA di VERONA
91° Opera Festival of Arena - Verona. Summer 2013
AIDA
New stage set - Directed by La Fura del Baus
June 14, 23, 27 - July 3, 7, 9, 14, 18, 21, 28 - August 3
NABUCCO
June 15, 21, 29 - July 4, 11, 25 - August 1, 4, 11, 14, 18, 21 - September 5
LA TRAVIATA
June 22, 28 - July 5, 12, 19, 23, 26 - August 2, 8
IL TROVATORE
July 6, 10, 24, 27
MESSA DA REQUIEM
July 13
GALA VERDI
July 17
RIGOLETTO
August 9, 13, 16, 23, 30
AIDA
Remake of 2013 stage set
August 10, 17, 24, 29 - September 1, 3, 8
GALA DOMINGO HARDING
August 15
GALA DOMINGO OPERALIA
August 20
ROMEO ET JULIETTE
August 31 - September 4, 7
For further information on operas, events or to book a guided tour before or after the opera performance:
Pictures Courtesy of Fondazione Arena di Verona.

This page contains information about Verona Opera Festival. Although we put our best effort in the accuracy of the content, the information reported is not travel and tourism advice, and should not be treated as such. When planning your journey you must not rely on the information on this page as an alternative to travel advice from an appropriately qualified professional. www.veronissima.com and anyone involved in the editing of content on www.veronissima.com will not be liable in repect of any delays, losses, damages and any other adverse consequences arising from or in conncetion with information contained in www.veronissima.com.


----

Arena 2010 Opera Festival
----Weekend Packages


----

3 days 2 nights
----

Packages include:
Transfer on private car with driver from airport or train station to the chosen hotel
Two nights in double room in three stars hotel close to Verona city center
Breakfast in hotel
Opera Tickets, two performances
Verona Card granting free access to major Verona museums and monuments