Arena of Verona Christmas Crib International Festival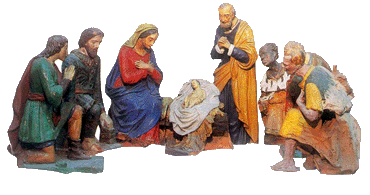 Every year, from the beginning of December until the end of January the International Exhibition of Nativity Scenes in Art and in Tradition is held inside the Arena of Verona.
Guided tours in the exhibition and around Verona.
The Christmas Crib, or creche, was invented by St Francis in 1223. It was the time of the crusades which, with the purpose of freeing from Islam the land in which Jesus was born, were bathing in blood the Middle East. The saint who also met the Saladin in an attempt to stop the crusades, with the Christmas crib wanted to give the message that the important thing was not the place where Jesus was born, but the fact that he was born in itself. With the Christmas crib he wanted to mean that as long as the Jesus is in our heart he can be born anywhere. That is why creches can be made by anybody and set everywhere. May we never forget to see in our hearts the little Baby of Bethlehem, who came to save us from sin.
Verona Christmas Crib Exhibition
During the International Exhibition of Nativity Scenes in Art and In Tradition, more than 400 scenes, renovated every year, are exhibited in the thrilling context of the internal arches of the Roman amphitheater: the Arena. They come from all over the world: France, Spain, Slovenia, Poland, Switzerland, Germany, Austria, the Czech Republic, Portugal, Peru, Africa, Latin America, Cuba, Korea, China and Japan.
The staging of the exhibition incorporates spellbinding special effects that enhance the viewers' appreciation of each single work even though presented here out of their original context. The result is actually an exhibition that is at the same time an actual show with music, lights and projections that all come together to create an atmosphere that is fully in keeping with the nativity scenes on show so as to transform the visitor from being a simple spectator, to being the star of the show.
The Comet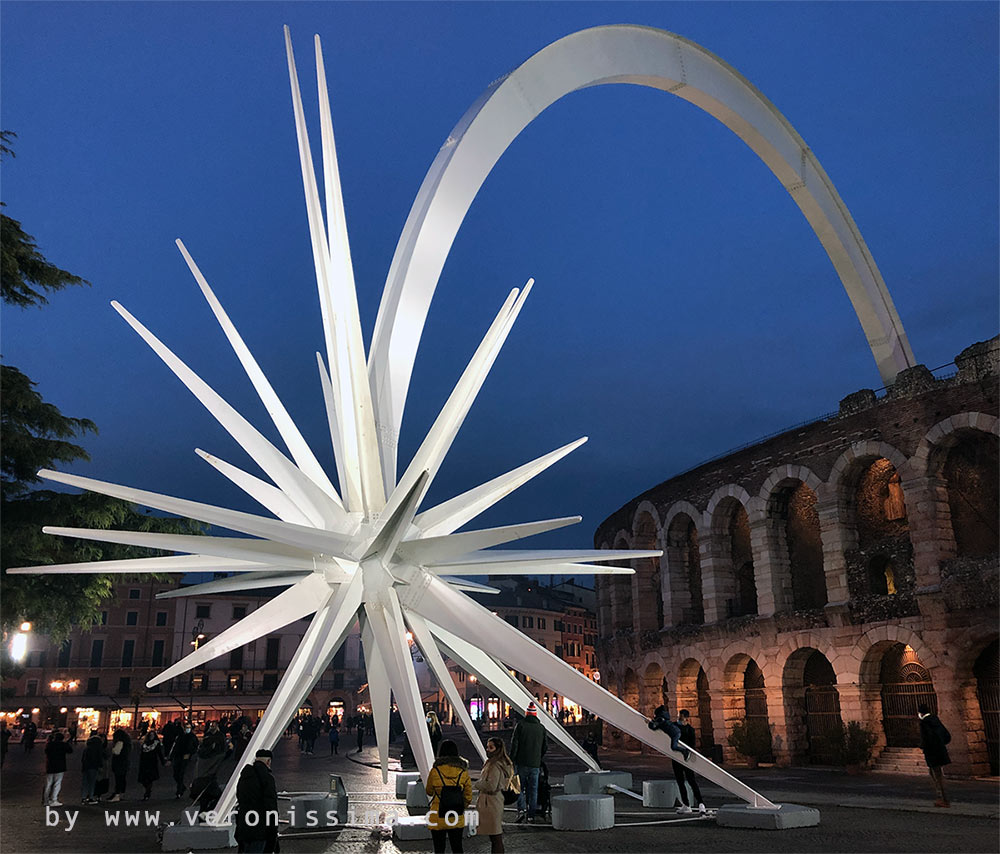 To salute the arrival of Christmas, a gigantic white iron Stella Cometa (Comet Star) symbolizing the one that indicated the three wise men the place were Jesus was born, is erected in the Bra square, its tail stretching over the Arena. It has been defined an arch-sculpture, an iron structure 70 meters high, weighing 78 tons. It was built as a temporary structure for the first edition of Christmas crib exhibition in 1984, but due to the enormous success, like tour Eiffel, it was decided to re-build it every year and is now the most important symbol of Christmas in Verona.
The Exhibition will remain open every day, including holidays from 9.00am until 8.00pm. Ticket is 7 euro, 6 euro for groups, 4 euro concession tickets for students and schools.
For details and further information, guided tours inside the exhibition, or guided itineraries in Verona: