Lake Garda Picture Gallery
Catullus Grotto Sirmione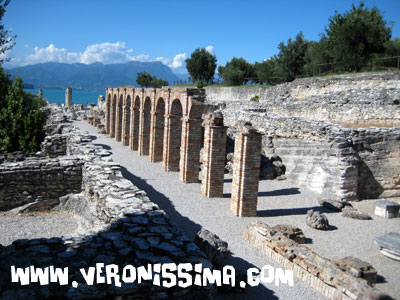 Catullus Grotto, not a real cave, but the remains of the biggest Roman villa in northern Italy. The archaeological area is on the tip of Sirmione Peninsula on lake Garda.
It was a huge building with sophisticated engineering solutions to get through the gaps and drops of the rocks and create a wide terrace almost suspended above the lake. According to the archaeological findings it was a luxurious building decorated with columns, mosaics, frescoed walls and a private spa.
Even today is a quite fascinating place, a maze where, between half collapsed arches and cyclopian walls, grow centuries old olive trees with the blue lake as back drop.
According to the legend, the villa was the house of the famous Latin poet Catullus that mentions Sirmone in some of his most beautiful poems.
Catullus Grotto is an ideal destination for an half day guided tour or as part of a full day guided tour with the tourist guides of lake Garda.