Palladian Itineraries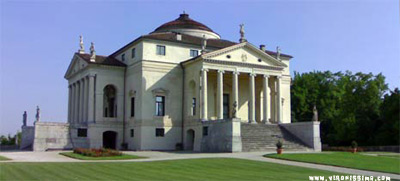 The incredible villas created by noble Venetian families, scattered throughout the Veneto region, represent one of the highest point reached by the Venetian and Veneto culture along four centuries of splendor. The architecture of Andrea Palladio, (1508-1580) represent the highest example of this artistic phenomenon.
Vicenza and the Villas of the Veneto were listed as a UNESCO cultural world heritage site in 1994.
From Verona, by car or by train, in half an hour you can reach Vicenza, the town of Palladio, often called an open air architecture museum, where you can admire not only the masterpieces by Palladio, but also works by some of the most famous Italian classic architects: Francesco Muttoni, Falconetto, Scamozzi, Antonio Piovene and many more. Together with a tourist guide, with a three hours sightseeing tour, it's possible to visit most important Palladian works.

With an half day guided sightseeing tour, some of the most beautiful villas in the outskirts of Vicenza, Venice and Rovigo can be visited. Ask the right tourist guide to design an itinerary which will make you discover some of the most beautiful buildings in the world.

For details and further information on the available sightseeing tours in Vicenza and in the Veneto countryside to discover the Veneto Villas or to design your own Palladian itinerary together with a tourist guide: