Soave Wine Tours: Coffele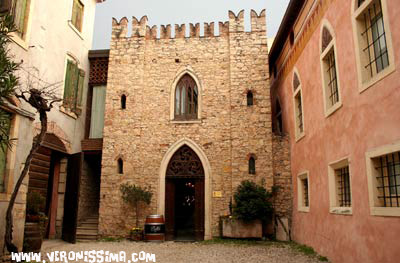 Coffele winery is in the very heart of the old walled village of Soave. The building looks itself like one of the middle age towers overlooking the area from the top of Soave hill.
Coffele is one of the oldest winery in town, even if they started marketing wines in 1971, the cellar it's been in use since nineteenth century. Now the winery is run by two generations of Coffele family who offer a superb hospitality.
Coffele owns 30 hectares of vineyards in the heart of the Soave Classico area. The Garganega grape variety from this location is prized for its ripeness and its fine natural acidity which makes an excellent wine.
The Coffele's Soave Classico has a straw light yellow color with fresh apple and melon aromas. It's medium-bodied, with good concentration and an extremely mild acidity which makes it a perfectly balanced wine which goes perfectly with fish dishes and risotto.
Coffele also produces the Soave Classico "Ca' Visco", a blend of 75% Garganega and 25% Trebbiano di Soave. It's a medium-full wine with very good concentration, a generous mid-palate and a lively acidity.
The Coffele's Soave Classico "Alzari" is a 100% Garganega of which 40% is dried for 30 days and then aged for 12 months in oak barrels. It's a golden yellow wine with aromas of banana, almond and pecan.

For further information about guided tours at Coffele winery, wine tours in Soave or sightseeing tours in the outskirts of Verona: