Vinitaly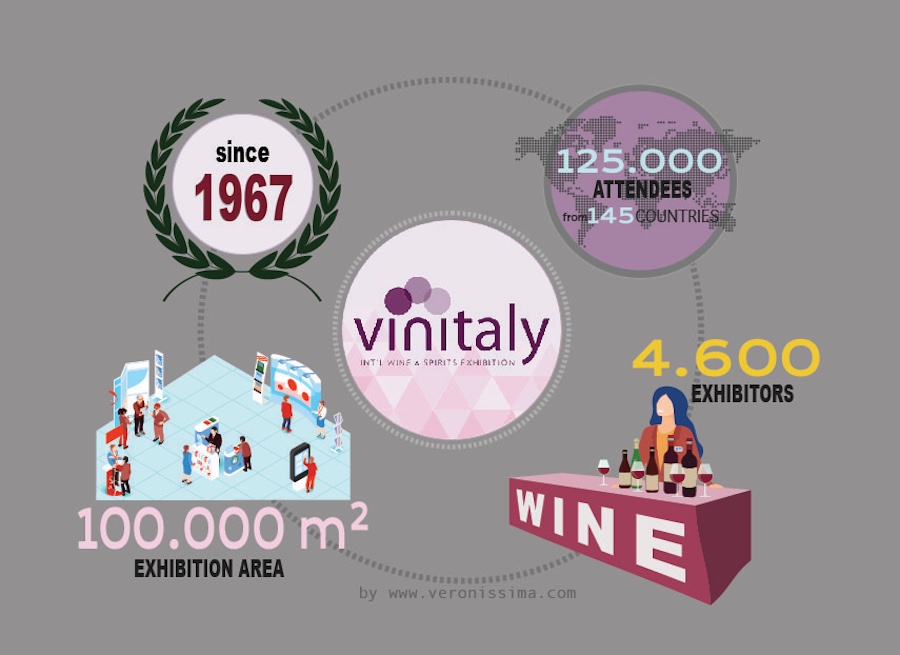 Vinitaly, the world's largest wine and oenology fair, takes place every spring in Verona.
4,600 exhibitors from 35 countries.
100,000 square metres of exhibition space.
125,000 visitors from 145 nations.
Vinitaly takes place inside the Verona Expo, a huge area south of the city, halfway between the Porta Nuova railway station and the Verona Sud motorway exit. Inside there are twenty large pavilions. Participating wineries set up the stands for wine presentations and tastings.
Pavilions are divided by regions.
In addition to wine, there are sections dedicated to wine technology and equipment (ENOLITECH), olive oil (SOL), spirits, beer, gastronomy.
The exhibition area is immense.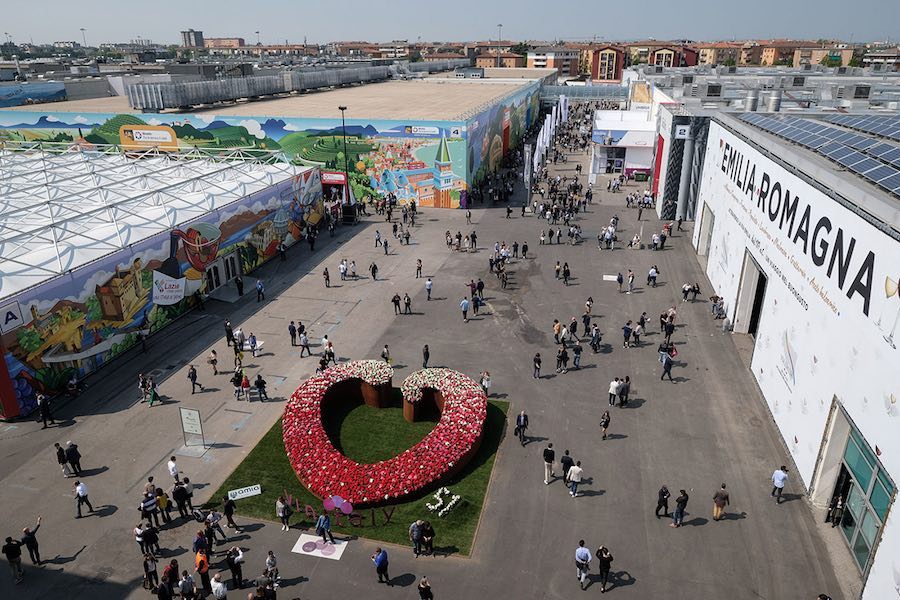 Visitors to Vinitaly are professionals, importers, distributors, international buyers, restaurant owners, oenologists, critics, sommeliers, collectors but also simple enthusiasts, the curious, and all those who have an interest in wine and the world that revolves around it.
Vinitaly is a colossal event. In just one place you will find wines from all over Italy and the world. The most renowned and well-known ones and also niche productions.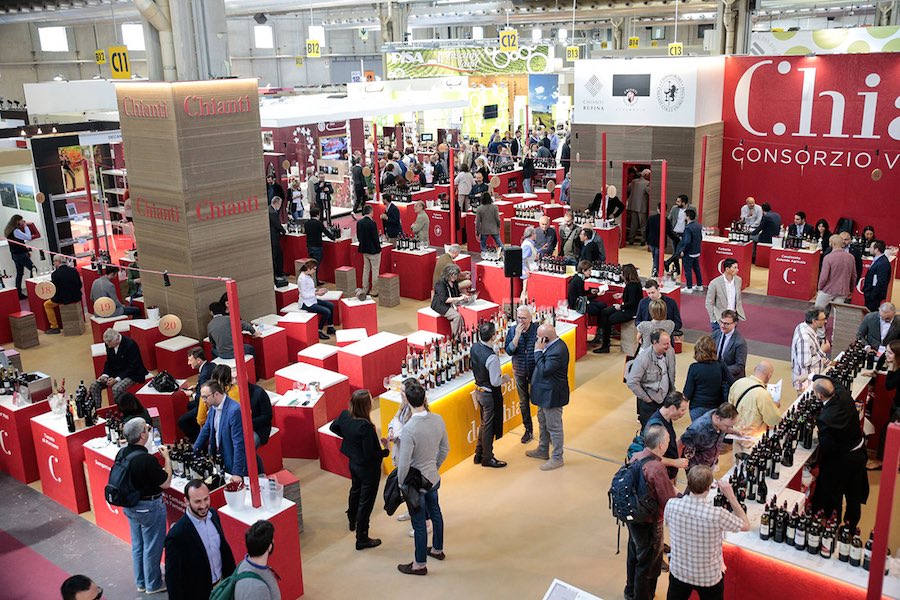 During the event there are also seminars, technical tastings, competitions, conferences, round tables, presentations and events. Vinitaly is a great opportunity to broaden and deepen your oenological knowledge.
In addition to free tastings, the fun of Vinitaly lies also in admiring the infinite and imaginative variety of the stands, many of which are clearly designed to amaze visitors.
Vinitaly was born in 1967. Since then it kept growing until it crossed the borders of Verona with twin events organized by Verona Fiere in the most important Italian wine importing countries: United States with Vinitaly US Tour, China with Vinitaly China, Japan with Vinitaly Japan and Russia.
Outside Vinitaly Events
During the four days of the event the whole city of Verona is involved. Tastings and events take place in the squares, inside buildings and restaurants of the historic centre.
Most activities take place in Palazzo della Gran Guardia, in Bra square and Signori square. Large companies and cooperative wineries also organize parties in restaurants, historic buildings, hotels.
Many small wineries, even if they do not participate in Vinitaly, organize parties and dinners at their cellars for importers and journalists who are in town for the big event.
Useful information
Next editions: 18-21 April 2021 / 10-13 April 2022.
Opening hours: 9:30 to 18:00.
How to get there
Hundreds of thousands of people, including operators and visitors, come to Verona for Vinitaly. In order not to get stuck in traffic jams, you should plan your movements carefully and ahead.
By car
Verona exhibition area is very close to the motorway exit of VERONA SUD. In front of and around expo area there are numerous parking lots for a fee. However, the long straight road that leads to the fair, the neighbouring streets and car parks, on Vinitaly days are often blocked by endless traffic jams. Especially in the mornings and evenings when it opens and closes.
For those who do not want to give up the car, our advice is to exit at VERONA NORD motorway exit, park at the large car parks around the stadium and from there take a shuttle bus to the fair. Departures every 20 minutes.
By train
VERONA PORTA NUOVA station is very close to the Verona Exhibition Center. You can get there on foot in about 20 minutes.
In front of the station there is a taxi stand. The stop is right in front of the station. On fair days the queues to get a cab are very long, especially in the morning.
From the station there is a shuttle bus to the fair every 20 minutes.
Since 2019 there is a free float service of electric scooters in Verona that can be activated via app. In front of the station there is a collection point.
By Plane
The airport of Verona is the VALERIO CATULLO, connected with the major Italian and European cities. From the airport you can reach the exhibition centre in about 20 minutes (depending on traffic conditions). From the airport there is a taxi and shuttle bus service to the Verona Fair.
Hotels during Vinitaly
Finding a place to stay overnight in Verona for the days of Vinitaly is not easy. Hotels, b&b, holiday apartments in Verona and surrounding areas tend to go sold out quickly, especially on the fair weekend. Prices are those of very high season. The advice is to organize well in advance, six months or more. Alternatively you can wait until the last minute. Hotels initially only accept bookings of at least two or three nights for the Vinitaly period and refuse requests for one night only. Therefore, they might still have free rooms close to the start of the fair, which sometimes they put on the market at discounted prices. However, there is a risk of not finding a place to stay.
From the centre of Verona (Piazza Bra) shuttle buses leave every 20 minutes for the fair.
Tickets for Vinitaly
You can purchase tickets for Vinitaly online or at the Verona Expo ticket counters on the day of entry. Over the years the price of the ticket has increased a lot. The cost of admission to Vinitaly for a day is now almost 100 euro. The organisers' intention is to limit the number of non-professionals visiting the event. At the same time, the circulation of free tickets for Vinitaly has decreased. For details and updated information follow this link.
Wine Guides of Verona
The tourist and wine guides of Verona during Vinitaly are available for information, assistance in finding hotels and hotel accommodation, language and interpreting services for companies and individual operators. We can also organize guided tours of the wineries in the Verona area.
If you are a company participating Vinitaly, a visit of Verona together with one of our tour guides is an unusual way to entertain your customers.
+39 333 2199 645
info@veronissima.com