Recioto Wine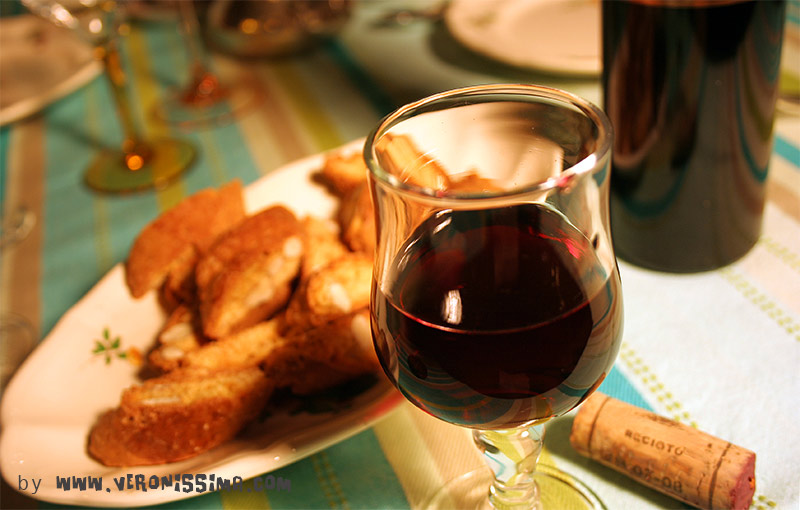 Even if you are not an expert, Valpolicella, Ripasso, Amarone, are wines of which you have almost certainly already heard and read. And probably you may even had the chance to taste them. Instead, you have probably never seen or tried a Recioto. Yet it should be the most ancient and prestigious wine of Valpolicella, even though, like most sweet wines, in recent years it has been a victim of trends and fashion.
Recioto is the father of Amarone and one of the oldest wines in the world. Numerous historical testimonies state that in Valpolicella a sweet wine was produced from dried grapes from before the Romans colonized the region starting in the first century BC. Amarone, in fact, according to legends, was born by mistake in quite recent times during the production of Recioto. The first bottle of Amarone is in fact from the 1930s. The drying of the grapes, which is what makes Amarone so special, was originally used for the production of Recioto. And it is precisely this unique wine making technique that allows us to follow Recioto on its journey through the centuries.
An Ancient Wine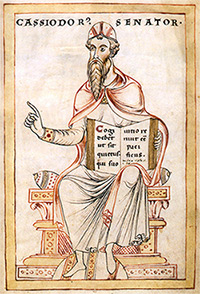 In the 6th century AD, Cassiodorus, minister of the barbarian king Theoderic, wrote in a letter to his sovereign that the next time he was in Verona, where Theoderic often stayed, he should taste a sweet wine produced in the region from dried grapes «with regal color... dense and fleshy... drinkable Tyrian purple of incredible suavity». It was the Vinum Raeticum, produced in a sub-alpine region called Raetia, of which Verona and Valpolicella were part. The Romans loved sweet wines. They used to melt honey inside it as a sweetener. The Raetico wine produced from dried grapes therefore had a pleasant natural sweetness that made it famous throughout the empire. According to the Roman writer Svetonius, it was one of the wines Emperor Augustus loved the most, and had whole barrels sent for his personal stash.
The Name
There is no certainty as to the origin of the name RECIOTO. According to some theories it could derive from the mispronunciation over the centuries of the word Raeticum. According to others the name would derive from the word "recie" which in Veronese dialect means "ears". This is the name given to the two small bunches that often form next to the main bunch. It was once believed that this part of the grape cluster was the sweetest.
The Withering (Appassimento)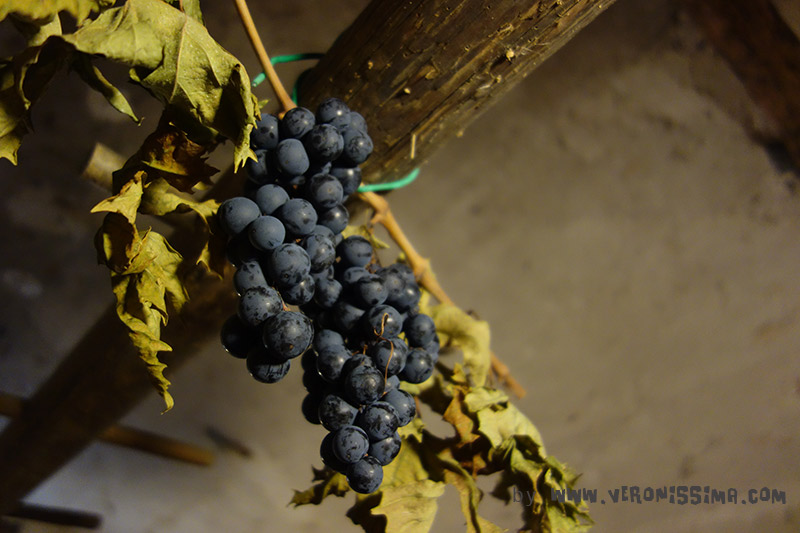 In the past the bunch, after harvesting, was separated into apical lobes (the Recie) and main body. The main body was immediately crushed and fermented, while the two bunchlets, instead, were put to wither to further increase the sugar content. These little bunches were hanged on wires or a net hanging in barns or lofts above wineries. In the eighteenth century silk production spread to Verona as well as to all the territories governed by Venice. In summer farmers bred silkworms feeding them with mulberry leaves on straw racks stacked one on top of the other.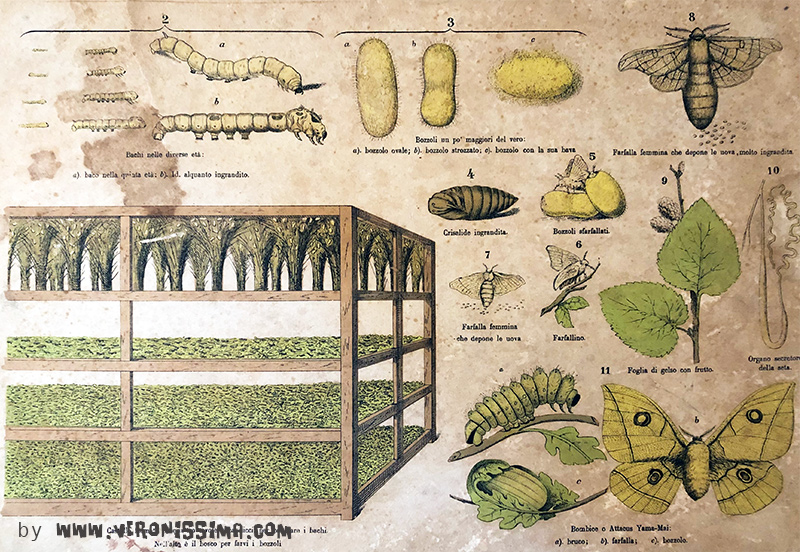 At the arrival of the first cold of autumn the caterpillars would pupate and were sent to the silk factories and freed the mats where the grapes were laid out to dry. This method was quicker and more practical than hanging individual bunches of grapes on wires. In Valpolicella, a real symbiotic relationship established between wine and silk.
Vines grew around mulberry trees
whose leaves fed silkworms, and the grape bunches withered on the racks on which caterpillars had completed their life cycle.
Today silk is no longer produced in the Verona area, and there are fewer and fewer wineries that use traditional racks, replaced by more practical crates. A few sparse mulberry trees can still be seen here and there alone in the corners and along the borders of the vineyards. Yet for one of those mysterious poetic coincidences of which the world of wine abounds,
Recioto is often described as soft and enveloping as a silk cloth
.
Fermentation
In the past, in order to maintain some of the sweetness of the must in the finished wine, as soon as fermentation ended its tumultuous phase, following certain phases of the moon, the winemakers transferred the wine from one vat to another, hoping that in doing so all the yeasts would remain at the bottom. Sometimes, however, fermentation would quietly continue, in casks, and the wine would end up bitter ("amaro" in Italian), which would then become Amarone ("bitter wine"), or in the bottle, and in this case they had sparkling Recioto, once quite common. Today, more effective methods are used to stop fermentation, such as filtering the wine or lowering tank temperatures, which suppress the yeasts and stop their action for good.
Features
Recioto, like Amarone, is a DOCG wine, the highest certification of authenticity of the Italian classification system. This means that Recioto must comply with strict production regulations which include: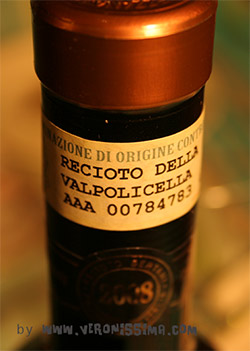 Grapes, that must be the typical ones from Valpolicella: Corvina and Corvinone (between 45% and 95%), Rondinella (between 5% and 45%), and possibly other indigenous grapes (up to 25%) or Italian grapes approved for cultivation in Veneto region (up to 15%).
Three months of drying of the grapes (unless differently allowed by the Consortium).
Alcohol content of at least 12%, although the vast majority of Reciotos are between 13% and 14%.
At least 46 grams per liter of natural residual Sugar content.
Palio del Recioto
Despite the fact that few people know Recioto outside of Verona, every winery in Valpolicella produces and is very proud of it. Insiders say that the true skill of a winemaker is measured more on Recioto than on Amarone. Every year, on Easter Monday in Negrar, one of the towns of Valpolicella Classica, takes place a competition among Valpolicella producers to determine who produces the best Recioto. Although it is a very local competition it is particularly tough, and winning it is an honour to be very proud of.
Wine Tasting
Are you still convinced that because you do not like sweet wines Recioto is not for you?
Often during our tours in the cellars of Valpolicella when towards the end of the tasting comes the moment of Recioto, many refuse to try it, especially if they come from North America. We always insist and it is often fun to see their expression after the first sip, noticing that they always buy one or two bottles before leaving.
It is true that Recioto is a sweet wine, but we must not forget that it is made with exactly the same grapes as Amarone and that, apart from a slight difference in alcohol content due to a shorter fermentation, the structure, aromatic complexity and intensity of the two wines are the same. Even if, according to the specifications, the residual sugar could be much higher, most producers keep it between 80 and 120 g/l, maybe increasing a little bit the alcohol content, which makes them sweet wines, but definitely not syrupy.
Ageing
Since Recioto is made with the same grapes as Amarone, even when it comes to ageing, it has considerable potential. A bottle can easily stay in the cellar for about ten years and for a great vintage even longer.
A young Recioto will have an intense fruity taste profile, with very distinct hints of cherry, black cherry, blackberry, black currant and other berries.
An aged Recioto will tend to be fruity but with more complex hues of dried fruit, compotes and jams, sweet spices such as liquorice, cinnamon, cocoa, cloves.
Bertani Acinatico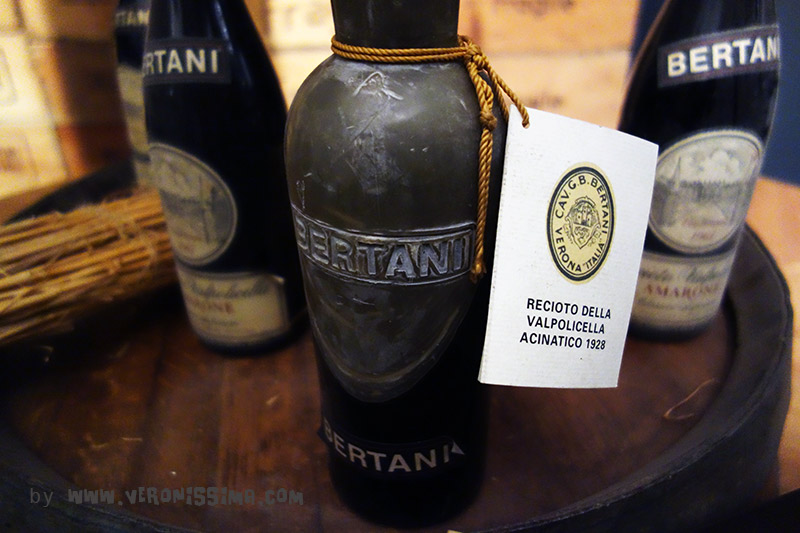 The story of Bertani Acinatico better than any other can help to understand the ageing potential of a Recioto. It is another of those extraordinary stories of wine and men that look like a movie script. In 1938, after 10 years of ageing in large Slavonian oak barrels, Bertani wineries bottled their Recioto and called it Acinatico. The vintage of the wine was the exceptional 1928.
When in 1943, at the height of World War II, the Nazi troops occupied Italy, Bertani's cellar master wanted to save their most precious wine from the always thirsty German soldiers who were swarming the area in search for loot. He stacked the bottles of Acinatico in a corner of the cellar and built a wall in front of them. In the turmoil of the last years of war and post-war, they forgot of the bottles behind the wall. In 1984, during the renovation of the cellar, construction workers demolished the wall and rediscovered the forgotten treasure.
Those few lucky ones who had the rare pleasure of tasting it say it is a wonderful, smooth, persuasive, evolved and yet still surprisingly young wine. Bertani Acinatico is on the menu of some very prestigious restaurants and appears from time to time in auctions. In a recent wine auction a bottle of Acinatico was beaten for about 2000 euros, a real record for Italian wines.
Food Pairing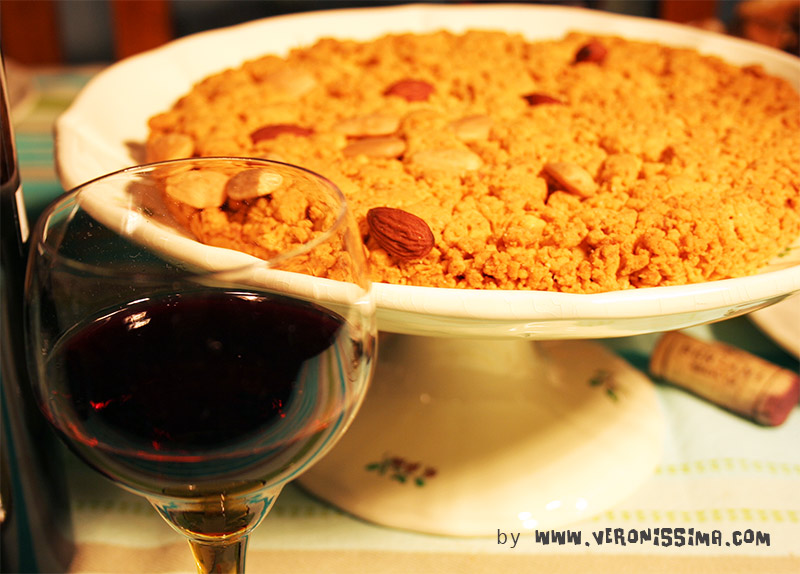 Needless to say, as a sweet wine, the most obvious pairing to Recioto are desserts. Given its robust structure, desserts based on delicate custard cream, whipped cream, mousse, puddings, etc. are not suited though. The perfect match for Recioto is with shortcrust pastries, almond cakes and biscuits such as cantucci or the typical sbrisolona. Thanks to its intensity, Recioto is considered one of the best wines to pair with chocolate: cakes, molten chocolate cupcakes, brownies, sachertorte, but above all dark chocolate pralines with high percentages of cocoa or flavoured with dried fruits, coffee, hazelnuts, spices, etc..
With Cheese
It is a quite established culinary trend matching cheeses by contrast. It is quite common in restaurant when they serve a selection of cheeses, especially if they are longed aged or blue cheeses, to accompany them with sweet mustards, honey, fruit jellies. By virtue of this harmonious contrast Recioto is an excellent match for cheeses with a very intense taste such as goat's and sheep's milk cheese, Parmigiano, Monte Veronese, Taleggio, spicy Asiago with long maturing periods of 24, 48 months and more.
Unusual pairings
Recioto, because of its intensity, being sweet and full-body at the same time, is a wine you can also dare to experiment with unusual combinations. For example, with certain sweet-and-sour dishes of oriental cuisine, certain Indian preparations with meat flavoured with sweet and hot spices, all dishes that, surprisingly, could go perfectly with Recioto della Valpolicella.
Prices
Recioto is normally sold in the half-bottle (375 ml) or half-litre format. The cost is generally half that of Amarone produced by the same winery and is therefore on average between 20 and 40 € for a quality wine.
Wine Tours
So, now that you know everything about Recioto, you must try it unless you already did. But, if you cannot find it easily at your favourite wine store, it means that you have to travel all the way to Verona, and join one of our wine tours that will bring you to the wineries where they make Recioto, Amarone and all other Valpolicella Wines.
For further information and booking inquiries:
+39 333 2199 645
info@veronissima.com