Verona with Kids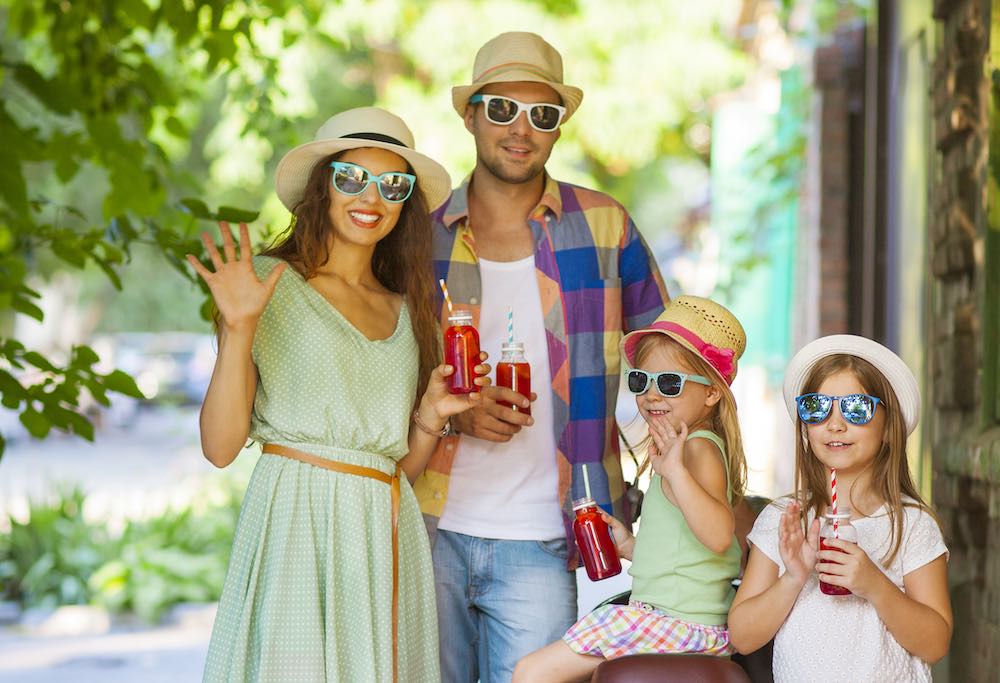 Do you want to visit Verona with children? Great idea! The historic center is largely pedestrian or limited traffic area , there are numerous parks, green areas , playgrounds, museums suitable for children. In addition a tour of Verona with a tour guide can be a way to pleasantly spend a few hours doing a activity that actively involve the whole family.
. Among our tourist guides of Verona, many are specialised in didactics for children and have long experience with schools and family tours. Our itineraries are suitable for everyone, young and old, children, boys and girls , without anyone getting bored.
Oncoming Tours
Verona Guided Tours for Families
The tour touches the main monuments and squares of the city, with an angle and themes particularly suitable for children. For example, in theArena, our guides will tell the kids about the shows that took place in amphitheatres, focusing on the various types of gladiators, the weapons they used, what did the audience do, etc. You can even make them wear real gladiator helmets and staging fights with harmless foam swords.
They can hear the story of Juliet and Romeo told directly to the places where the events may have actually occurred. They'll find that Shakespeare was actually a copycat in the end.
They will listen to the enthralling stories of the Scala family lords, their enterprises and their strange dog names: Mastiff, Cangrande, Cansignorio.
But above all they will learn how to "read" and discover a typical Italian city, with its long and complex history, the multiple layers of artefacts, palaces, monuments, legends, rarities, mysteries. They'll learn to look for fossils, statues, and Roman inscriptions hidden in the most unusual places, symbols and family crests, details that often go unnoticed by the Veronese themselves.
Why is there a whale rib stuck under a bridge?
What are the strange stone letterboxes on a palace for?
What was the usage of scorpion oil sold in a shop where you you still see the sign?
Why are there monster faces above the entrances to certain old houses?
How come there are Roman mosaics in the men's section of a famous department store?
And maybe it ends up the adults will have as much fun as the children.
Verona museums for kids
Free access to all Museums in Verona up to 7 years old.
8 - 14 years old: only 1 €.
Treasure Hunt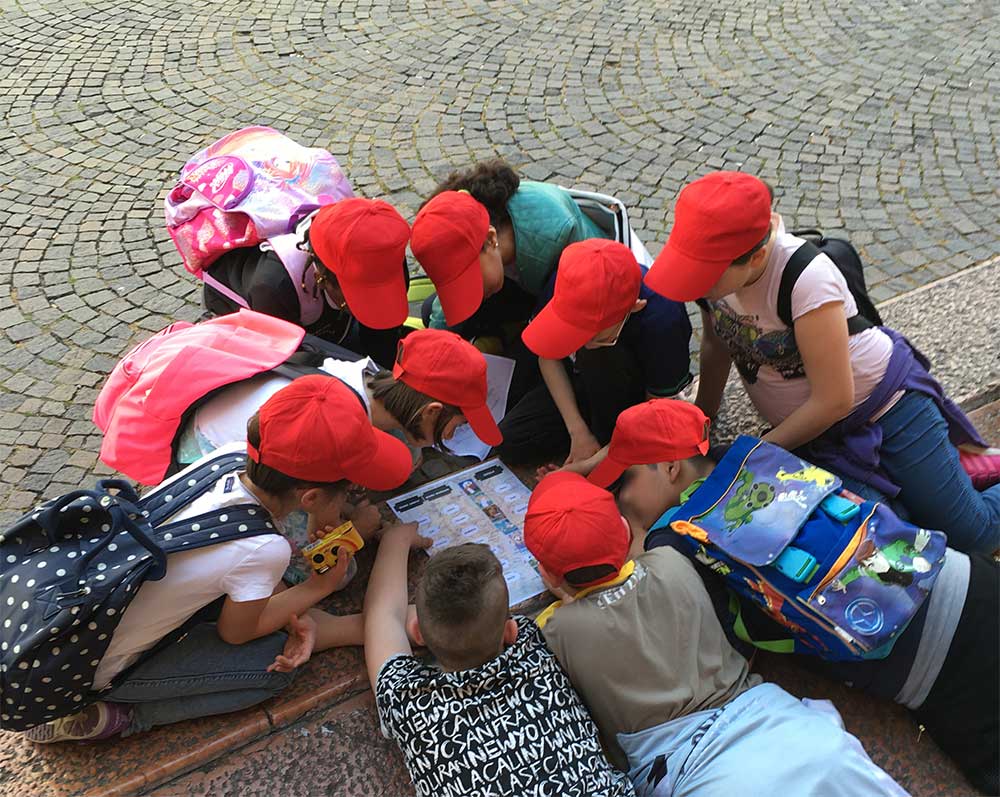 Another fun activity to do in Verona with your children is a treasure hunt.
Of course one of the topics is Romeo and Juliet. Following some clues the boys and girls have to reconstruct the facts, and discover who is the real author of the famous story.
Or become detectives to find out who is guilty of the mysterious poisoning of Cangrande della Scala, lord of Verona in 1300.
These too are all activities to do in the family with a constructive and fun collaboration between older and younger children.
What to do in Verona with children
If instead you prefer the freedom to wander the city on your own following your own pace, here are some suggestions on what to do in Verona with the kids, even when it rains.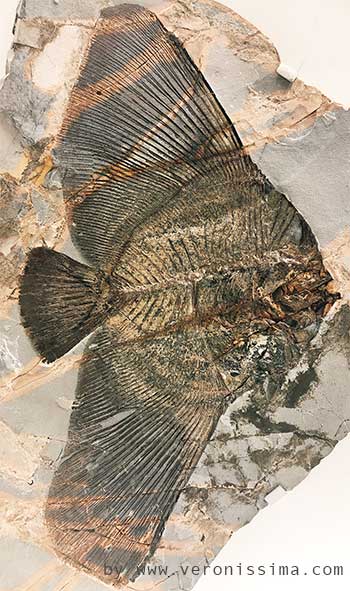 1. Visit Natural History Museum
The very rich collection of fossils from Bolca (one of world most famous fossils quarries) will leave your children literally open-mouthed, with specimens of tropical fish of all kinds and sizes, crocodiles, turtles, whole trees fossilized millions of years ago.
In the museum collections there are also many stuffed animals and mineral collections.
. Perfect for kids of all ages.
2. Visit Juliet's House
and the other places related to the famous legend: (Romeo's House, Juliet's Tomb, Palazzo Carlotti, Portoni della Bra) and let your children play the protagonists of the story.
Bring pen and paper with you and write a letter to Juliet, to be posted in the special mailbox in the courtyard of the house or inside the museum, and see if it is true that Juliet replies.
Perfect for romantic girls and boys.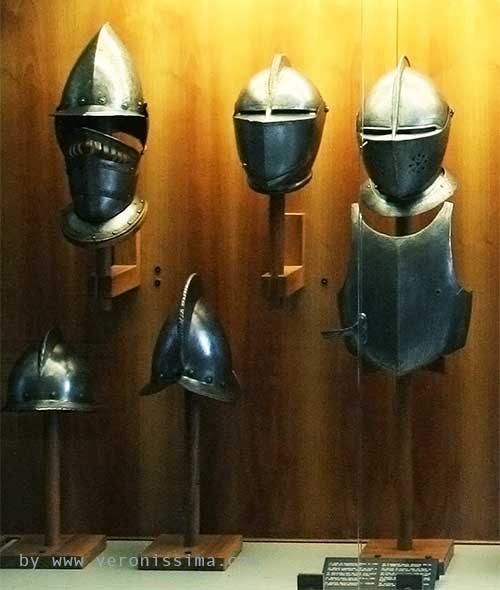 3. The Old Castle
The ancient medieval fortress of Verona is a hoot for the little ones. They can imagine being ladies and medieval knights during a siege. Walk along the patrol walkways and climb the watchtowers (not suitable for those suffering from vertigo).
Fantasize in front of armour, swords, spears, halberds, the elaborate and precious ancient jewels of a hidden treasure.
4. Underground Archeological Sites
In Verona, below street level, there is a world to discover, made of ancient finds, mosaics, remains of houses and pagan temples.
Play the archaeologists with your kids and discover the underground sites of the city open to the public: under restaurants, bars, shops, churches.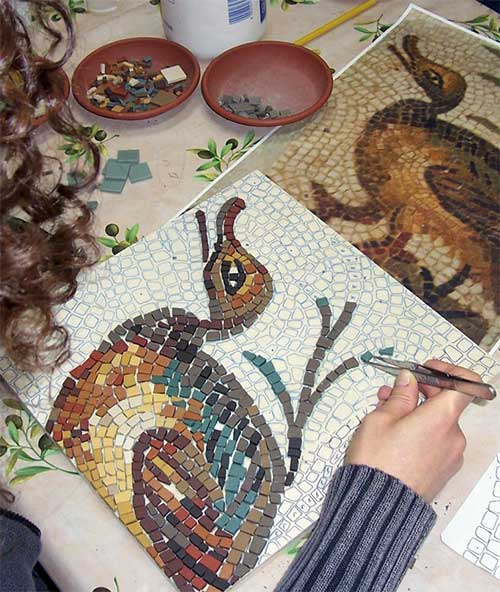 5. Mosaic Course
try to create a real mosaic together with your children?
Guided by a Master Mosaicist you can discover this wonderful and fascinating art. A fun, original and creative experience suitable for the whole family (from 5 to 99 years old!). A personalized course to learn how to decorate mosaic photo frames, mirrors or candle holders.
2 or 4 hours.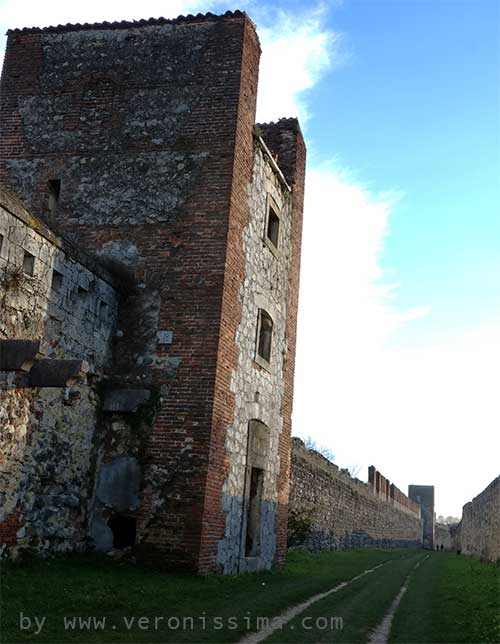 6. Urban Trekking
Take the funicular that brings you from the historical centre of Verona to Castel San Pietro' hill. From there you can walk along the trails that run along the ancient fortifications of the city, with walls, towers, ramparts. A beautiful path surrounded by nature, with breathtaking views of the city from above. Ideal for a family walk, maybe with your dog who will be happy to be able to run free.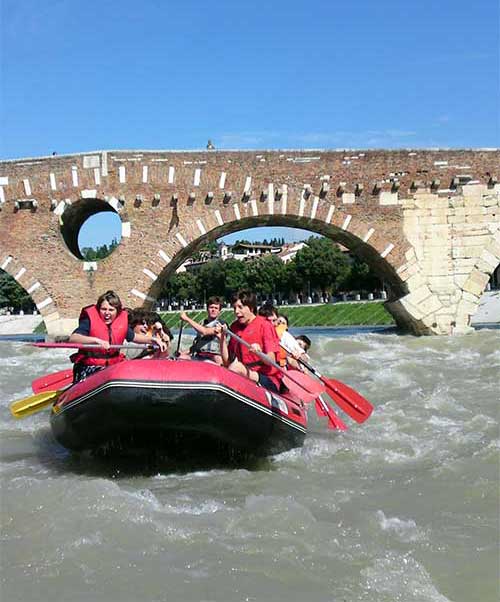 7. Rafting on the River Adige
Starting from the Chievo dam, it is possible to cross the entire historic centre of Verona safely, flowing along the Adige river and admiring bridges and monuments from a definitely unusual perspective.
During the route there will be short stops at shallows, the old river port, and ancient moorings.
The descent can also be organised for small family groups.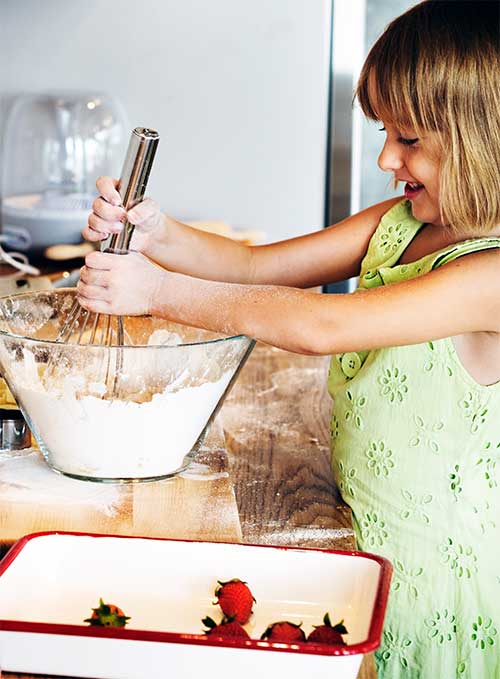 8. Cooking Class
Take a cooking class together. Together with a cooking teacher learn how to prepare handmade pasta, creams and cakes, and then at the end eat what you have cooked. The fun is guaranteed.
Types of dishes and level of difficulty can be decided beforehand, according to taste, ability, time available, for a personalized experience.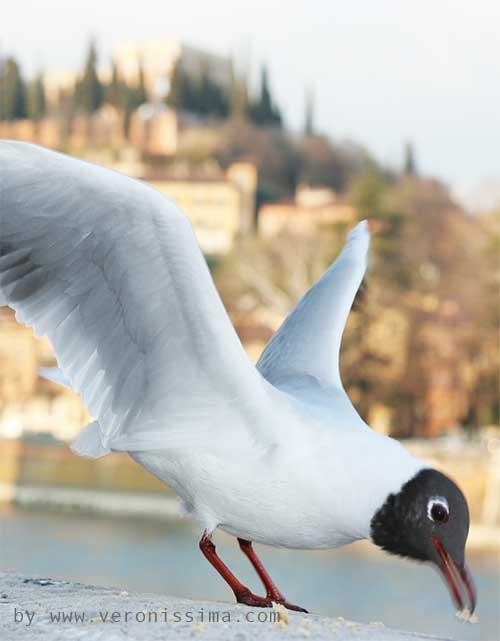 8. Bird Watching
Going bird Watching on the river Adige, searching for mallards, swans, cormorants, herons, seagulls of all species. species. All it takes is a little dry bread to bring in more.
10. Drawing in a Museum
Visit a museum carrying a notebook and colored pencils and copy the paintings of the great masters of the past.
Your children can recreate the classical paintings of the Museum of Castelvecchio or draw inspiration from modern and contemporary artists exhibited at the Modern Art Gallery of Palazzo della Ragione or Palazzo Maffei.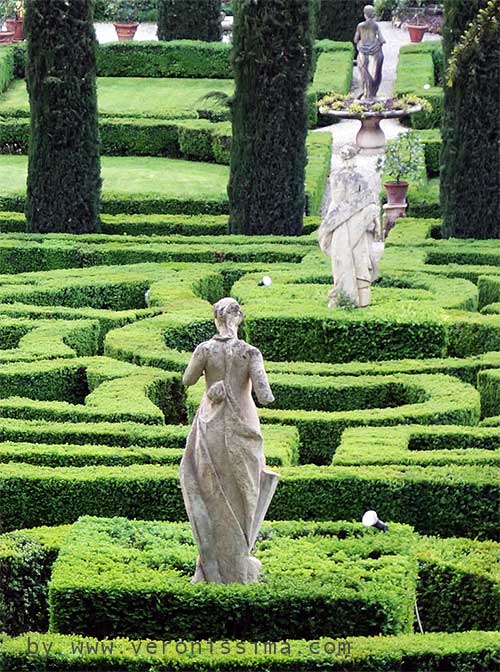 11. The Maze
Giardino Giusti is one of the most extraordinary examples of Italian style garden. It is located a few steps from the historical centre. Upon entering you will be transported into an enchanted world made of geometric boxwood hedges, citrus trees, cypresses and elegant 18th century statues.
Typical of Italian gardens was the labyrinth, still present in Giardino Giusti, from which you can try to exit together with your children.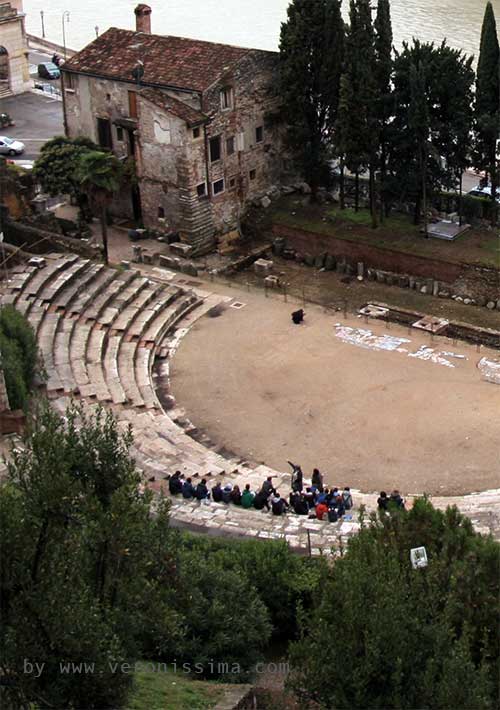 12. Acting inside the Roman Theater
The ancient Roman theatre of Verona is open to the public together with the archaeological museum of which it is part. Your children, especially if they are already studying acting, can feel the emotion of walking the stage of this ancient place of entertainment older than two thousand years. In summer, a real stage is set up for the season of concerts and performances.
Ages and Activities
There is no recommended age for each of the suggested guided tours and activities. Children very often have individual levels of development and maturity, related to interests and personal character. No one knows children better than their parents, and it is up to them to identify the themes and experiences most suitable for their children.
. The guided itinerary can be previously agreed with our tour guides in order to coincide with specificity and expectations.
Our activities are also perfect for groups of families, with children of different ages, and can become an original idea before or after a birthday party or a just a trip together.
Events for Kids in Verona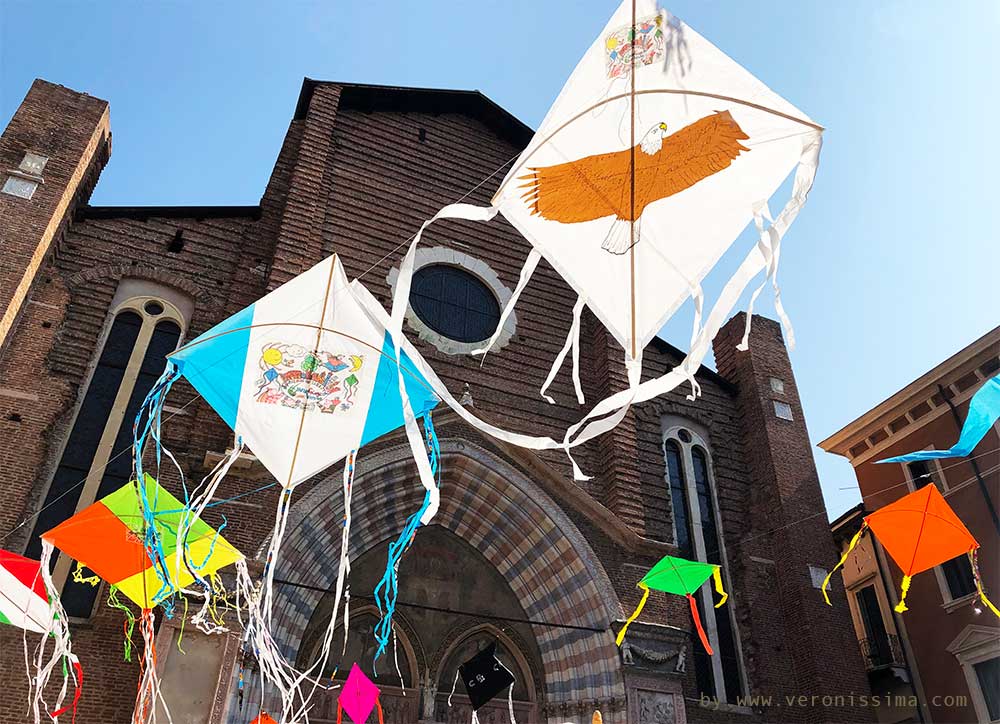 There is no better time to visit Verona with your children. Of course, in summer everything is more pleasant and easier, but there are also many events designed for children that you can take as a cue to plan your trip to the city.

In September there is the Tocatì, international festival of ancient and traditional games, which has become one of the main events in Verona. In the streets and squares of the city, for an entire weekend, children are taught the games of the past with slingshots, blowpipe, spinning tops, kites, bowls, skittles, and much more.


In December the international review of the presepe, a great exhibition with nativity scenes and dioramas from all over the world. In addition, in the squares of the city centre there are the Nuremberg Christmas markets with lots of decorations, gadgets, gift ideas.


The last Friday of Carnival is held in Verona the colorful and noisy masks parade, led by Papà de Gnoco, the king of the ancient Carnival of Verona.
For further information or to book a tourist guide for kids in Verona:
+39 333 2199 645 info@veronissima.com P.I. 03616420232 C.F. CPPMHL74L13L781C