Risotto all'Amarone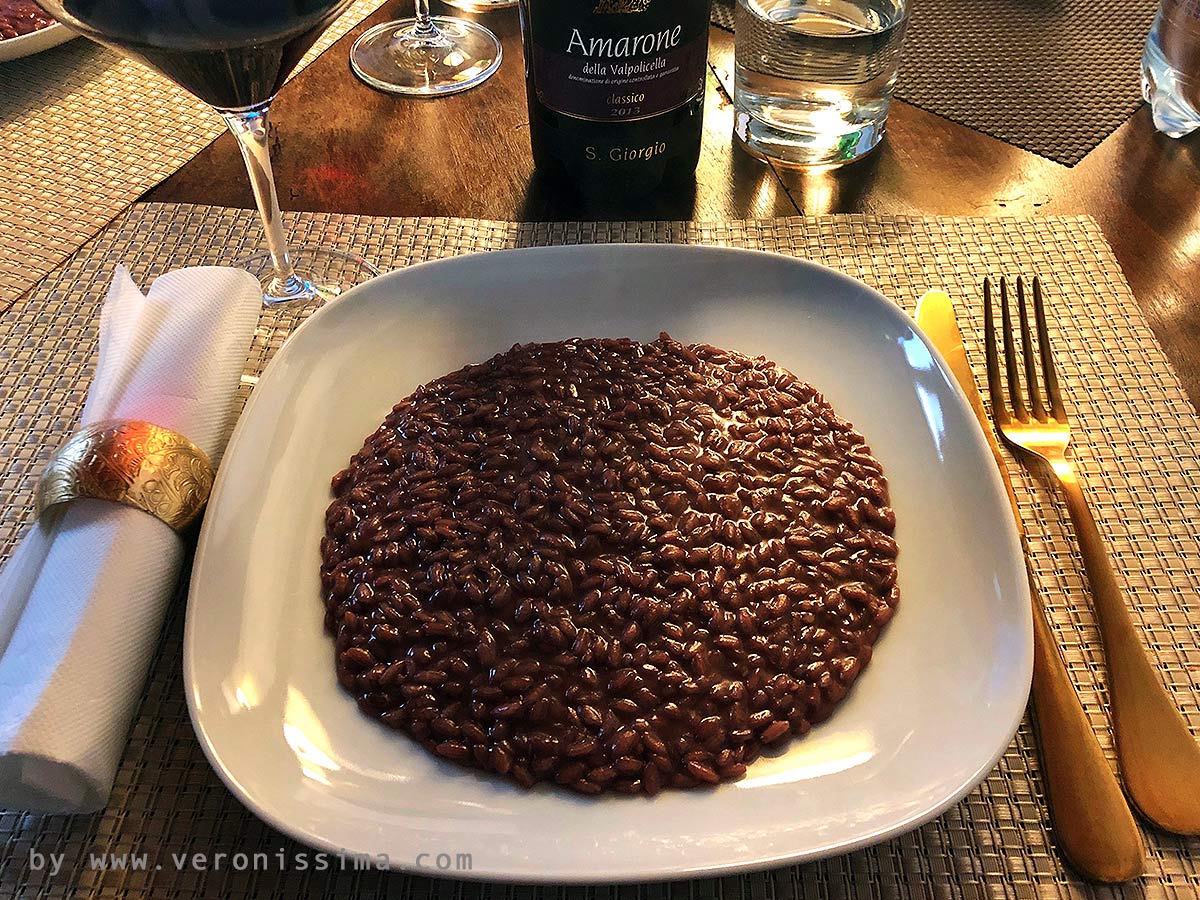 Risotto all'Amarone is one of the most beloved dishes of Veronese culinary tradition, the flagship of many renowned restaurants in the city. In this recipe two of the finest products of the territory are combined: Amarone della Valpolicella and Vialone Nano rice.
If you want to know more
Ingredienti per 4 persone
320 gr (11 oz) of Vialone Nano rice or rice suitable for risotto
60 gr. (4 tbsp) of grated Monte Veronese cheese or Parmesan Cheese
60 gr (2 oz) diced onion
40 gr (1.5 oz) butter
35 gr di midollo di bue o, in alternativa, 50 gr di olio extravergine d'oliva
1 lt (2 pt) stock soup
1/2 bottle of Amarone della Valpolicella
salt and pepper
Preparation
Heat the amarone in a small saucepan.
Brown the onion in a saucepan with half the butter, the marrow or the oil. When it has taken on a nice golden color add the rice and toast it over medium heat for a few minutes, stirring vigorously. Season with salt and pepper. Slowly add the Amarone.
Finish cooking over medium heat, adding the hot stock a little at a time as it is consumed and continue stirring with a wooden spoon.
Adjust the salt if necessary.
Cooking time depends on taste, but rice grains should retain some texture. Turn off the heat and keep stirring vigorously, adding the remaining butter and grated Monte Veronese (or Parmesan cheese).
Many people's hearts may weep at the idea of using "precious" Amarone as a cooking wine. At the first taste, however, you will understand that it was worth it.
For further information about food tours, guided tours to the production areas of typical products of Verona and its territory:
+39 333 2199 645 info@veronissima.com P.I. 03616420232 C.F. CPPMHL74L13L781C