Soave: Wine and Winery Tours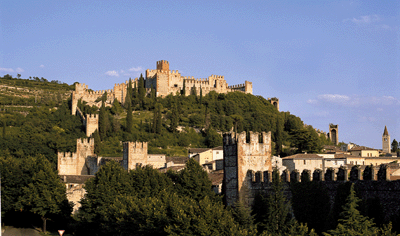 Soave is a white wine produced in the surrounding area of the fascinating middle age village of Soave, 20 kilometers from Verona. It is one of the top selling wines in Italy, exported all over the world. Soave is made with Garganega and Trebbiano di Soave grape varieties. There are three types of Soave:
dry, still

spumante - sparkling

recioto - sweet
The best Soave is the Classico Superiore, made from grapes grown on hillside vineyards and accounting for 20% of total Soave production. Soave is an extremely popular export, with around 50 million liters a year being produced. It is amazing the landscape you can see from Soave Castle: a sea of vineyards as far as your eye can reach.
The only 'grade' of Soave is Superiore, which requires 8 months aging and a minimum alcohol level of 11.5%.
Soave has a straw yellow color, almost green sometimes. It's known to be delicate and light, sometimes with a hint of almond, thick perfumes and gentle flowers. Acidity is gentle with a slightly bitter finish. It is a very popular aperitivo drink in Verona and it's excellent with fish dishes.
In Italian language the word 'soave' is a very charming word meaning mild, sweet, mellow and harmonious, and many Italians think that the name of the village is due to the qualities of the wine that is produced there. In fact the name dates back to the barbaric invasions after the fall of the Roman Empire, when the 'Suevi' tribe settled in the area. The name then changed to Soave.
Many Soave producing wineries are open to the public. Many wineries are located in beautiful old buildings and villas surrounded by vineyards. A winery tour can be accompanied by a sightseeing itinerary in the old Soave village and in its Castle. Ask a tourist guide to book a winery tour and bring you there.
For further information on Soave wines and winery tours in Soave wine producing area: