Bardolino Wine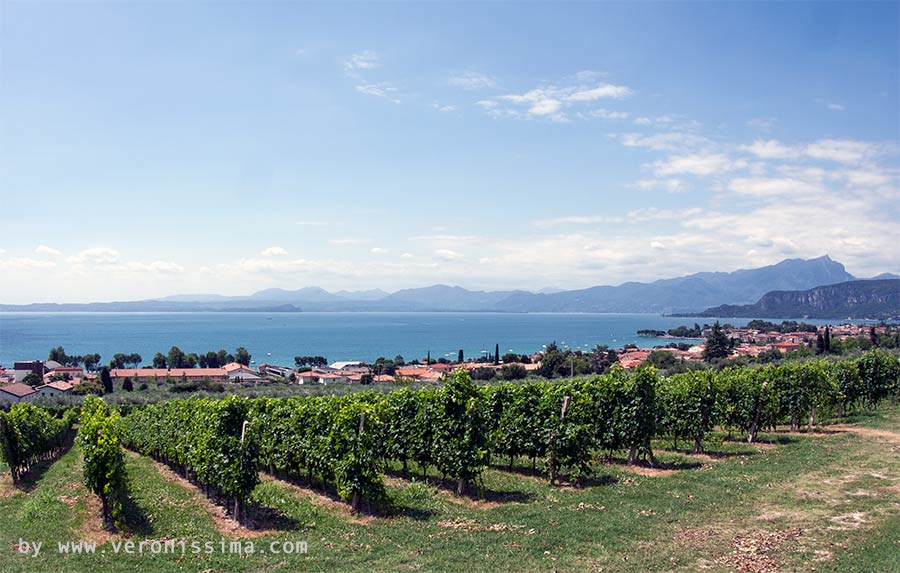 Bardolino is the most representive wine of Lake Garda. It takes its name from the village of Bardolino, one of the most important tourist destinations on the eastern coast. The red version is a fresh and pleasant wine, in the Chiaretto style, a perfect rosé for summer holidays on the lake.
Cellar Tours and Lake Garda
With a wine tour in Bardolino you can combine a visit with tasting to a few cellars with the breathtaking panoramas of lake Garda and its picturesque villages.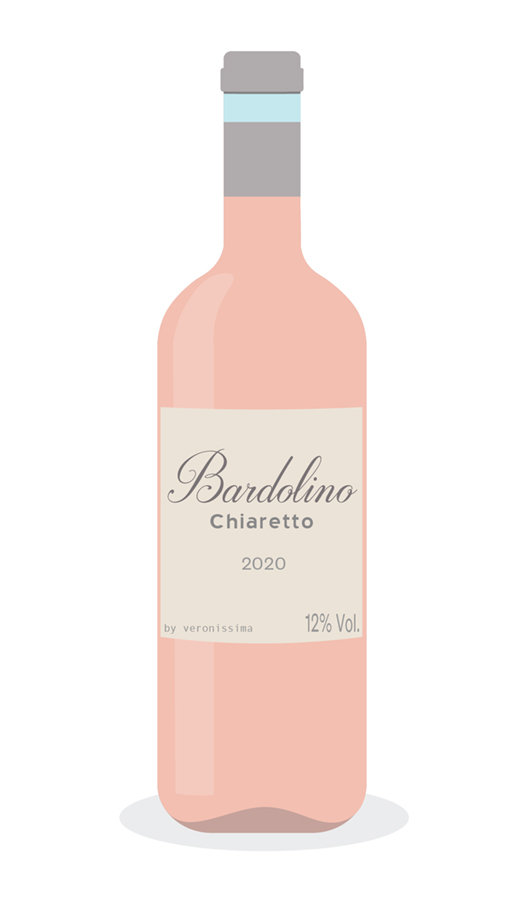 How much does it cost?
Bardolino is a fairly inexpensive wine.
A bottle of Chiaretto (rosé) is usually below 10€ per bottle.
The red version is around 10€.
Bardolino Superiore is generally below 20€ per bottle.
BEST OFFERS
Bardolino wine is produced with a blend of grapes: Corvina, Corvinone, Rondinella, Molinara and small optional percentages of other native, Italian and international varietals. These are the same grape varieties as Valpolicella. The two production areas are only a few kilometers away, separated by the Adige river valley. Yet Bardolino is very different from Amarone and other Valpolicella wines.
What makes the difference is of course the territory, soil composition, sun exposure, climate.
Want to know more?
The Territory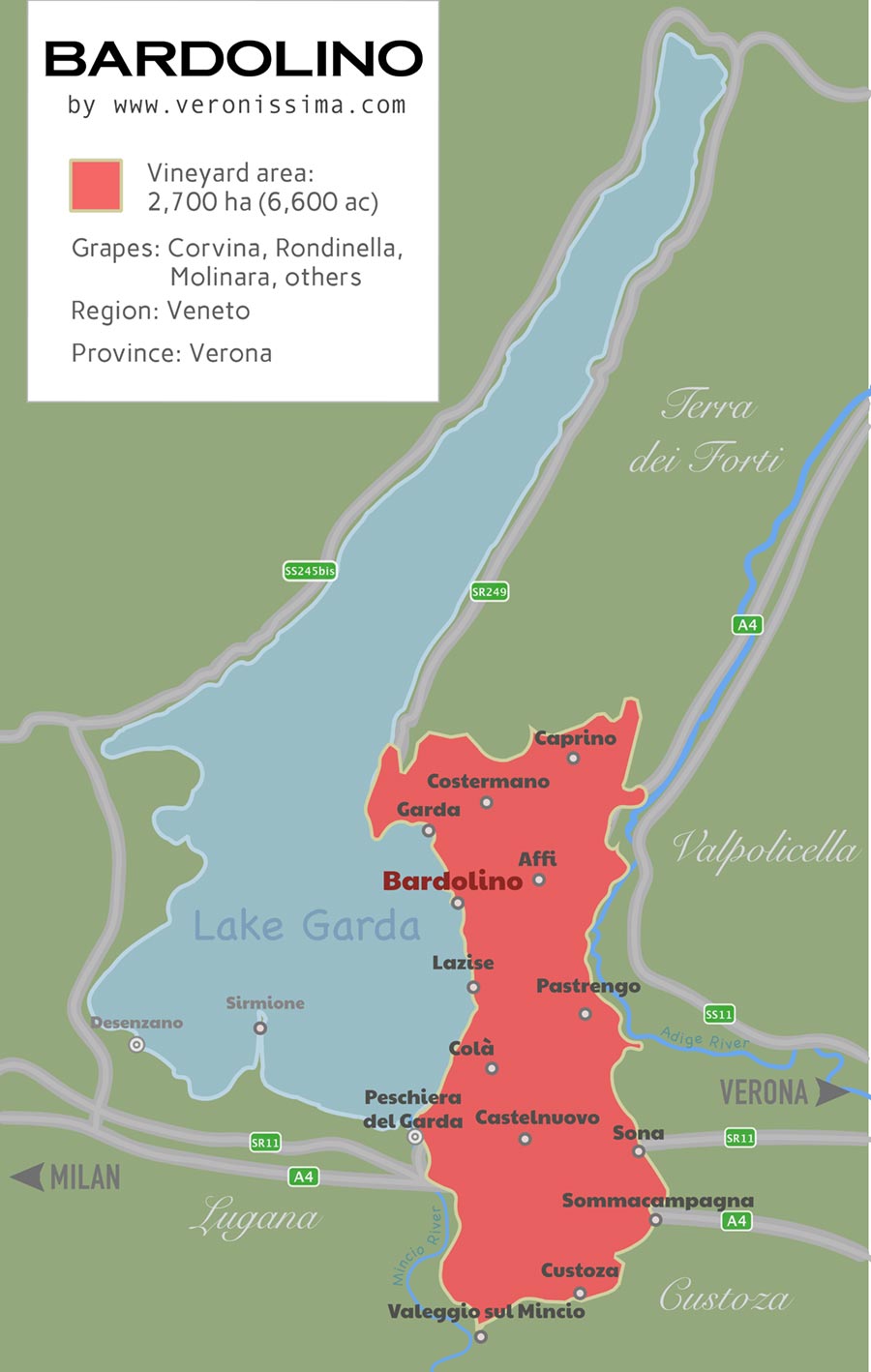 The production area of Bardolino wine is the east coast of Lake Garda. The northern limit is Monte Baldo, the highest mountain in Verona. To the south it borders the Po Valley and to the east the Adige Valley. The lower part of the Bardolino area overlaps with the Custoza DOC (to learn more about Custoza wine click here). To the west the Mincio river marks the border with the Lugana production area (to learn more about Lugana wine (click here).
It is an enchanting hilly landscape, with views of Lake Garda from above, dotted with small villages and the imposing presence of Mount Baldo.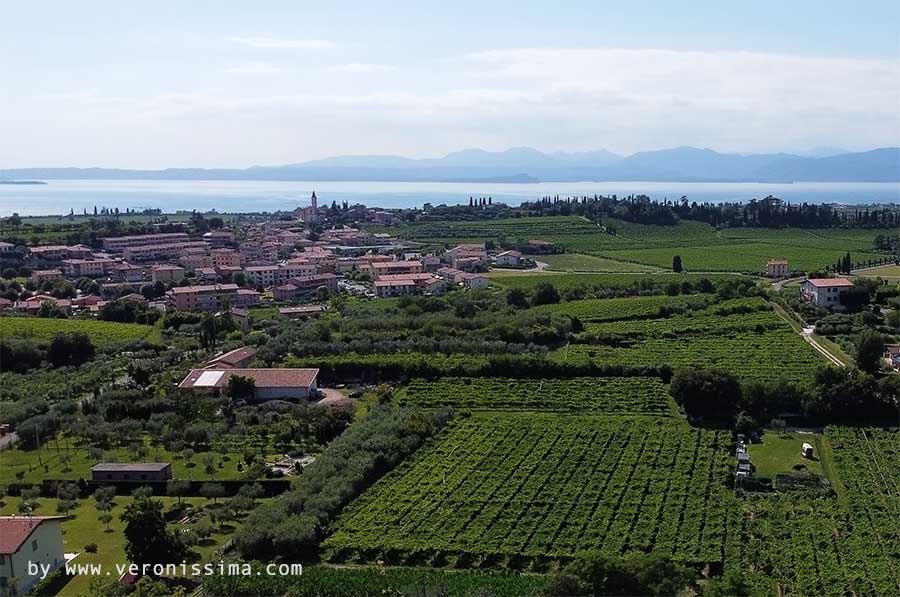 The height ranges from about 100 to 250 m (330 - 820 ft) above sea level. The soil is mainly made up of fluvioglacial deposits. Tens of thousands of years ago an immense glacier covered the area and created the basin then occupied by Lake Garda. In its slow sliding south the same glacier accumulated large amounts of debris thus creating the morainic hills around the lake. The soil is formed by gravel, pebbles of various sizes, sand, clay. It is a very draining substratum, so much so that irrigation is necessary in most of the vineyards.
Thanks to the influence of Lake Garda the climate is mild and ventilated all year round.
The landscape is characterized not only by vines but also by many olive groves.
Want to know more?
Bardolino wine
Bardolino was among the first Veneto wines to get the Italian denomination of origin certification (DOC) in 1968.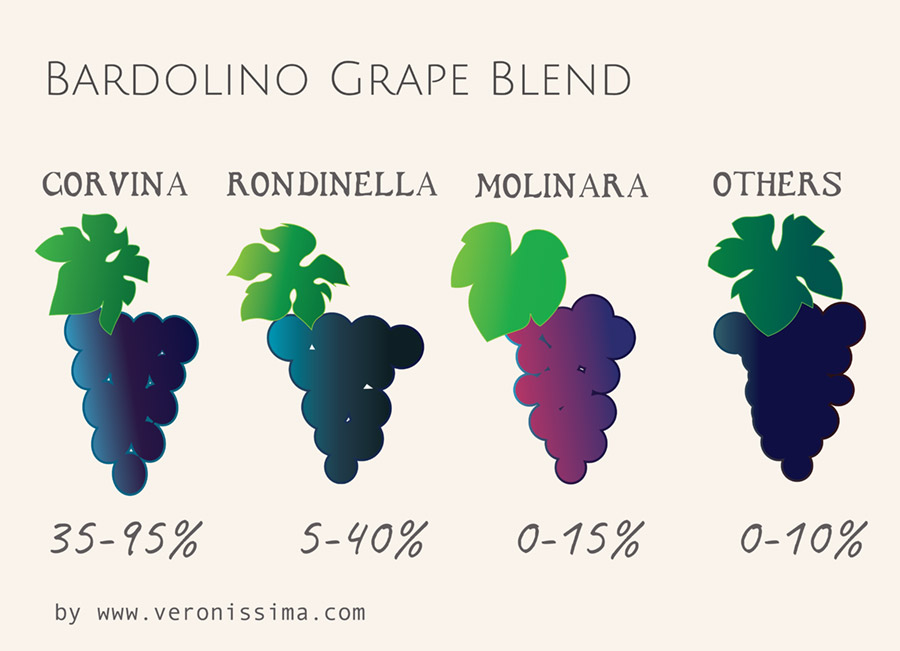 The blend of Bardolino wine is similar to that of Valpolicella. The main variety is the Corvina (and possibly the Corvinone) which can reach up to 95% of the blend but is normally around 60-70%. Followed by Rondinella, between 20 and 30%. The Molinara was once mandatory but since 2010 has become optional. It is still very present in the vineyards. Other grapes authorized for the province of Verona can reach 20% with a maximum of 10% for each variety.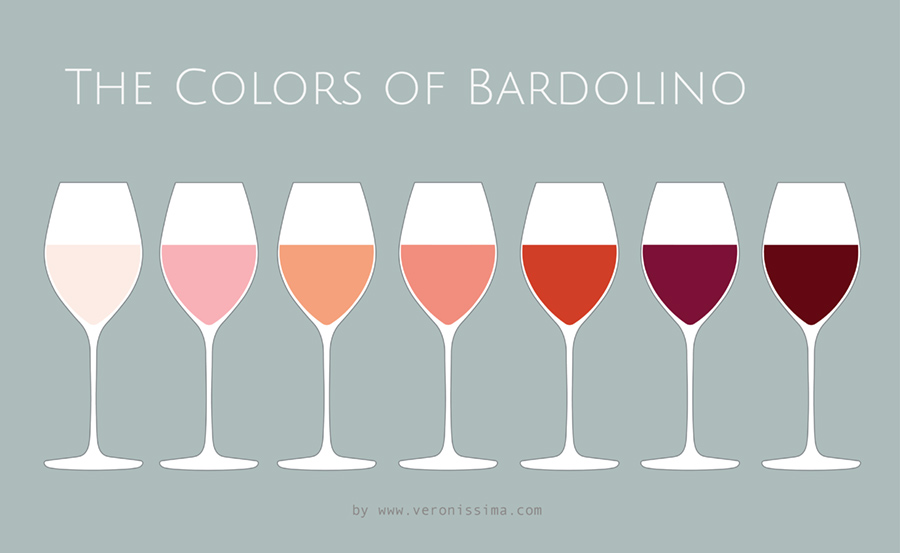 The range of colors of Bardolino is wide and varied. In the Chiaretto variety it goes from soft pink to bright orange shades. In the red variety it goes from deep ruby to garnet for the Superior varieties.
Characteristics
Bardolino has a light ruby red color, usually not very concentrated, which tends to garnet after a few years of bottle aging.
The nose is fragrant and vinous, with typical floral hints of rose, violet and fruity ones of cherry, raspberry, blackberry. Depending on the variations in the blend and the type of aging, steel or wood, you can find further herbaceous and spicy notes.
In the mouth it is dry, with a balanced freshness (acidity), astringency, and a pleasant bitter finish.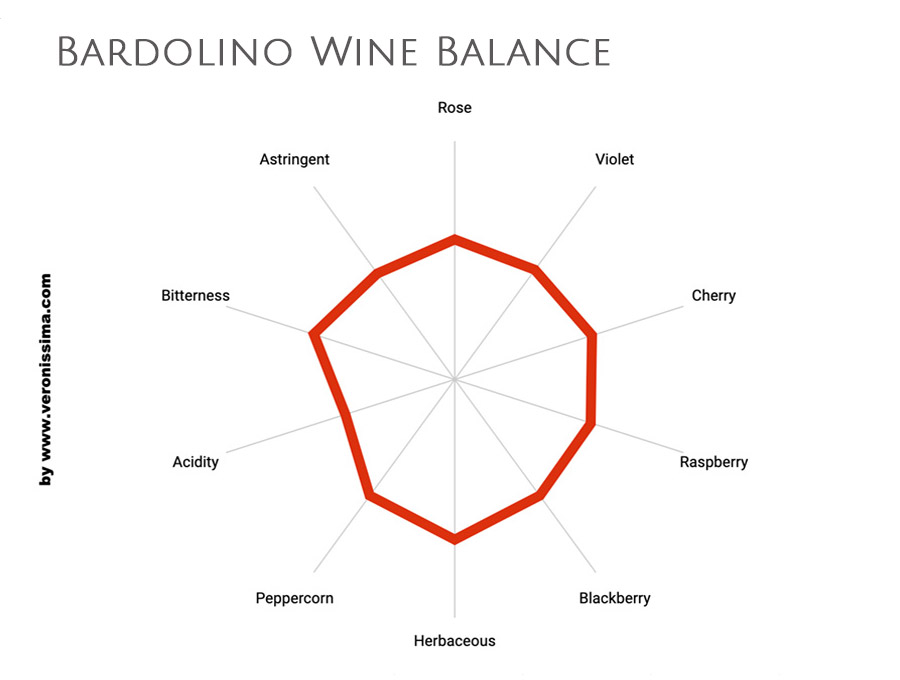 Bardolino Superiore
Bardolino Superiore is the first wine from Veneto that obtained DOCG certification, the highest denomination of origin in Italian appellation system. Bardolino Superiore must have an alcohol content of at least 12 degrees, and must be aged at least one year before bottling.
While retaining the typical fruity scents and floral fragrance, it is a wine that holds up well to ageing, expressing greater complexity and structure.
Ideal with mixed boiled meats typical of the Veronese culinary tradition, roasts, braised meats and stews. It is an ideal accompaniment to mature cheeses and cured meats.
Bardolino Chiaretto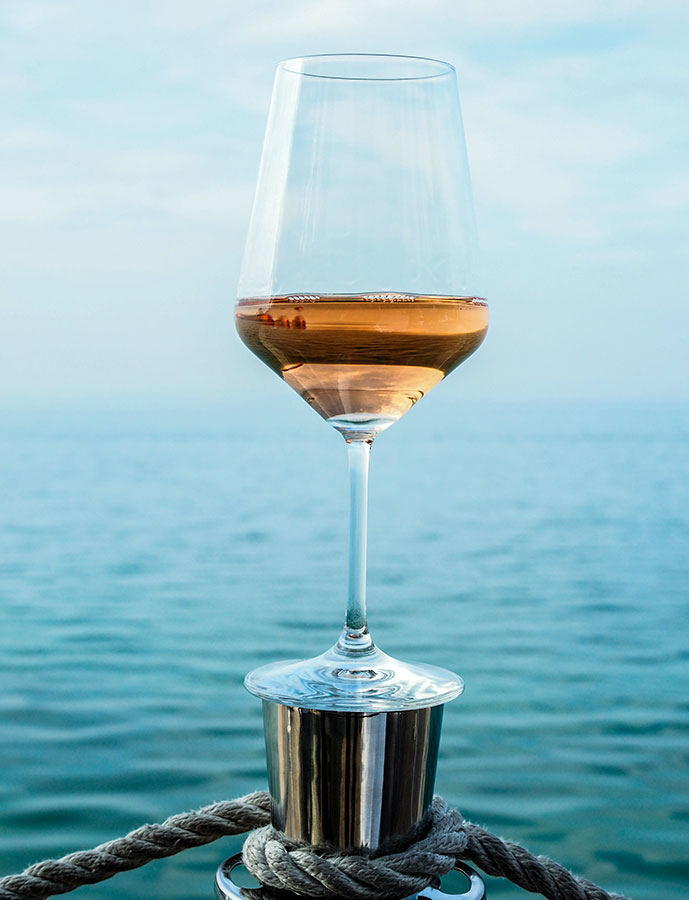 Bardolino Chiaretto is one of the rare traditional Italian rosé wines. Produced long before the fashion for rosé wines spread. It is obtained with a short contact between must and skins during the fermentation.
The color shade ranges from bright cherry-pink to copper-orange.
The nose is fragrant with sensations of ripe fruit, flowers and sometimes subtle herbaceous and hazelnut notes.
On the palate it is sapid, pleasantly bitter, slender and balanced.
An ideal summer wine for holidays on Lake Garda.
Bardolino Novello
First nouveau Italian wine to obtain DOC certification in 1987. It is produced with carbonic fermentation of the grapes.
Bardolino Novello is a wine with an intense, vinous aroma, and intense flavors of strawberry, raspberry, morello cherry and ripe grapes.
The taste is dry, sapid and not very acidulous.
It goes well with cold cuts, soups and fried fish, but especially with roasted chestnuts to eat traditionally on St. Martin's Day on November 11th.
Bardolino Novello is released on the market on November 6th.
Bardolino Food Pairing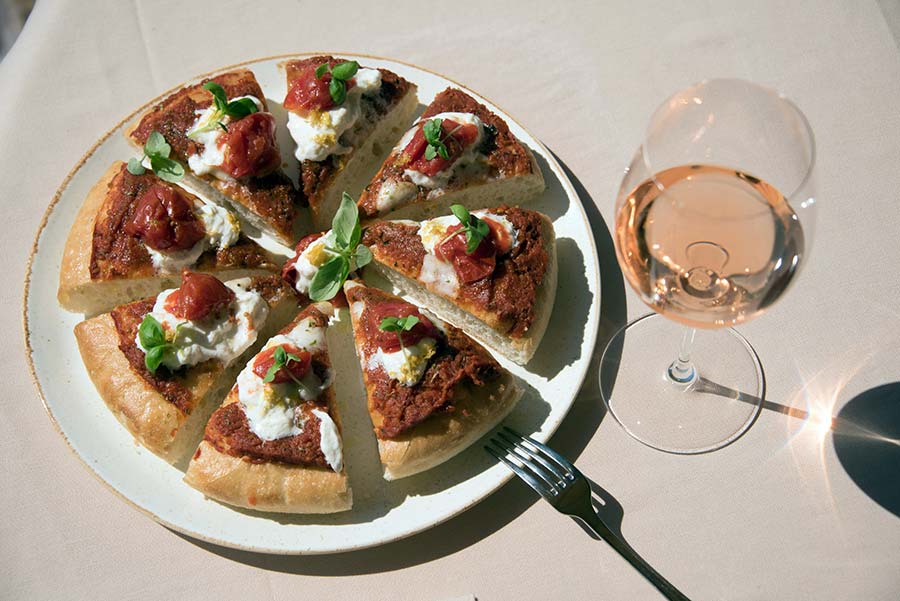 Bardolino is a very versatile wine, not too complex to always require elaborate dishes, and not too alcoholic and demanding for those who like at least one glass of wine at lunch and dinner.
Young, or in the Chiaretto variety (rosé), you can serve it cold. It is an excellent aperitif, to combine with various appetizers or to try with tasty and fried fish.
It is ideal with pasta and tasty risottos, soups or with not overly elaborate meats, fresh or medium mature cheeses. Perfect with pizza.
Bardolino Superiore variety it is excellent for those who are looking for pairings with more elaborate and structured dishes without necessarily having to go for a very full-bodied and alcoholic wine.

In the years food and wine trends had imposed very structured, elaborate, alcoholic wines. Bardolino had been set aside as a too simple and light product. In recent years, fresh and versatile red wines for everyday and informal situations are finally being revalued. Bardolino certainly has the potential to become again a popular wine for many occasions.
Bardolino Wineries
There are about one hundred wineries registered with the Consorzio di Tutela, the association of Bardolino producers. Some are located in enchanting spots with breathtaking views of the morainic hills and Lake Garda. Many of them are happy to welcome visitors, with beautifully furnished tasting rooms where you can have complete visits and tastings combined with typical snacks.
Among the wineries where we often take our guests on tours with tasting in Bardolino:
Guerrieri Rizzardi
F.lli Zeni
F.lli Poggi
Il Casetto
Villa Calicantus which produces a biodynamic Bardolino
Valetti
Le Fraghe
Wine Museum
At F.lli Zeni winery there is a very interesting wine museum. The exhibition includes many old oenological instruments of the past. It will allow you to understand the evolution of viticulture and winemaking in the world and in the Veronese area.
Guided Tours and Tasting
The production area of Bardolino is an ideal wine tourism destination. You can combine traditional guided tours and tasting at the wineries with excursions and tours of all kinds on Lake Garda. In addition to the wineries, on the east coast of the lake there are many olive oil mills where you can taste the extra virgin olive oil produced on the morainic hills. There are also few craft distilleries that produce excellent grappa and liqueurs.
We can combine a tasting of Bardolino wines with panoramic excursions, walks in the villages along the coast, easy hikes along the inland paths.
As tour guides of Lake Garda we are happy to provide further information or to organize a complete tour to get to know this extraordinary area with its typical wines.
+39 333 2199 645
info@veronissima.com