Valpolicella Wine Tours:
Santa Sofia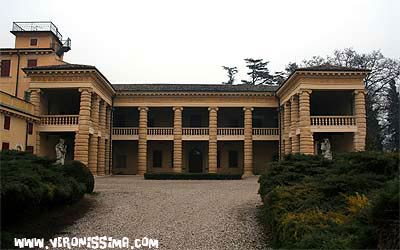 Santa Sofia winery takes its name from the sixteenth century villa designed by the genius of Andrea Palladio. The villa is an exceptional architectural masterpiece in many respects. Instead of a villa dominated by the main manorial building, for Santa Sofia Palladio decided to create a building around a central courtyard like in Roman villas. The big pronaos was created with columns made of blocks of local sandstone, piled one on top of the other creating a sense of power and elegance rarely found in other Palladian works. The villa is unfinished, only the facade, part of the manorial house and the western side building were completed.
Palladio's villa in most cases where functional buildings, together with the manorial house where built side farming buildings with farmyards, cellars, storehouses.
Santa Sofia winery is located in the western side building of the villa, still using its seventeenth and fourteenth century cellars for the aging of wine. Before Palladio started his project around 1565, in the monastery built around the small church of Santa Sofia there was already a wine making activity.
Of course the villa by Andrea Palladio is an important symbol of the winery, also printed on the elegant label of Santa Sofia wines.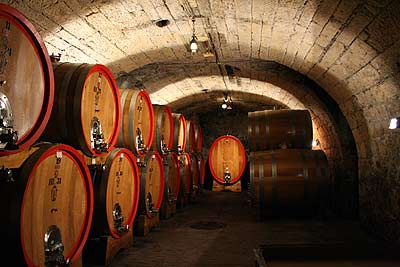 In 1960s, Begnoni family took possession of the winery, and started a production of Valpolicella traditional wines focused on top quality, using the best grapes grown on the hillside around the area. The perfectly balanced red wines are the result of the perfect marriage of centuries old traditions and the experience in modern wine making techniques.
Recioto, and the Amarone are made with grapes dried on racks up to 120 days. About 30% of the water component is eliminated rising the sugar content of grapes.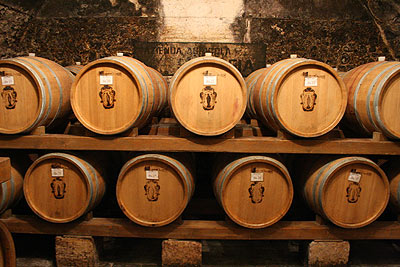 After pressing and a low temperature fermentation, wine is put in barrels for the aging process. A mix of big traditional oak barrels and modern barriques lined up in the centuries old cellars of the winery, contributes to create the perfect balance of Santa Sofia wines which is meeting increasing market demand both in Italy and abroad.
For wine lovers, a tour of Santa Sofia winery is quite an experience. After a tour around the Palladian villa, the park with its pond and the rare trees as old as the villa, the amazing cellars are shown to visitors.
The visit is followed by a wine tasting of Santa Sofia top quality wines including its excellent Recioto and Amarone. The wine and its making process is illustrated personally by Mr Begnoni, enologist of Santa Sofia, a real artist of wine making.
For information about guided wine tours at Santa Sofia and other Valpolicella wineries: