Maria Callas
Maria Callas made her debut as an opera singer on the stage of the Arena of Verona and here she lived for the first years of her career after marrying the Veronese Giovan Battista Meneghini. She spent her days in Meneghini's villa in Zevio and in summer in the villa in Sirmione on lake Garda.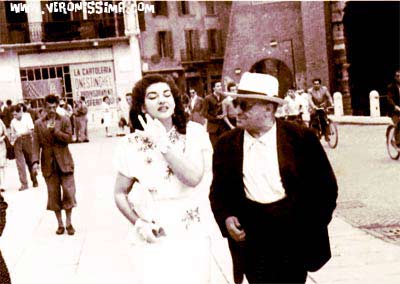 Tour Maria Callas a Verona
The guided tour through the Verona of Maria Callas will take you to all the places frequented by the "Divina" during her stay in the city. From the house where she lived as soon as she arrived from America, to where she met Meneghini, to where they got married, etc., the tour will take you to all the places the "Divina" visited during her stay in the city.
Maria Callas arrived in Verona from the U.S. in 1947. In New York she had met Giovanni Zenatello, impresario of the Arena Opera Festival who engage her for La Gioconda, opera to be performed that season.
On June 27th Maria Callas is in Verona, she is staying at the modest hotel Accademia, today a luxury hotel. For dinner she goes to Pedavena restaurant in Bra square, almost in front of the roman amphitheater. Today in the beautiful building where Pedavena was there's a self service restaurant. There she meet Giovan Battista Meneghini, a wealthy industrialist, with a passion for the opera who soon begin courting her. In August Maria Callas sings in the Arena directed by Tullio Serafin.
Reviews are good but success doesn't come. She sings in Florence and in many other Italian cities. In 1949, unable to find a replacement for Carosio, Maestro Serafin asks Callas to sing Elvira in I Puritani at La Fenice in Venice. It's an enormous success, the turning point in Maria Callas career.
In 1950 she debuts at the Scala theater in Milan and is the beginning of a long period of success in which both the audience and critics loved her.
The Wedding at Filippini Church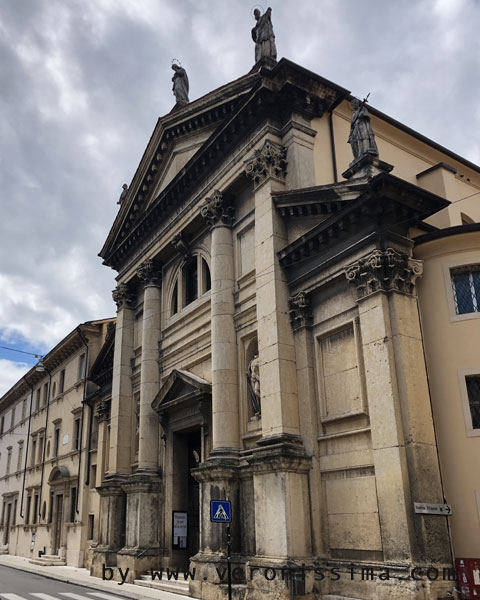 In the meantime, after a long courtship, Maria Callas accepts to marry Giovan Battista Meneghini. The wedding was celebrated in a side room of the church of Filippini in Verona. Maria's is a Greek orthodox christian, and she doesn't want to convert to Catholicism so that the wedding cannot be performed as an official rite.
Meneghini leaves the management of his factory and becomes manager of his wife.
Maria Callas in Zevio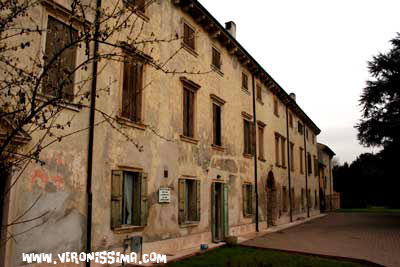 When she's not on a tournée, Maria Callas lives together with her husband in his villa in Zevio, in the countryside south of Verona.
Her years in Zevio are quiet and serene. She rehearses in the beautiful park of the villa. People of the village climb on the wall surrounding the building to hear her singing.
When she's not too busy she enjoys cooking typical dishes of Veronese cuisine: pearà, risotto al tastasal, pastissada.
Together with her husband they go to bar Sport on Santa Toscana square and bar Commercio on Marconi square.
Now, the town of Zevio, together with the Maria Callas Foundation has undergone an important project to celebrate the presence of the "Divina" in the Veronese countryside.
In the old town hall has already started the works to create the museum that will display the collection of Maria Callas memorabilia collected in more than fourthy years by one of Maria Callas greatest fan, mr Giancarlo Tanzi. It's a collection of thousands of pictures, old records, magazines, dresses of the great singer. The museum will be ready by December 2008 and it will be probably followed by a concert hall hosting operas and international events.
Maria Callas in Sirmione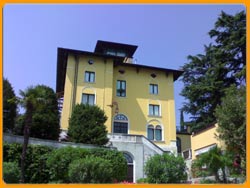 Every year in Summer, in her few moment of relax, Maria Callas and Giovan Battista Meneghini spend few weeks in their villa in the heart of Sirmione on Lake Garda, away from worldly life. In Sirmione, Maria Callas arrives for the first time in 1952. People of Sirmione still remember her as a simple and friendly lady. She often stops for an aperitivo at Caffé Grand Italia.
In 1959 Maria Callas meets Aristotele Onassis and leaves her husband. It's the beginning of that tragic relationship that will lead her to downfall. She will never come back to Sirmione, but she will always miss Lake Garda and its atmosphere.
Today, in the very heart of Sirmione peninsula, people admire the beautiful and elegant villa in which Maria Callas spent happy moments.
On Maria Callas footsteps in Verona
All the places in which Maria Callas began her career, lived, loved, sang while in Verona can be visited, in town and in its outskirt. For information on itineraries and guided tours: