Valpolicella Wine Tours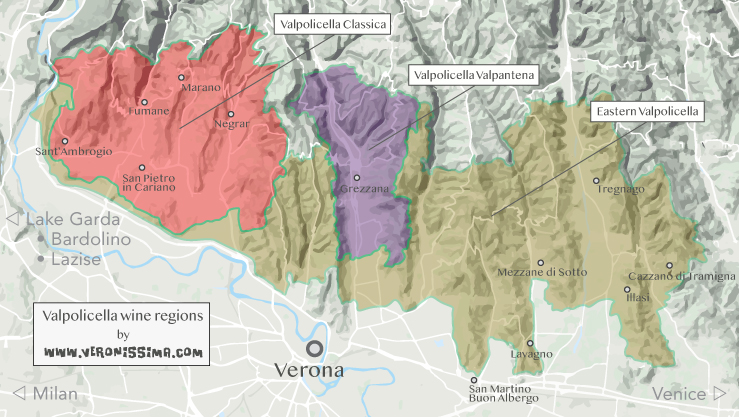 This is the most complete guide to the wines and territory of Valpolicella. It is ready to use if you are planning a wine tasting tour in this extraordinary wine region or if you just want to deepen your knowledge.
Below you will find the best suggestions and information from the best wine guides in Verona who have decided to share decades of experience in the field to make your tour of one or more days unforgettable.
But above all here you will find information about the best wines of Valpolicella with a selection of 15 of our favorite cellars for a unique and unforgettable experience.
How to get there.


How to get around.


Where to sleep (with 6 wineries with accommodation).


What and where to eat (with 8 must-try recipes and our 9 top restaurants).


And the 9 best sights you should not miss.
First of all
Where is Valpolicella?
Valpolicella is made up of the hills and valleys north of the city of Verona, in the Veneto region, north-eastern Italy.
It stretches from the Adige river valley on its west side to the volcanic territories of the Soave wine production area in the east.
Valpolicella is a controlled designation of origin (DOC - DOCG) area. It means that according to the Italian protection law, only wines produced within established boundaries, following strict production regulations, can bear the name Valpolicella on their labels.
Valpolicella sub-regions
There are 3 sub-zones whose designation may appear on the label:
Valpolicella Classica
The oldest area, where the designation was born and where Valpolicella wines originated. In Valpolicella Classica you can find most of the historical cellars.
Valpolicella Valpantena
It is the first valley east of Verona, known since Roman times for its fertility. Valpantena is known not only for its Valpolicella wines but also for its olive oil.
Valpolicella Estesa/Orientale
Is the area east of Verona, made up of Val Squaranto, Valle di Mezzane, Val d'Illasi, Val Tramigna valleys. It houses some of the newest and most innovative wineries.
How to get to Valpolicella
The best starting point for a Valpolicella wine tour is Verona, from there you can reach the wineries in less than half an hour. Verona is at easy reach from Venice, Milan, Bologna in about one hour by train, 1h30' by car. From these cities it is therefore possible to visit Valpolicella with a day trip.
By Train
The main station of Verona is Porta Nuova. You can check train timetables and also buy tickets online directly on the official railway website (here).
By Car
On the motorway, the exit for the center of Verona is the "Verona Sud" exit. If you want to drive directly into Valpolicella Classica the best exit is "Verona Nord". For Valpolicella Estesa the best exit is "Verona Est". Please consider that drink and driving limit for Italian law is 0.04% (0.4 g/l).
By Bus
From Verona and Lake Garda you can also reach Valpolicella by bus. However, bus stops are located along the main roads, while most of the cellars are in the hills, and not easily reachable on foot from the bus stop. In any case, if you know the location of the winery you want to visit you can check the buses and timetables for Valpolicella from the official website of the public transport company of Verona (here).
Where to stay in Valpolicella
If you prefer to spend the night in Verona, the city offers a wide choice of hotels, b&b, holiday houses, etc., for all budgets.
Lake Garda is also a good option to stay one or two nights. From the east coast of the lake (city of Lazise, Bardolino, Garda), you can easily reach Valpolicella Classica by car.
6 Wineries with accomodation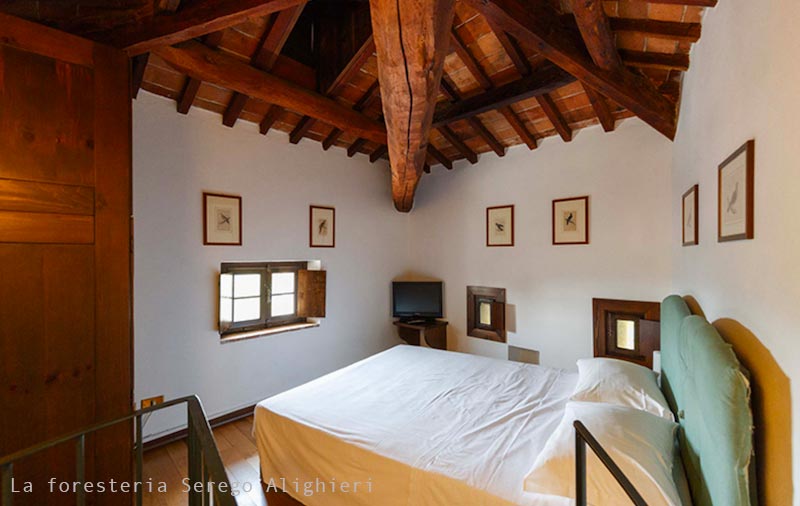 If you want to try the experience of staying overnight in a winery, surrounded by vineyards and in bedrooms right above the barrels of your favorite wine, here are a few wineries in Valpolicella with accommodation:
Fratelli Vogadori
Valentina Cubi
Massimago
Serego Alighieri
Villa Giona
Villa della Torre
The 5 wines of Valpolicella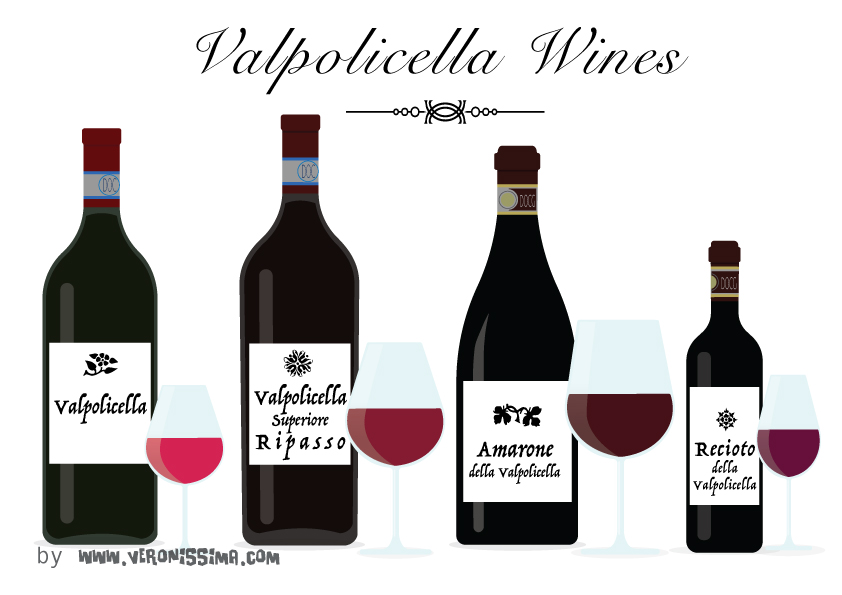 Valpolicella is the denomination for 5 types of wine. Even if they are very different in terms of structure, alchol content, ageing potential, price, since they are made with the same grape blend they share similar characteristics.
VALPOLICELLA
The simplest and lightest wine. It is produced with fresh grapes, crushed and fermented immediately after the harvest and immediately bottled. It normally has an alcohol content between 12-13 degrees and should be drunk within 4-5 years after bottling. It's inexpensive and is considered an everyday table wine.
VALPOLICELLA SUPERIORE
It is obtained from a better selection of grapes. After fermentation it must age for at least one year in wooden barrels. It has an alcohol content of 13-14 degrees and must be drunk within ten years.
RIPASSO
With the special Ripasso technique Valpolicella Superiore wine undergoes a second brief fermentation together with the skins of the grapes used for Amarone. Similar to Valpolicella Superiore but with some more characteristics of Amarone. Increasingly successful wine.
AMARONE
After the harvest the best grapes are dried in special rooms for up to three months, concentrating sugars and aromas. The wine obtained from these grapes is aged in wooden barrels for at least two years. Alcohol content of 16-17 degrees and more. It is a full-bodied but elegant wine that can age for decades in your cellar. Ranked among the most important wines of Italy.
RECIOTO
Like Amarone it is made with dried grapes but the particular production process keeps sugar content higher. It is a sweet but refined wine, perfect to accompany desserts or cheeses.
These are all DOC and DOCG wines, i.e. produced within determined boundaries and following the specific regulations of the area.
IGT WINES
An IGT (Typical Geographical Indication) wine, although produced from grapes grown in Valpolicella, does not follow the specifications, especially with regard to the grape varieties. These are wines that allow wineries to experiment, to be creative and to create original wines.
Here are a few examples of very successful IGT wines, produced in Valpolicella but without following the rules:
Allegrini la Poja: 100% Corvina grapes instead of the blend of indigenous grapes required by the specification.
Masi Osar: 100% Oseleta grapes.
Giuseppe Quintarelli Alzero: blend of Cabernet and Merlot.
But the number and types are now countless.
The Grapes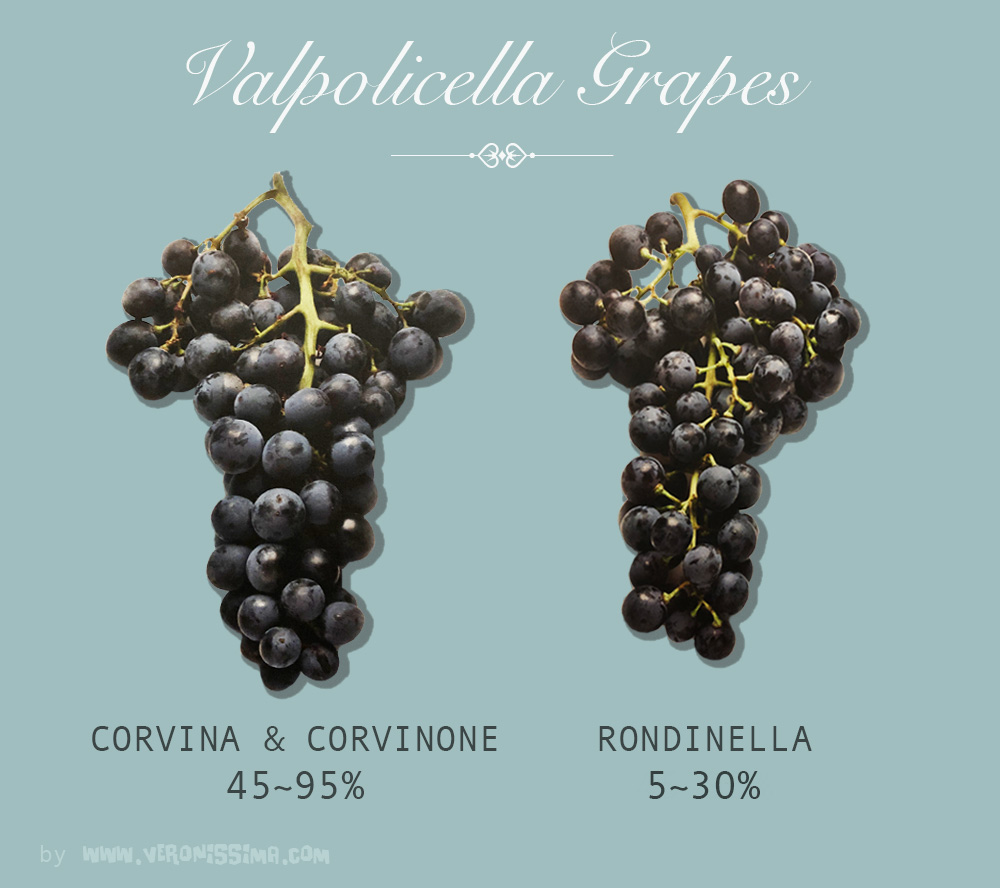 All wines bearing the Valpolicella appellation must be made from a blend of at least 3 indigenous grape varieties: Corvina, Corvinone and Rondinella.
45-95% Corvina and Corvinone
The structure of all Valpolicella wines, including Amarone, is given by the Corvina varieties, which for most producers are around 60-70%. This type of grape is very old and cultivated only in the territory of Verona. It has oval berries. Corvinone has larger berries than Corvina. It gives the wine typical hints of cherry and soft silky tannins.
5%-55% Rondinella
In most blends it is around 20-30%. This variety is also cultivated only in the Veronese territory. It has a high sugar content, round berries and sparse bunches.
Other Grape Varietals
Each wine maker, in addition to Corvina and Rondinella can add a percentage of no more than 15% of other varietals, with a maximum of 10% for each vine chosen from a list of grapes allowed to be grown in Valpolicella. Among the many indigenous grape varieties of Valpolicella there are: Negrara, Pelara, Forsellina, Spigamonti, Rossignola, etc..
Molinara and Oseleta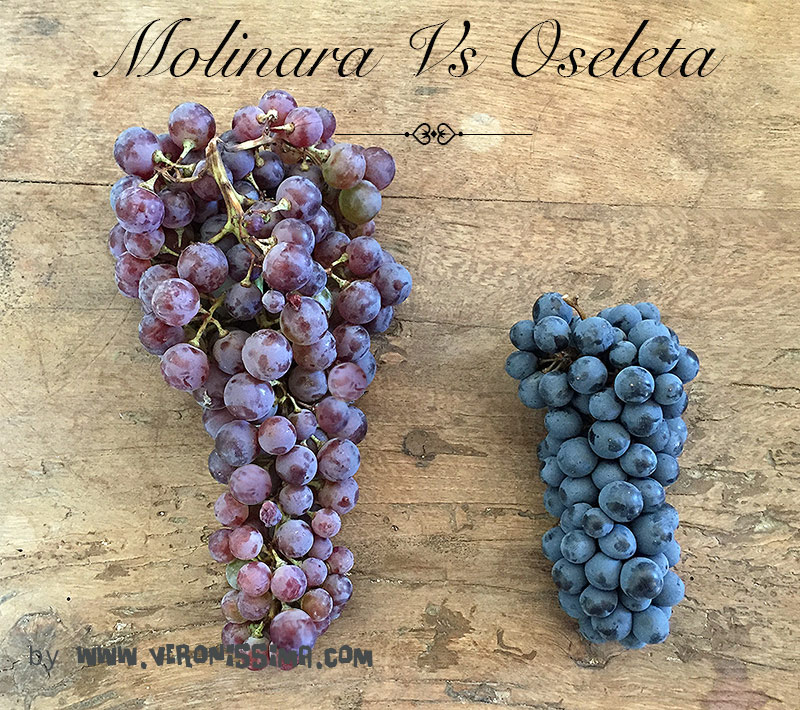 In the past it was mandatory for oenologists in Valpolicella to use at least 10% Molinara, and many producers still use it. It is a grape characterized by large, light-colored grapes, which gives freshness and acidity to the wine.
Since 2010 it has become optional and many oenologists now replace it with Oseleta, which after being almost abandoned in the past it is becoming very popular among winemakers because it gives wines intense color, important tannic texture and spicy notes.
Tasting Notes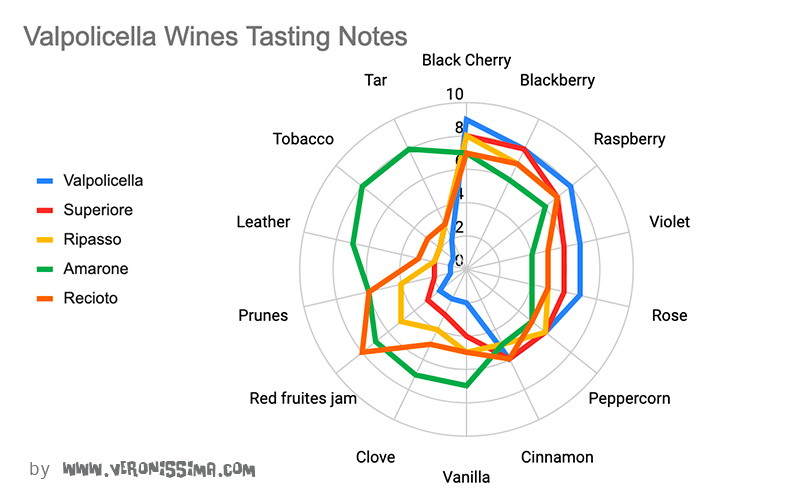 Although the taste and aromas vary greatly depending on the type of Valpolicella, there are nevertheless some specific characteristics that can be found in all wines made with the typical blend.

The styles of Valpolicella wines are very different in structure, alcohol content, ageing potential and price. However, since the grapes blend is the same for all of them, even in this great diversity a certain sensorial continuity can be found.
Tasting notes of Valpolicella wines are characterized by red fruits and berries with a clear distinctiveness of cherry and morello cherry.
Then there are spicy notes such as cinnamon, clove, green pepper, and floral notes with violet and rose.
In general, floral and fruity notes will prevail in younger wines. In more mature wines the fruit will evolve towards hints of jam and marmalade, certain spicy notes will increase and tertiary flavours from ageing in wood (vanilla and tobacco) and evolution (leather, tar, etc.) will add.
Valpolicella beyond wine
A territory so ancient and inhabited for such a long time, is obviously rich in monuments and testimonies of the past that can become a pleasant complement to a visit to discover its wines. Here you have some interesting sights to visit during your Valpolicella wine tour.
9 Sights you should not miss
1. San Giorgio church and village

A small village perched on top of a hill from which you can see a breathtaking view over the western Valpolicella and Lake Garda. It has been inhabited since the Bronze Age. It is possible to visit the archaeological excavation with the remains of the ancient prehistoric village.
Later it became the religious center of the city state federation of Arusnati, the ancient and mysterious inhabitants of Valpolicella. Here they built a temple.
The Romans arrived in the 1st century B.C. and built their own temple, on which the Christians, around the 7th century, built a Romanesque church still present and visible today. The remains of all these ancient civilizations make San Giorgio a unique and unmissable place to visit in Valpolicella.
2. Villa della Torre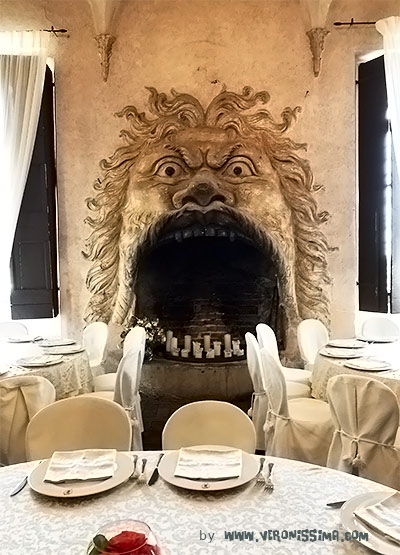 One of the most extraordinary Renaissance villas in Italy. Built in 1500 on the model of the ancient Roman domus by Giulio Romano, one of the masters of Italian architecture. It is famous for its fireplaces made of sculptures representing gigantic sea monsters, demons, lions and that, together with the artificial cave, were perhaps part of mysterious initiation rites that took place in the villa.
Today it is owned by the Allegrini winery, completely surrounded by vineyards. It is possible to stay overnight and make visits with tasting.
3. Villa Mosconi Bertani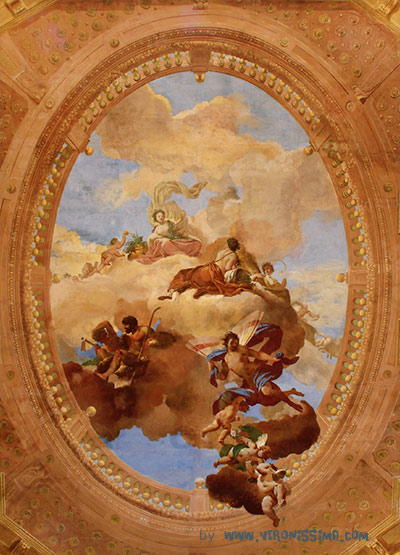 Splendid example of a neoclassical villa built in 1700 in the middle of a fertile valley full of vineyards, woods and water springs. In the center of the villa the impressive hall with vaulted ceiling and frescoed walls. Outside a wonderful romantic garden.
According to tradition, it was in the cellars of the villa that Amarone was born by mistake.
The villa houses the Santa Maria winery and is open for visits, tastings, events.
4. San Floriano
One of the most beautiful Romanesque churches in Verona. Built on the ruins of an ancient Roman temple dedicated to the goddess Flora.
5. The quarries of Prun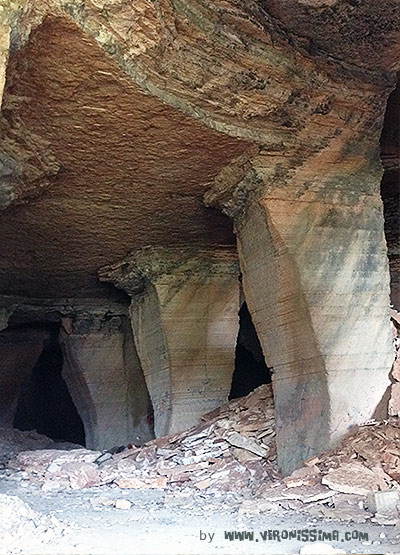 Valpolicella was once as famous for marble as for wine. The hills of this region are in fact made of solid limestone rich in fossils. The wine itself owes its characteristics to the soil rich in calcium carbonate due to the erosion of marble. Where the altitude is too high to grow vines, there are opencast quarries still in use today.
In the past marble slabs were extracted in deep galleries. The material was carved around around massive pillars left to support monumental vaults still visible today.
6. The garden of Villa Rizzardi
One of the most beautiful Italian gardens in the world. Plants and bushes are pruned to create galleries, temples, labyrinths and even a theatre completely made up of boxwood and hornbeam hedges. The garden is part of Villa Rizzardi, a farm where you can make visits and tastings.
7. Illasi Castle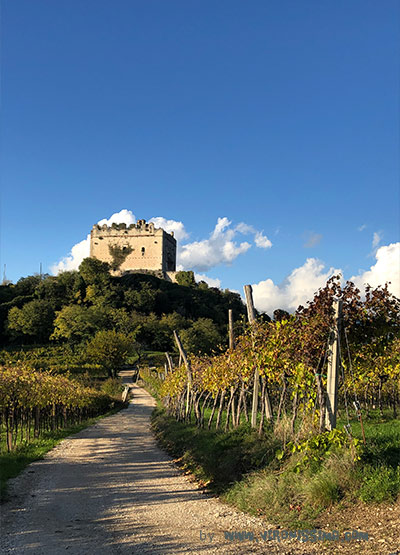 Castle of medieval origin built in a strategic position to control the Illasi valley and the traffic of goods from above. Apparently it belonged to the Montecchi family, who inspired the Montagues in the legend of Romeo and Juliet.
Today it is partly ruined and cannot be visited internally, although it is possible to see it up close and admire the surrounding landscape from above with the valleys covered with vineyards.
8. Villa Arvedi
Imposing neoclassical villa in the centre of Valpantena, one of the main production areas of Valpolicella wines. The villa has a beautiful Italian style garden with boxwood hedges pruned in geometric shapes, and surrounded by vineyards. It can be visited and booked for private events.
9. Hypogeum of Santa Maria in Stelle
A mysterious underground room built over a water spring in Roman times and decorated with frescoes and statues. It was probably a temple dedicated to the nymphs in the centre of the Valpantena, i.e. the fertile "Vallis pantheon", the valley of "all the gods". Later a church was built on top of it, as the first Christians used to do when they took over the places of the ancient religion. It can still be visited today.
A taste of Valpolicella
8 Dishes you should try
During a full day Valpolicella wine tour you will also have the chance to stop for lunch at a winery or in some traditional local restaurant. Here is a list of the major dishes you might find on the menu.
1. Soppressa Veneta
Typical Veneto region salami, large and soft, with lots of garlic according to the traditional recipe.
2. Fasoi imbogoné
Red beans, stewed and flavored with rosemary, served with tagliatelle.
3. Gnocchi sbatui
Typical mountain dish consisting of irregularly shaped dumplings served with butter and smoked ricotta cheese.
4. Tagliatelle in broth with livers
Thin noodles served in broth with chicken livers. Very tasty and savory dish.
5. Tagliatelle with Lessinia truffle
Tagliatelle noodles served with lots butter, cheese and black Summer truffle from Lessinia, the mountains north of Valpolicella.
6. Amarone risotto
Variety of rice Vialone Nano, typical of Verona, cooked and creamed with a sauce based on Amarone wine.
7. Braised beef cheeks
Beef (or pork) cheeks cooked for a long time and stewed in an Amarone sauce. Tender and tasty.
8. Monte Veronese Cheese
The typical cheese of the Veronese mountains made from milk from grazing cows. Excellent both fresh and of medium or long maturation. One of the finest cheeses in Italy.
9 Valpolicella Restaurants
And here are some restaurants where you can taste these dishes together with many other original and delicious preparations and extensive local wine list.
Osteria Number 1 - Fumane
Restaurant alla Rosa - San Giorgio
Borgo dell'Arusnate - San Giorgio
Trattoria Paverno - Valgatara
Trattoria ai Torcoli - Marano
Trattoria ai Caprini - Torbe di Negrar
Restaurant alla Porchetta - Negrar
Osteria dal Bugiardo – Negrar
Enoteca della Valpolicella - Fumane
15 cellars
And finally here are the cellars where we most often take guests during our Valpolicella wine tour. They are very different in type, cost, atmosphere, wines. But they all represent a typical aspect and style of Valpolicella.
Family-run Boutique Wineries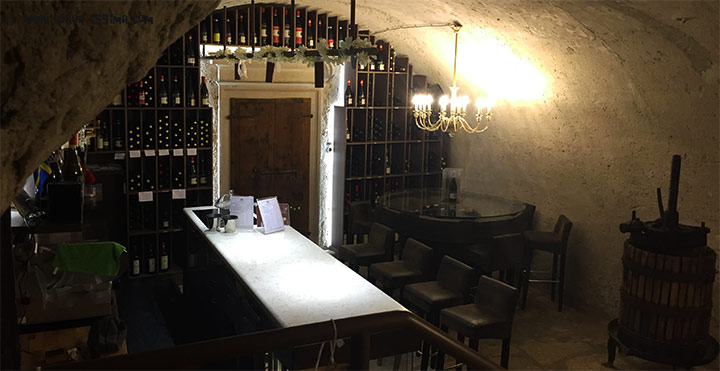 Small realities with limited productions of great quality, with attention to every detail. Warm welcome and hospitality often from the family members themselves who can tell you first-hand about the processes and experience of wine making in Valpolicella. The best way to get to know this territory and its great wines.
1. Meroni
2. Fratelli Vogadori
3. Carlo Boscaini
4. Terre di Leone
5. Ferragù
6. Valentina Cubi
Big Names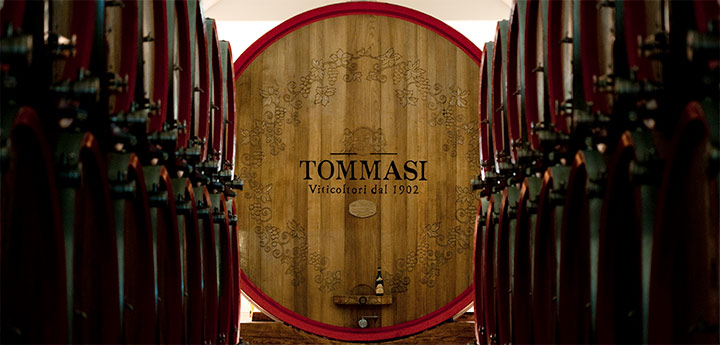 Great wineries, not only in terms of size, but also in terms of diffusion, recognition, quality or prestige, which produce the most iconic bottles and labels you will easily find in most restaurants and wine shops all over the world.
7. Masi
8. Tommasi
9. Bertani
10. Giuseppe Quintarelli
11. Romano Dal Forno
Villa Wineries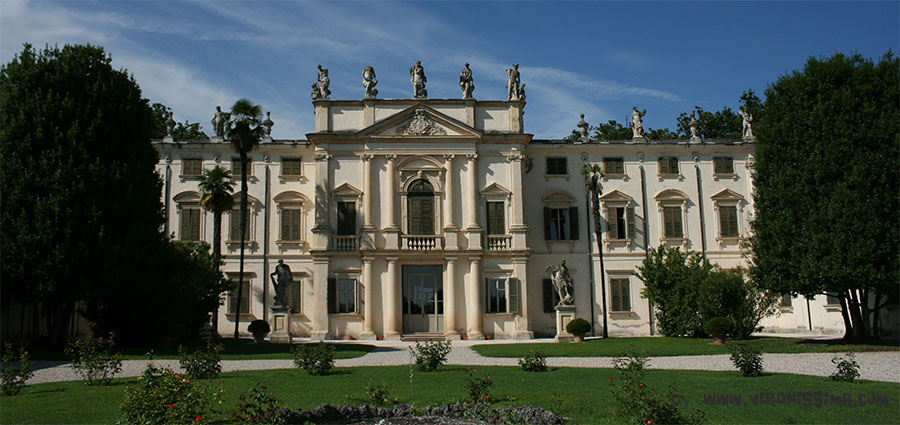 Wine cellars and tasting rooms housed in sumptuous and ancient noble villas. A unique experience not only for the palate, but also for the eyes and the spirit among parks, frescoed halls, sculptures and magnificent architecture.
12. Mosconi Bertani
13. Serego Alighieri
14. Villa Della Torre
15. Guerrieri Rizzardi
These are, of course, just a suggestion to help you find your way around an area with almost 400 wineries, which, if it is your first time in Valpolicella can be a bit overwhelming.
If your favorite winery is not on this list, we can book visits to all the wineries in Valpolicella.
If you want to discover even more wineries you can check on the website of the producers' association (Consorzio).
Share your experience
During your Valpolicella wine tour have you been to a winery that is not listed and discovered great wines and an extraordinary experience? You have found the advice and addresses given in this Valpolicella guide useful.
Let us know and share your experience and pictures with us and other readers.
Book a Tour
If you are planning a Valpolicella wine tour and prefer to rely on a specialist who will take care of everything for you, write to us. You won't have to worry about anything but just relax and enjoy a wonderful day among Italian landscapes, vineyards, barrels, tasty food and extraordinary wines.
+39 333 2199 645
info@veronissima.com