Pearà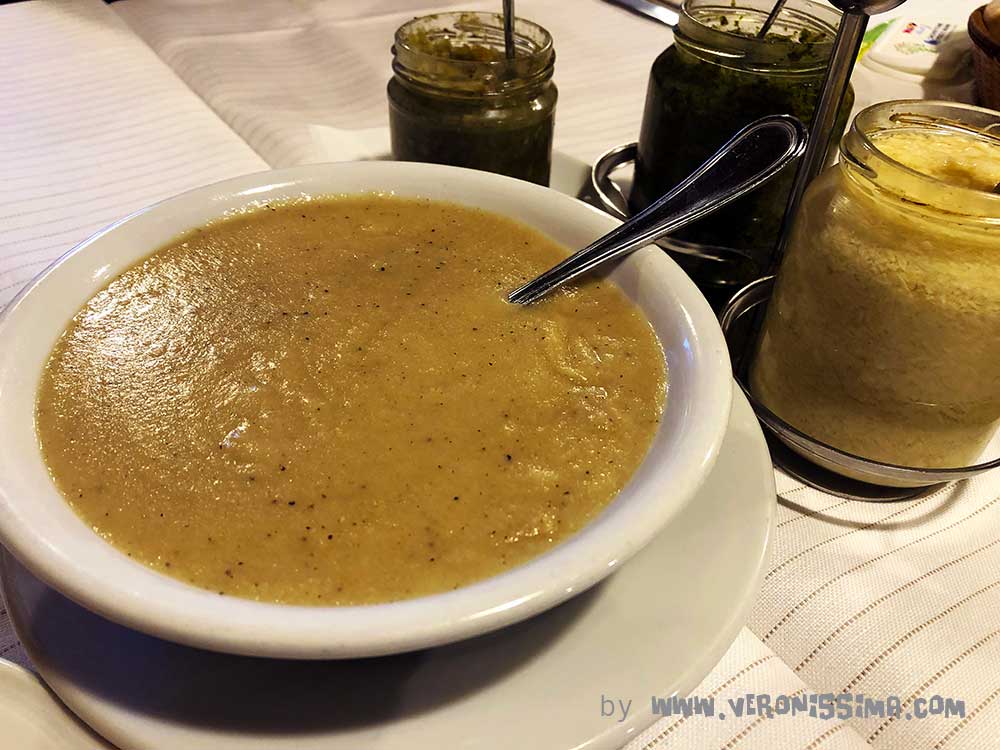 There is no other dish that represents Verona more than pearà. In fact pearà is not prepared in any other city or region but Verona.
Pearà is a sauce served with mixed boiled meats. However, it should not be regarded as a simple accompaniment but as an integral part of the dish, so much that it appears in the name itself: bollito misto con pearà (mixed boiled meat with pearà).
The origin of pearà is ancient and legendary.
Alboin and Rosamund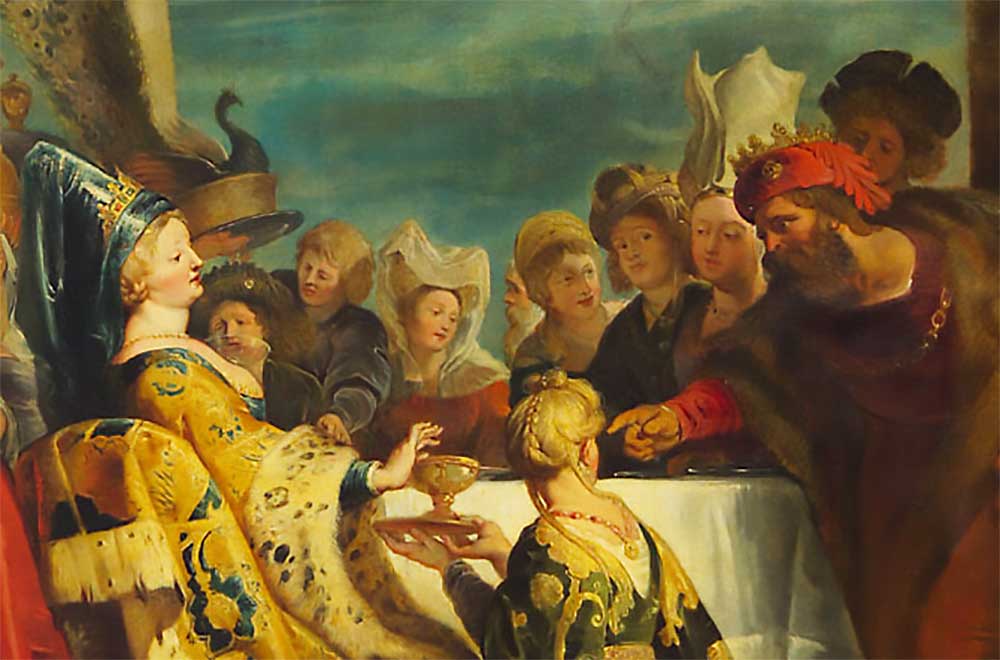 It is 568 AD, at the end of the Gothic Wars that devastated the Italian peninsula in the centuries following the end of the Roman Empire. From the eastern border come the Lombards, a warlike population of Germanic origin that soon conquered all of northern Italy. They are led by their king Alboin, who makes Verona the capital of the territory they have just conquered.
In the old fortress of King Theodoric on the St. Peter's hill, Alboin celebrates his victory with a banquet attended by all his loyal dukes.
Intoxicated by the good Veronese wine flowing abundantly, Alboin turns to his beautiful young wife and pronounces the famous words:
«Drink Rosamund from your father's skull!»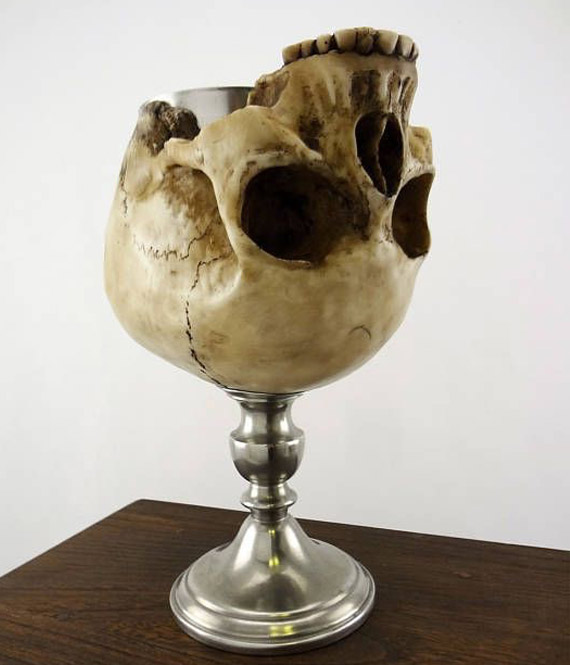 Apparently it was the custom of the Lombards to make cups with the skullcap of enemies defeated in battle. Rosamund was the daughter of Cunimond, king of the Gepids, one of the many Germanic populations that Alboino had subjugated.
Alboin gives Rosmunda the macabre cup. She keeps silent and drinks. But the humiliation is so unbearable that she falls into depression.
The court cook, seeing the queen in such a profound state of prostration is moved, and decides to try to cheer her up. It is well known that food can be the cure for many ills, of the body and spirit. He prepares a soup, to be served hot, with broth and dry bread. To make it more rich and creamy he adds oil and beef marrow. To give it strength that will awaken the senses and soul he adds a generous handful of grated black pepper. This is how pearà was born, which in Veronese dialect means "peppered".
Rosamund's Revenge
Rosamund, thanks to pearà, quickly recovers from her depression, and regains such a vigor and strength of mind that she decides to take revenge on Alboin. She becomes the lover of Elmichi, a young Lombard warrior, and convinces him to help her in her plan. Rosamund binds to the sheath the sword that Alboin always keeps in the bedroom, and when the sovereign comes to lie down finds Elmichi waiting for him and, unable to defend himself, is killed.
Royal or Popular Dish?
A less suggestive theory about the origin of pearà says it is actually a poor dish of popular cuisine prepared with scraps and leftovers (marrow and stale bread). However this hypothesis does not take into account the abundance of black pepper which in the Middle Ages was an exotic and expensive spice, certainly not common in the cupboards of common people, and in any case used sparingly.
Ingredientis for 4
200 g (7 oz) of bread crumbs, grated and sifted
100 g (3.5 oz) of beef bone marrow
1 l (2 pt) of meat stock (beef and/or chicken)
2 tsp of ground black pepper
100 g (3 fl oz) extravirgin olive oil
Salt
Preparation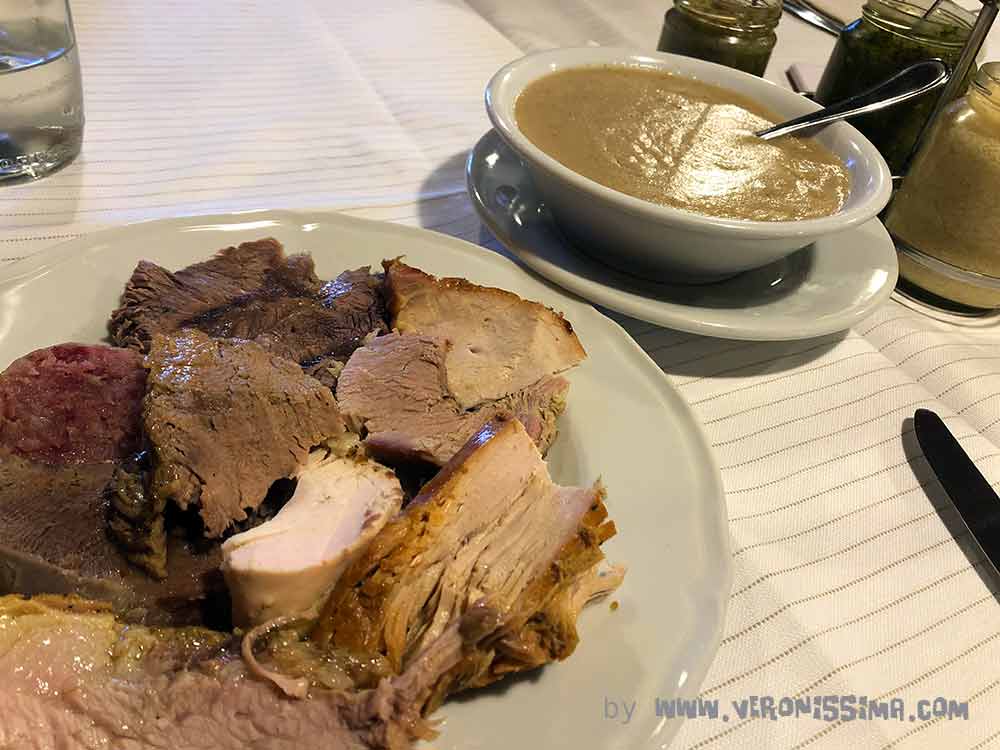 Typical dish of mixed boiled meats and roasts, served with pearà, green sauce (made with parsley), horseradish, mustard and mostarda (candied fruit soaked in mustard-flavoured syrup).
The preparation of pearà is very simple. The ideal is to use a large terracotta pot. Put it on a stove protected by a net or a flame breaker plate. Melt the marrow with the oil, stirring with a wooden spoon. Add the breadcrumbs and pepper and then the boiling broth. Stir to create a uniform cream without lumps. Bring to the boil and then lower the heat to the minimum and cook for about two hours stirring as little as possible. The final texture should be soft and creamy, with a pronounced spiciness given by the pepper.
Variations
The texture, more or less creamy, and the amount of pepper, depend on personal tastes and family traditions in the various areas of the city and province of Verona. Some also add grated Parmesan or Monte Veronese cheese.
How to serve it
In general the pearà should be sapid and spicy.
It is a typical winter dish to be served very hot.
Traditionally it accompanies the boiled meat together with salsa verde (parsley sauce), horseradish, mustard and mostarda, but it is also excellent with cotechino (rind sausage), roasts or as a stand-alone dish.
Perfect with a good Veronese red wine such as the Valpolicella Superiore or Amarone.
Verona Cuisine
Discover pearà and the other tasty products and dishes of Verona's cuisine in the city's restaurants or by taking one of our Verona food tours.
For further information about food tours, guided tours to the production areas of typical products of Verona and its territory:
+39 333 2199 645 info@veronissima.com P.I. 03616420232 C.F. CPPMHL74L13L781C