Verona Guided Itinerary


Itineraries for Students


Verona by Night


Shakespeare's Verona


Verona by Bycicle


Undergroung Verona Tour


Verona by Plane


Roman Verona Itinerary


Middle Age Verona


Dante's Verona


Venetian Verona


Austrian Verona


Verona Churches


Sanmicheli's Verona


Verona Hidden Treasures


Museums of Verona


Itineraries in Valpolicella


Itineraries in Soave


Custoza


Lake Garda


Palladian Tours
Sightseeing Tour of Roman Verona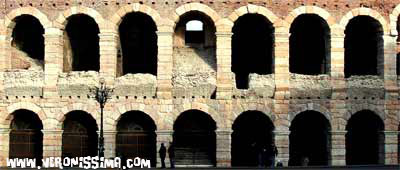 Verona, thank to its strategic position in the middle of a network of roads spreading throughout northern Italy, was one of most important cities of the Roman Empire. Postumia, Gallica and Claudio Augusta where a kind of highways of the past and they all passed through Verona or next to it. Even today Verona, for amount of Roman remains is second only to Rome. An amphitheater, a triumphal arch, two gates, a bridge, a theater, and then mosaics, marble streets, walls, Verona is a real open air archeological museum, with monuments dating from the Republic age until the early Christian era.
Only accompanied by an expert tourist guide you'll be able to discover, in a couple of hours, all the treasures of Roman age Verona.
This walking tour in Verona city center starts from the Gavi Arch, built by one of the wealthiest family in 1st century Verona. You will then walk on the old Postumia road going towards the city center. It is exactly the same itinerary that the visitor would have done coming to Verona two thousands years ago. You will pass under Borsari gate, the main entrance of the town in the imperial age. On the gate sides, remains of the old Roman wall can still be admired. Once entered the old town, walking on the decumano, the old main street of Verona you will reach the river Adige. In the Roman Verona there were two bridges: one was destroyed by a flood in the 4th century, the other, Pietra Bridge, can still be admired on the river. On the other bank, on a gentle slope of the hills surrounding Verona, the remains of the Roman theater, the oldest building in Verona, built in the 1st century before Christ and still used for the Verona Jazz festival, and the Shakespeare festival.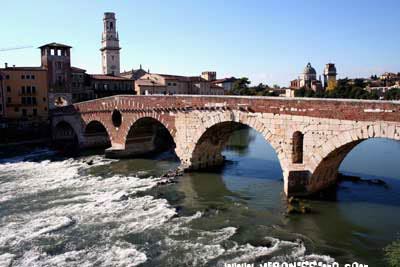 The guided tour will then continue in the city center. There, in the very heart of Verona, in a hidden square, through big circular windows opened on the ground, you will admire the magnificent mosaics of a Roman house, now almost three meters underground. From here, the next stop is in Erbe square, the old forum, still here after two thousands two hundred years.
From the forum, on the old cardo, the second axis of the Roman street system, you will reach the other end of the town, Lions gate, with its double facade and the excavation showing the remains of the defensive tower and the roman road. Along the course of the ancient defensive wall, you will reach the Arena, the most important building of Verona, the amphitheater built in the 1st century A.D. It is so well preserved that it is still used nowadays for concerts and for the famous opera festival.
For further details or information on guided itineraries and tour in the Roman Verona: