Romeo et Juliette
Verona Opera Festival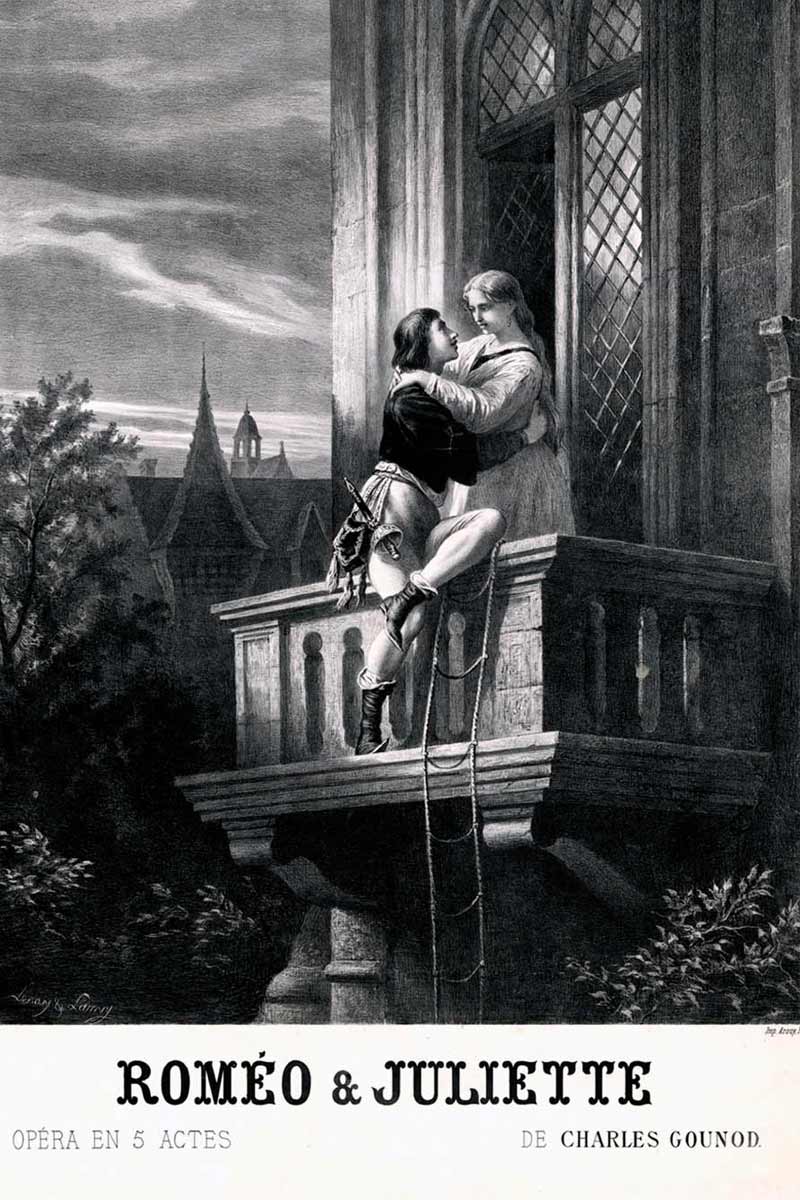 Author: Charles Gounod
Libretto by Jules Barbier and MIchel Carré, after William Shakespeare play.
Première: 27th April 1867, Paris (Théatre Lyrique)
Verona and its Amphitheater are the ideal setting for this Gounoud opera that depicts an emotionally charged atmosphere. The whole story is based on a series of duets representing the development of two people, leading them from careless attraction, to a responsible concept of love, and at last to the invevitable ending in death.
Romeo and Juliette, Opera in 5 acts
First Act
At the old Capulet family's house a great ball is held. Romeo and his friend Mercutio, members of the Montague family, enemy of the Capulets, are uninvited guests. At the party, Romeo approches a girl, falls in love with her and to his horror he discovers that she is Juliet, the daughter of his enemy.
Romeo is then recognised and has to flee.
Second Act
Romeo waits for Juliet under her balcony, hoping to catch a glimpse of her. Juliet's come to the balcony, she is in love too, and they declare each other love and decide to marry in spite of the rivalry between their families.
Third Act
Romeo's confessor, friar Lawrence, blesses Romeo and Juliet's secret marriage, hoping that this union will bring Capulets and Montagues feud to an end.
Mercutio, Romeo's friend, is killed in a fight with Tybalt, a member of the Capulets. Romeo enters the fight and kills Tybalt.
The Duke of Verona condemns Romeo to banishment for life.
Fourth Act
Before leaving Verona Romeo spend a night with Juliet.
Juliet's father intend to marry her to Paris, but friar Lawrence gives Juliet a sleeping draft that will make her looking dead and laid in the family crypt. According to friar Lawrence plan, when she wakes up Romeo will be there to take her away with him.
During the wedding ceremony with Paris, Juliet collapses, apparently dead.
Fifth Act
Juliet lies in her grave but friar Lawrence messanger has failed to inform Romeo of the truth. Romeo believes Juliet dead and drink the poison in order to reunite with her in the grave. As Romeo is dying, Juliet wakes and after a last dream of life together Romeo dies, and Juliet follows him stabbing her self with Romeo's dagger.
For further information on Verona operas, tickets, hotels or to book a guided sightseeing tour before the show please write at:


----

Arena 2010 Opera Festival
----Weekend Packages


----

3 days 2 nights
----

Packages include:
Transfer on private car with driver from airport or train station to the chosen hotel
Two nights in double room in three stars hotel close to Verona city center
Breakfast in hotel
Opera Tickets, two performances
Verona Card granting free access to major Verona museums and monuments