Tourist Map Verona
Our tourist map of the historic center of Verona is the result of decades of experience. We have simplified and optimised it to be a useful tool for your visit to the city. You will find clear and reliable directions to create your itineraries through monuments, squares, and the most important things to see in Verona.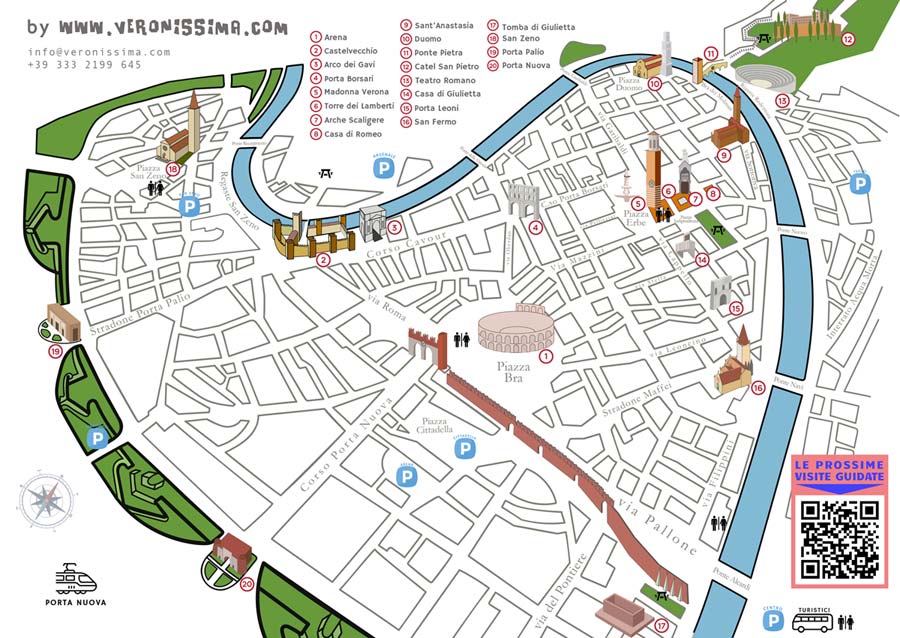 Need a map of Verona with more details?
Directions to your hotel
Restaurants
Shops
Itineraries
Send us your requests and receive a free customized map.
Request a free pdf of the map of Verona in high definition and optimized for printing:
+39 333 2199 645 info@veronissima.com P.I. 03616420232 C.F. CPPMHL74L13L781C
Do it yourself Verona tours
With a tourist map in hand and a good paper guide you can always visit Verona on your own.
However, you will end up trying to orient yourself by turning the map this way and that, going in the wrong direction, splitting your gaze between the pages of the guide and the monuments in front of you, reading aloud for your family or friends a text that is often cold, sterile and technical. Perhaps this is not the best way to enjoy Verona and its beauties.
Relying on expert tour guides will radically change the experience of visiting Verona. A professional guide will be able to transmit you with passion every secret of the city: art, history, legends and curiosities of a wonderful city. And this tourist map will still be useful in your remaining free time.
For more details, information, requests for tour guides in Verona, write to:
Further information and bookings:
+39 333 2199 645 info@veronissima.com P.I. 03616420232 C.F. CPPMHL74L13L781C