Verona Guided Itinerary


Itineraries for Students


Verona by Night


Shakespeare's Verona


Verona by Bycicle


Undergroung Verona Tour


Verona by Plane


Roman Verona Itinerary


Middle Age Verona


Dante's Verona


Venetian Verona


Austrian Verona


Verona Churches


Sanmicheli's Verona


Verona Hidden Treasures


Museums of Verona


Itineraries in Valpolicella


Itineraries in Soave


Custoza


Lake Garda


Palladian Tours
Guided Tours: Soave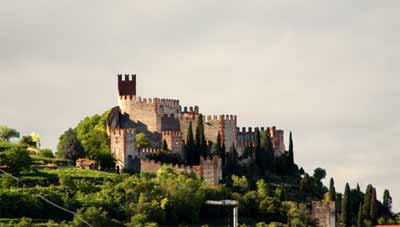 Soave represents the third main tourist area in the Veronese territory after Verona and Lake Garda. Soave is mainly famous for the wine that is produced here, the Bianco di Soave. Many people, in Italy too, still believe that the name of the village derives from the wine, called Soave, gentle in Italian, because of its delicate and harmonious taste. In fact the name Soave probably comes from Suevi, the name of a barbaric tribe that, coming from eastern Europe after the fall of the Roman Empire, settled here, where there was already a small village and probably a castle on the rock overlooking the valley and the Postumia road.
Soave is still characterized by the beautiful castle, built by the Scala family in the fourteenth century, from where unfold the walls still protecting the whole village.
From the top of the castle you can still admire a breathtaking view over a "sea" of vineyards below.
The guided tour in Soave starts from the Castle. Even if its origin are probably Roman, its actual shape dates back to the 1369, when Cansignorio, Scala family lord of Verona, re-built it to control this important strategic area. Soave Castle is a magnificent example of military architecture, with its gates, its walls and battlements, drawbridges, the armour collections and the impressive keep. For those who do not suffer from dizziness, it is also possible to walk along the battlements and climb on top of the keep from where you'll admire a breathtaking view over the valley and the vineyards below.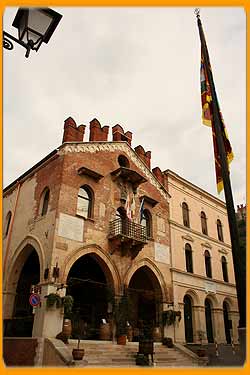 Going down along the suggestive path linking the castle to the village, you'll get to Antenna square, with the pole from which derives the name of the place, given to the people of Soave by Venice to as a sign of gratitude for their loyalty. From the pole hangs the old gonfalon of Venice. Around the square there is the Captain Palace, built by the Scala family with the typical XIV century style, and Cavalli Palace, stunning example of Venetian Gothic style with its mullioned windows and the fresco decoration.
Together with the historical and artistic tours, Soave offers a wide variety of gourmet and wine tours. Many of the numerous wineries where the famous Bianco di Soave is produced, both in the village and in the close by Monteforte d'Alpone, are opened and welcome visitors with their wine tasting tours. Soave wine can be classico, superiore or recioto, the sweet version made with dried grapes.
In the same area is also produced a delicate olive oil, registered with the d.o.p. in 1993, the Monte Veronese cheese, the famous cherries of Cazzano di Tramigna and down in the valley, the Vialone Nano, the king of Italian rice, ideal for risotto.
For further information on guided tours, cellar tours in the many wineries of Soave and tourist itineraries in the eastern territory of Verona: