Tommasi
Verona Wineries Big Names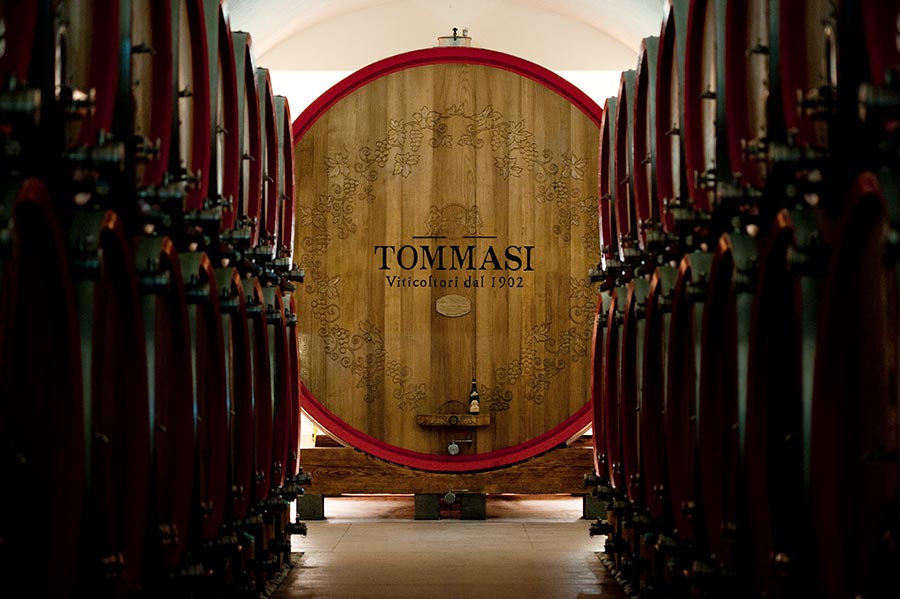 Tommasi is among the most renowned wine producers of Verona, not only in Italy, but also abroad. Because of their size and look, Tommasi wineries have such an impact that a visit with tasting will not leave indifferent even the most experienced wine enthusiast.
Founded in 1902, for its size and notoriety a reference point of Italian enology in the world. Today Tommasi continues to be a family-owned winery, now in its fourth generation.
The heart of the winery is the big cellar in Pedemonte, in the center of Valpolicella Classica. From the first vineyard, Tommasi winery has constantly increased its production and today owns about 100 hectares of vineyards located in some of the best areas for the production of Valpolicella Classica grapes.
During the years Tommasi has also extended its production to other D.O.C. wines of Verona: Bardolino, Custoza, Soave, Lugana. Moreover, thanks to a series of acquisitions all over Italy, today Tommasi's range includes wines from Montalcino, Prosecco, Primitivo di Puglia, Aglianico del Vulture, Oltrepo Pavese.
Wine Tours at Tommasi Winery
The typical tour starts with a pleasant walk through the historical vineyard which is located behind the winery. The visitor will understand the difference between the traditional pergola and guyot training systems, as well as the different local grapes used in the blending of Valpolicella and Amarone wines. The next stop is the fruttaio, the large attic where, after an accurate selection, grapes for Amarone, Recioto and double fermentation wines remain to dry for about 3 months.
The wine tour in Tommasi winery then goes down to the underground cellar, where visitors will have the chance to see the huge Slavonian oak casks used for the aging of wine. At Tommasi they still use the traditional method with large 20/25 hectoliters casks for Amarone, as well as French oak barriques for the aging of more modern wines. In the cellar you can also admire one of the largest wine barrels in the world: Magnifica, registered in the Guinness Book of Records. 5 tons of oak wood, for 333 hectoliters of volume: 44,400 bottles of Amarone!
At the end of the tour there will be a tasting of the most representative Tommasi wines held in the brand new wine shop on the ground floor. Guests will have the possibility to choose among many types of tastings by selecting wines from the wide Tommasi list.
Tommasi wine shop is always open during weekdays for informal tastings and purchases. If the staff is not too busy in the store, they will be glad to take you on a short tour of the winery.
Complete tours and guided tastings must be booked in advance, especially in high season.
To contact the winery directly: +39 045 7701266
Our wine guides will be glad to include Tommasi winery in a half day or full day itinerary in the Valpolicella wine region.
Feel free to contact us for more information or to book your private wine tour in Valpolicella: