Verona Guided Itinerary


Itineraries for Students


Verona by Night


Shakespeare's Verona


Verona by Bycicle


Undergroung Verona Tour


Verona by Plane


Roman Verona Itinerary


Middle Age Verona


Dante's Verona


Venetian Verona


Austrian Verona


Verona Churches


Sanmicheli's Verona


Verona Hidden Treasures


Museums of Verona


Itineraries in Valpolicella


Itineraries in Soave


Custoza


Lake Garda


Palladian Tours
Guided Tours: Venetian Verona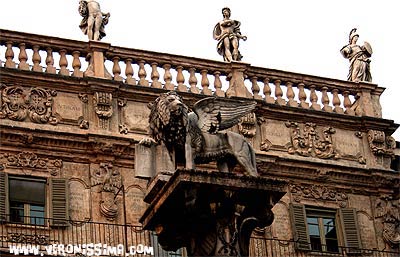 From 1404, after more than two hundred years of independence, Verona fell under the rule of the powerful Republic of Venice. Winged lions, symbol of Venice, were raised everywhere, on public buildings, in squares, on towers. Verona lost forever its freedom, but gained peace and became part of a vast political and economic system which gave it prosperity. In the meantime Renaissance spread all over Italy and, thanks to painters like Mantegna or architects like Michele Sanmicheli, in Verona too.
The guided sightseeing tour in Venetian Verona starts from the walls and gates where you can admire the masterpieces designed by Michele Sanmicheli: Nuova, Palio and St. Zeno Gates. In the nearby church of St. Zeno you will admire the famous altar piece by Mantegna, masterpiece that set the beginning of Renaissance painting in Verona.
Your tourist guide will than take you to St. Bernardino's monastery, where you can make a comparison between Mantegna's painting and Francesco Bonsignori, and admire the Pellegrini Chapel, magnificent work by Sanmicheli who draw inspiration from the Pantheon in Rome. If you have time, it is also possible to visit the so-called Morone hall, the unbelievable room completely covered by frescoes representing full size friars and a beautiful Madonna with child.
Going towards the city center it is possible to admire the Gran Guardia in Bra square, an imposing late Renaissance building which was the military academy of Verona and now hosts a multi purpose exhibition center.
In Erbe square, in the heart of Verona you will discover the Mazzanti houses, with their frescoed facade, most representative remain of the sixteenth century urbs picta (painted town) when all building. In Signori square you'll then find the Loggia del Consiglio, the first Renaissance building in Veneto region, astonishing for its beauty and elegance. Not far you'll find the mouths of the lion, the holes where in Venetian age were put secrete denounces against usurers, smugglers and conspirators.
Together with your tourist guide, the sightseeing itinerary in Venetian Verona can be personalized according to your specific needs and tastes, focusing on Sanmicheli's works, on Reinassance paintings with a visit at Castelvecchio Museum or following the footsteps of Paolo Veronese on the left bank of river Adige with a visit in the church of St. Giorgio and St. Paolo.
For further details or information on guided itineraries and tour in the Venetian Verona: