Ripasso Wine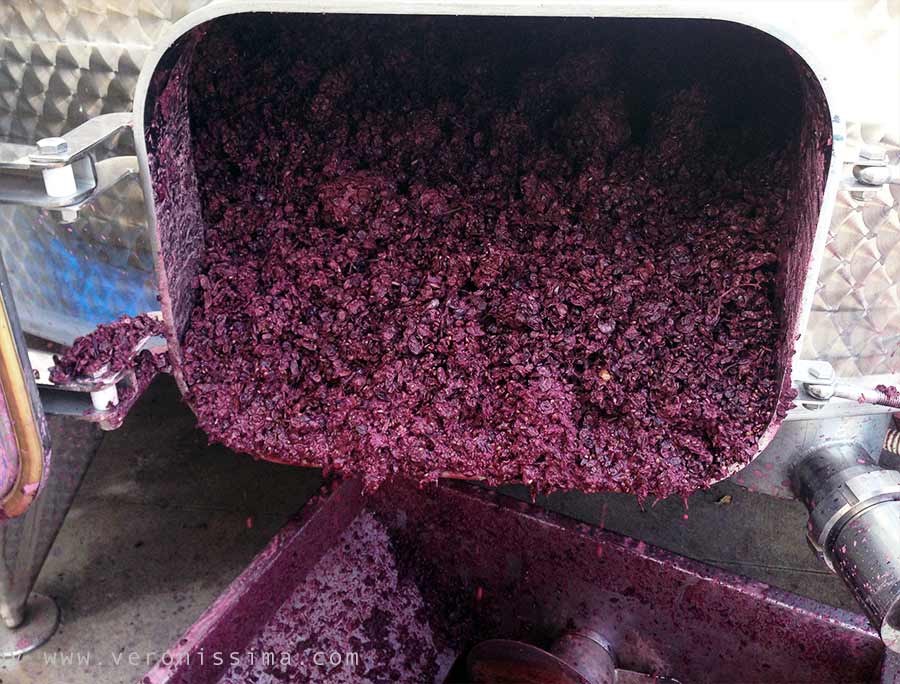 How do you take a secret oenological trick to improve a poor wine and, by flaunting it to everybody, make it the basis of an extraordinary commercial success?
Ripasso is another of those incredible stories of men, territories and traditions of which the world of wine is an inexhaustible source.
Ripasso Wine Tour
There is no a better season to experience the production of Ripasso during your guided wine tour. After all, it is mainly a cellar practice carried out by moving the wine from one vat to another. Anyhow the best period is between mid-January and mid-March, when most wineries perform Amarone racking.
Ripasso is a production technique of Valpolicella region, its origins are lost in the past, when people drank more wine than water and the vineyards had to produce huge quantities of grapes, no matter how diluted and bland. Wines were low in alcohol content, not very concentrated and didn't last long, but on the other hand they were consumed fast, usually within one year from production. Not infrequently a batch of wine would develop defects: fast oxidation, acetic acidity, etc., and remained in the cellar longer than expected. In such cases, the cellar master had a number of options to remedy the problem.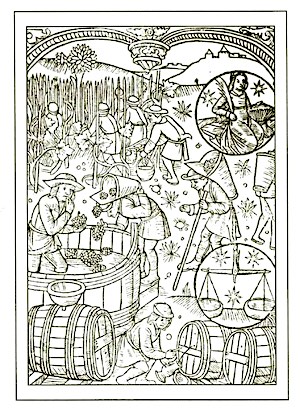 Governo Toscano
In Tuscany, typically in the Chianti area, at harvest time wine makers would leave aside some bunches to dry on racks while the rest fermented, and than put the withered grapes in the barrels with the newly made wine.
For wines that were already bad after a year, there was the RIGOVERNO technique. The wine maker would wait for the next harvest and add a batch of fresh grapes to the old wine to invigorate it with a second fermentation.
Ripasso Technique
In Valpolicella something similar happened. Since Roman time they typically produced two wines. Standard Valpolicella, made with fresh grapes in September/October, and Recioto, a sweet wine made with grapes that undergo a 3-4 months drying period before fermentation. In February or March, after the appassimento (withering of the grapes) period, the fermentation of Recioto finished, and the wine was separated from the skins. Producers would take some of the most insipid and watered down wine from the previous Autumn and put it in vats together with the Recioto pomace. Recioto is made with dried selected grapes, therefore very concentrated and rich in aromas and sugars. It is a sweet wine and this means that it does not complete the fermentation. Because of this, some of the sugars remain in the grape skins at the end of the process. These skins, put in contact with the lower grade wine to be improved, trigger a second fermentation that:
raises the alcohol percentage by one or two degrees
extracts the color left in the skins
adds more structure
The resulting wine was definitely better and more alcoholic and allowed the winemakers to sell it for a higher price. This method is called Ripasso because you REPASS a Valpolicella wine on the skins of Recioto. Producers didn't want clients to know about this trick they used to improve a second-rate wine.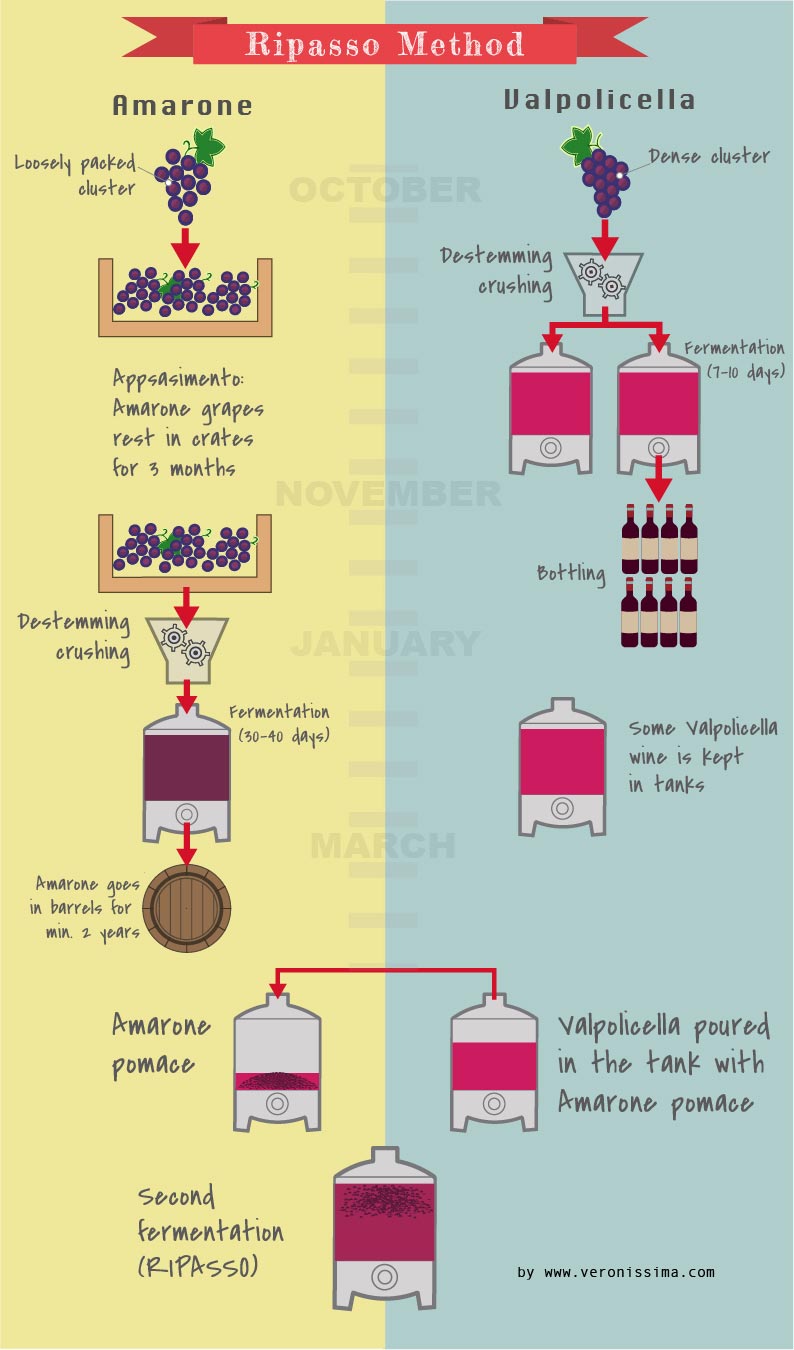 The Ripasso War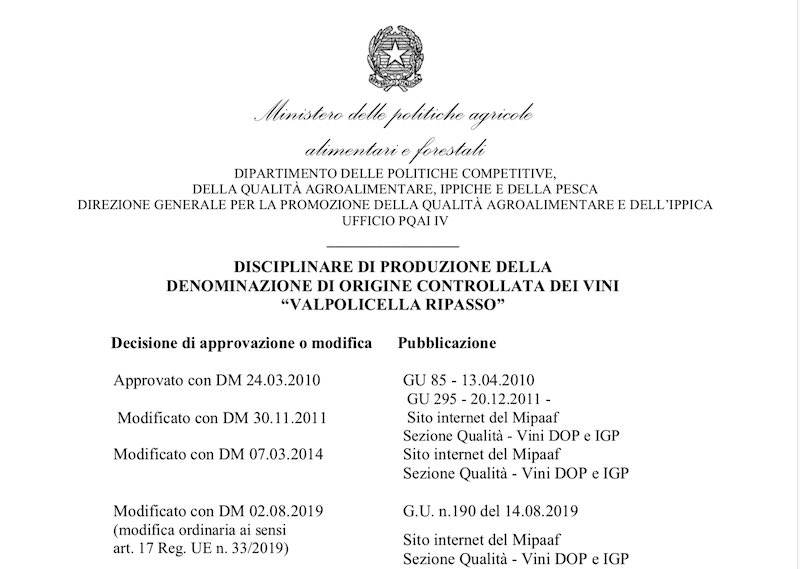 Frontispiece of Ripasso production regulations issued by the Italian Ministry of Agriculture.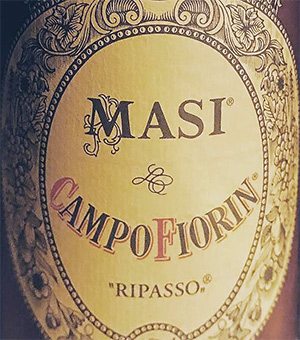 Campofiorin - Masi
In 1967 Masi, one of the most important producers in Valpolicella, launched the Campofiorin, its equivalent of a Valpolicella Superiore. The wine enjoyed an extraordinary success, both in Italy and on international markets. Even today its label is one of the most iconic and recognizable. The word Ripasso appeared on its label. Consumers started to become familiar with the term Ripasso, which they associated with one of their favourite wines, so much that in 1988 Masi registered it as a trademark.
Other producers protested. They said that Masi could not legally patent a traditional method of production that was heritage of a territory, handed down from generation to generation of vine growers and winemakers. After long diatribes and legal sues, in 2006 Masi gave up and made the brand "Ripasso" available to any Valpolicella producer who wanted to put it on the label.
In few years the production of Ripasso wines exploded, fuelled by a constant success with the public.
In 2007 the DOC Ripasso denomination was established and within a few years the production of Ripasso tripled. Wine lovers increasingly appreciate the concept of a wine that is closer to Amarone in terms of structure and aromas but costs one third of the price.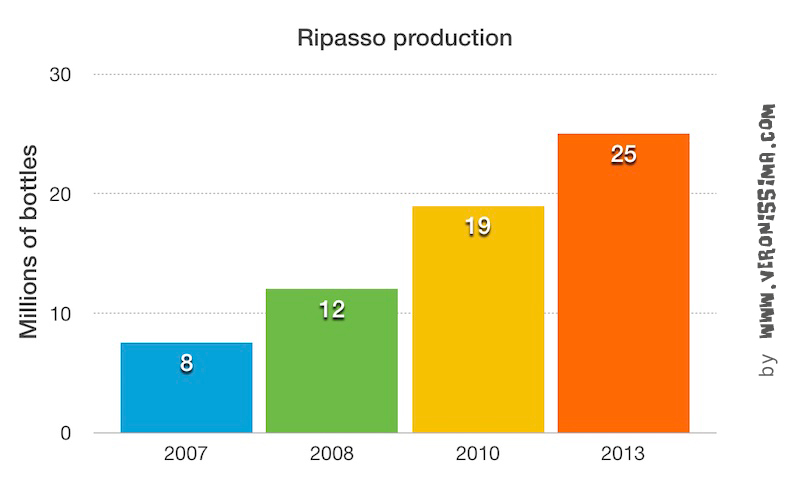 A New Approach
Such large amounts make it impossible to have enough Ripasso only using Recioto grapes since today the production of sweet wine in Valpolicella is very small. Therefore producers started using also the pomace of Amarone which however is less rich in sugar and colour due to a much longer fermentation.
In addition, in order to meet the growing demand, regulations allowed a production of Ripasso twice as much as the production of Amarone and Recioto in the same vintage. This means that the contribution of Amarone pomace to twice the quantity of wine is extremely limited.
So how is it possible to obtain the same result?
Over the years, producers have developed a whole series of techniques.
Ripasso

The Amarone pomace used to make Ripasso is no longer pressed after racking. By doing so it can retain up to 15% of the Amarone wine that ends up in the Ripasso when the second fermentation takes place.



Double Fermentation

When making Ripasso aproximately 70% of the grapes are crushed and fermented immeditately after harvest while the remaining 30% is dried for one month or more and then added to trigger a second fermentation.



Small Amarone

The grapes selected for Ripasso are left to dry for about a month before being crushed for fermentation. These process is literally a shorten Amarone technique.
In case of technique number 2 and 3, winemakers can then put the wine in the same tank with the Amarone pomace for few days in order to legally label the wine as Ripasso although many wineries, in the pursue of originality in a very competitive market, are now using different wording to describe the technique they used.
Ripasso grape blend and aging
As any other Valpolicella wine, Ripasso is also made with a blend of mainly Corvina, Corvinone, Rondinella grapes to which, up to 15% of other local varietal can be added.
If it ages for at least one year before bottling it is classified as SUPERIORE.
Characteristics
Ripasso is often referred to as "baby Amarone", "little Amarone" or, with a less flattering "the poor man's Amarone". Beyond the simplifications, it is actually true that it is a wine halfway between the simpler and easier Valpolicella and Amarone. All the characteristics of Amarone will therefore be found in Valpolicella Ripasso but with little less concentration and intensity: colour, bouquet, scents, etc.
In recent years some producers have created Ripassos so concentrated and intense that they can be mistaken for Amarone. The stori of Buglioni winery's Ripasso has became famous when in a blind tasting it was classified as Amarone. When the sommelier discovered the truth he said that that wine was a liar. The winery then decided to call his Ripasso "Il Bugiardo": the Liar.
Food Pairing
When it comes to pairing with food, Ripasso is one of the most versatile wines you can find. In fact, it can go perfectly with the whole meal, from a tasty appetiser, to a pasta with elaborate sauce, up to main courses, especially grilled or roasted meat.
In Verona they say that, if Valpolicella is the everyday wine and Amarone the wine for special occasions, Ripasso is the week end wine.
Pricing
At the cellar the average price of a bottle of Ripasso ranges between 12/13 euros and 20 euros, with peaks of up to 40/50 euros for the most prestigious wineries.
In most restaurants in Verona you can expect to pay a little less than 30 euros per bottle, certainly one of the reasons for its great commercial success.
Ageing
Most Ripasso's have a medium ageing potential and should be drunk within ten years from the vintage. Some particularly good vintages can go even further, but it would be better not to risk unless you know how the producer works and the particular vintage.
---
Do you want to know more about Ripasso and other Valpolicella and Verona wines?
Are you planning a trip to Verona to visit the wineries where they make Ripasso?
Want to tell us more about your experience with Ripasso?

Please contact us:
+39 333 2199 645
info@veronissima.com