Amarone Wine Tours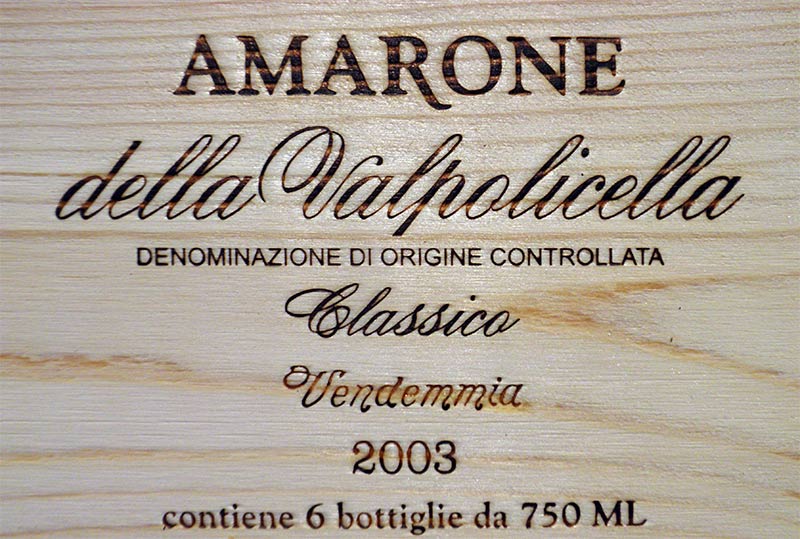 Amarone della Valpolicella is one of the most prestigious Italian red wines. A wine to open on special occasions, to pair with important dishes or to drink as a "meditation" wine.
Have you heard of Amarone and want to know more? Are you already an Amarone enthusiast and want to deepen your knowledge?
You are in the right spot. This is the most complete web page of information about Amarone, told by the wine guides of Valpolicella, where this extraordinary wine is produced. Every day, for decades, we have walked the vineyards that produce its grapes, we have entered the cellars where it ferments and ages and we have tasted hundreds of them, from the most varied wineries and vintages.
We can advise you on the best Amarone wineries to visit, the best labels and vintages to taste, buy and send home.
Amarone Cellar Tours
A visit to an Amarone winery with the guides of Valpolicella is an exciting experience. It allows you to discover the secrets of its production and an entire territory, its history, traditions and food.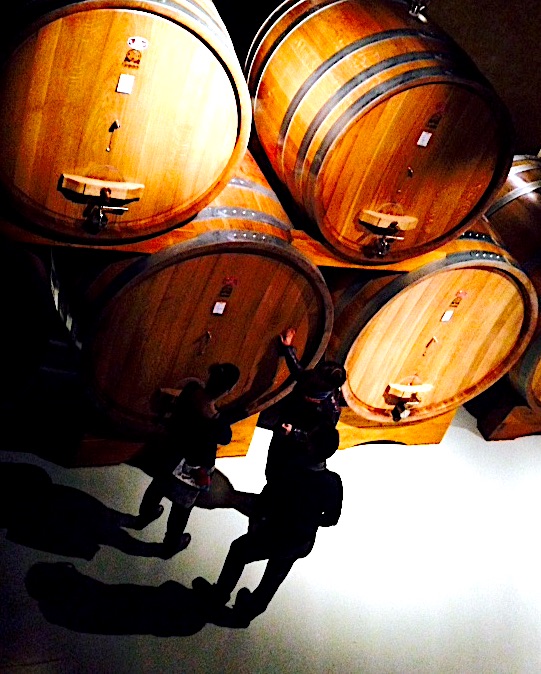 An Amarone wine tour is the perfect gift for a wine lover. An experience to do with your partner or your parent, for those studying to become sommelier, a funny way to spend the afternoon with friends.
Many Amarone cellars are open on Sundays. In some of them you can stay for lunch and overnight. A chance to spend the entire weekend in Valpolicella.
The Secret of Amarone
What makes Amarone so special is a particular wine making technique: the Appassimento (grape drying).
The drying of grapes is a very common method in Italy for the production of sweet wines, called passiti. Once they were very popular and appreciated, today they are a bit out of fashion.
Even in Valpolicella, the region where they make Amarone, a sweet wine is still made: Recioto. It is a very ancient wine, even Emperor Augustus loved it. Recioto is the ancestor of Amarone. The latter, however, is not sweet, and it is indeed very rare that grape drying is used for the production of dry wines. There are only 2 of them: Amarone and Sforzato della Valtellina.
The Origins of Amarone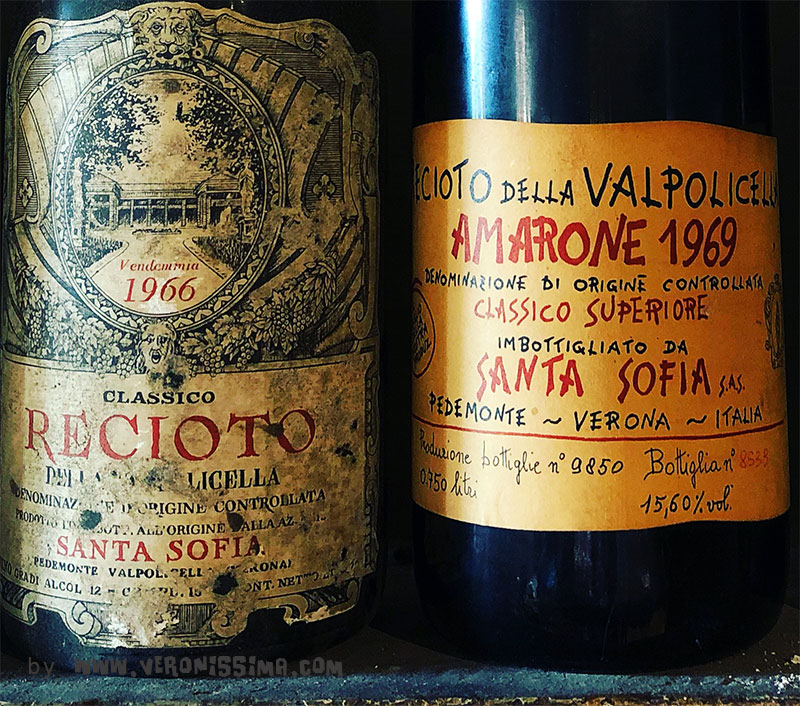 According to legend, Amarone was born in the '30s due to a mistake in the production of Recioto.
Adelino Lucchese was the cellarman of Villa Novare (today Villa Mosconi Bertani). While bottling sweet Recioto he forgot one of the barrels. The wine remained like that, in the forgotten cask, for some years.
When poor Adelino discovered that the cask was still full he feared that the wine had gone bad and that they would fire him. He called the winemaker Gaetano Dall'Ora, and together they tasted the wine. To both their surprise, and Adelino's relief, not only had the wine not gone bad but it was even better. It had gained body, structure and power, but its original sweetness had also transformed into elegance and softness. The fermentation had continued slowly in the barrel, transforming sugars into alcohol. It was no longer sweet, and for this reason it was named Amarone, that, in Italian, means "big bitter" (wine).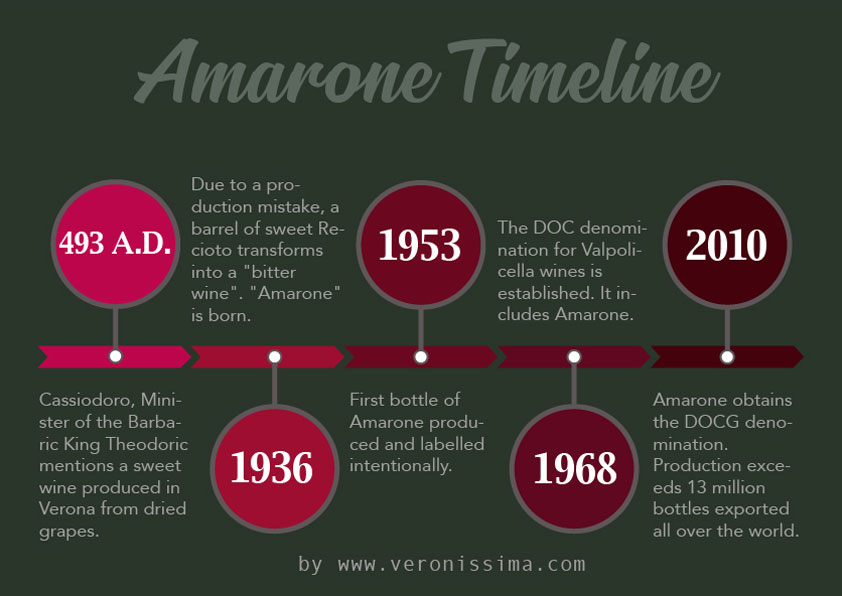 The first bottle with the name Amarone on the label appeared on the market in 1936.
Every year since then, Valpolicella producers have intentionally repeated that mistake.
Amarone has long been labelled "Recioto Amaro" or "Recioto Amarone". When it began to be famous and appreciated on the international market, it obtained its own designation. Recioto is still produced in small quantities.
Amarone Grapes
Recioto, Amarone and all Valpolicella DOC wines use the same blend of indigenous grape varieties. They only grow in Valpolicella, and are the result of the selection over more than 2000 years of the most suitable varieties for this soil and climate.
The main grapes of Amarone are Corvina, Corvinone and Rondinella. Corvina and Corvinone together must be between 45% and 95% of the blend, Rondinella between 5% and 30%.
Only 40% of the total grapes of a vineyard can be selected for the production of Amarone.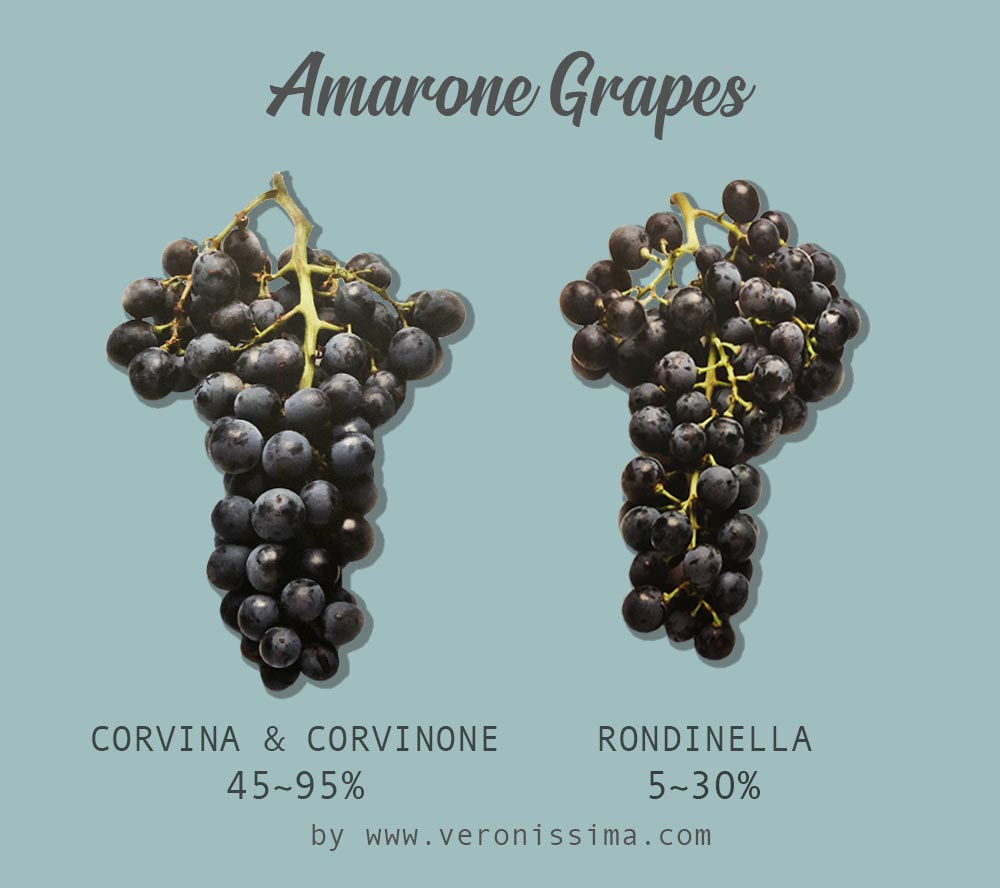 It is also possible to add small quantities of other local grapes such as Molinara (once it was mandatory), Oseleta, Dindarella, Negrara, Pelara, Spigamonti, etc., and in even smaller quantities some national and international varietals.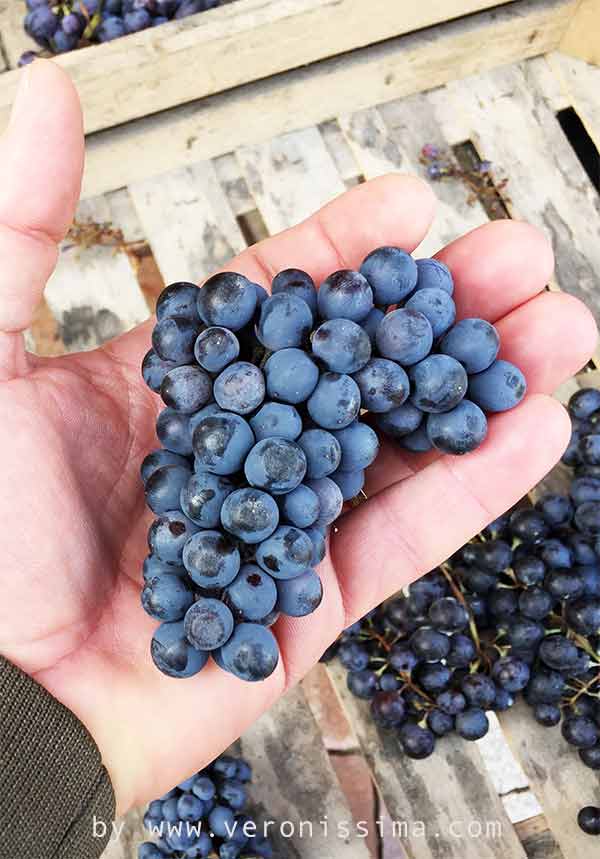 Oseleta
In recent years Oseleta grape has become popular among Amarone producers. The Oseleta bunch is small and compact, with small berries and a thick skin rich in tannins and polyphenols. Added in small quantities to the Amarone blend gives it an intense color, structure and aromas.
Oseleta's yields are very low and this is why it was abandoned and almost completely forgotten. It has recently been reintroduced.
Harvest and Grapes Drying (Appassimento)
The Amarone method is special from the harvest. For any quality wine the grapes must be harvested at the right sugar and phenolic ripeness and the bunches must not have defects or rot.
But all this is still not enough for Amarone.
The selection of grapes for Amarone is very meticulous. The bunches must not be too large and above all they must be loose, i.e. the berries must be spaced out from each other. They say that you have to choose those bunches in which you can see the stalk between one berry and another. We will see why shortly when we talk about the drying process.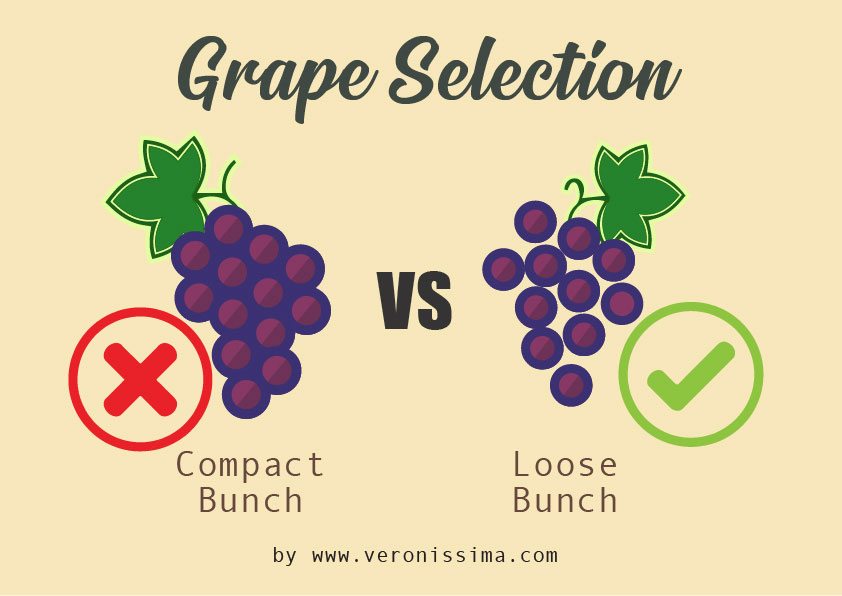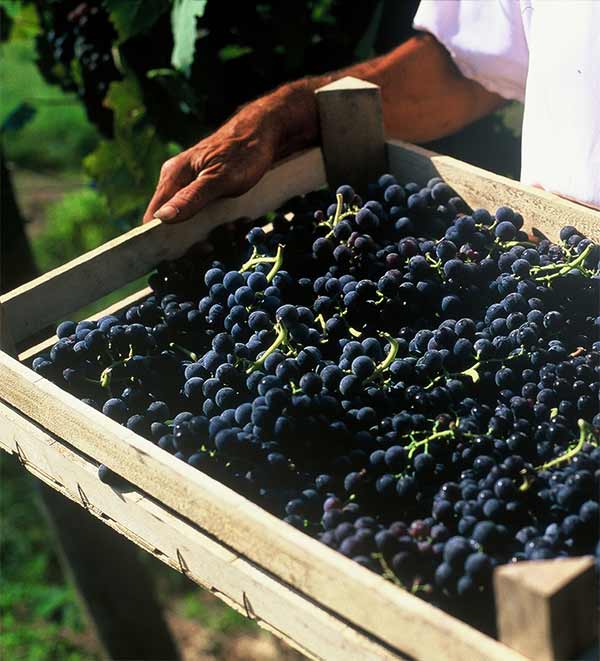 The selected grapes are gently placed in wooden or plastic crates and taken to the cellar. But it is not yet time to crush them.
On the contrary, at this stage it is very important not to crush the grapes and not to tear off the berries. If the juice comes in contact with air, it could start fermentations and rot that would jeopardize the drying process and the quality of the Amarone.
Fruttai (Drying Lofts)
The crates full of grapes are transported to the cellar and stacked inside large rooms called fruttai. They are big rooms usually located under the roofs of wineries or in special buildings close to the vineyard.
For the drying of the grapes some cellars still use arele, special mats made of river reeds.
Other have built high-tech drying rooms where automated systems regulate humidity, temperature and ventilation.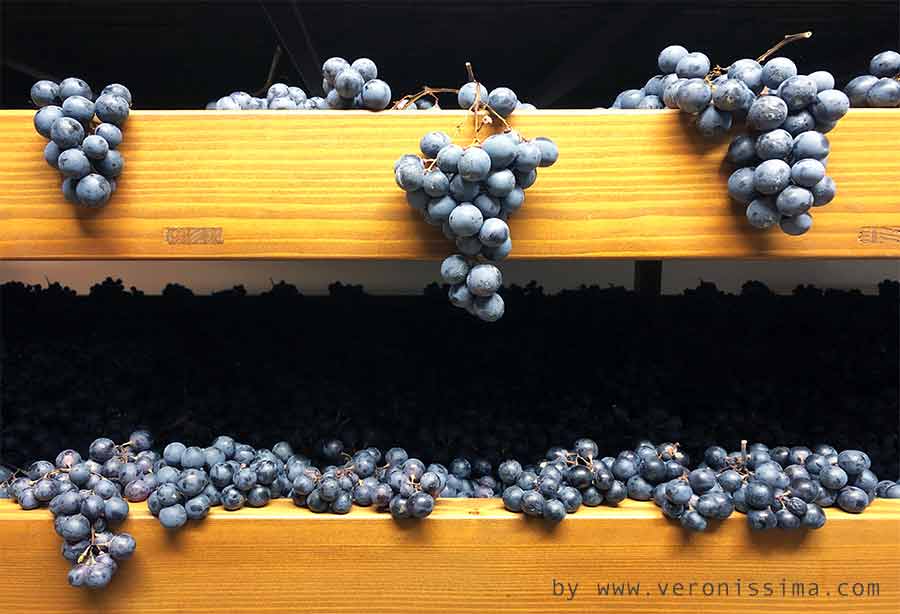 The grapes will rest in the fruttai for the next three months. This is the drying method. If the bunches were not spread out, air circulation would not be uniform around the berries and mould and rot could form due to moisture.
This is why the harvesting of Amarone grapes must be entrusted to experienced staff who know how to select the right grapes and do it quickly. Picking the wrong grapes can affect not only the quality of the wine, but the production itself.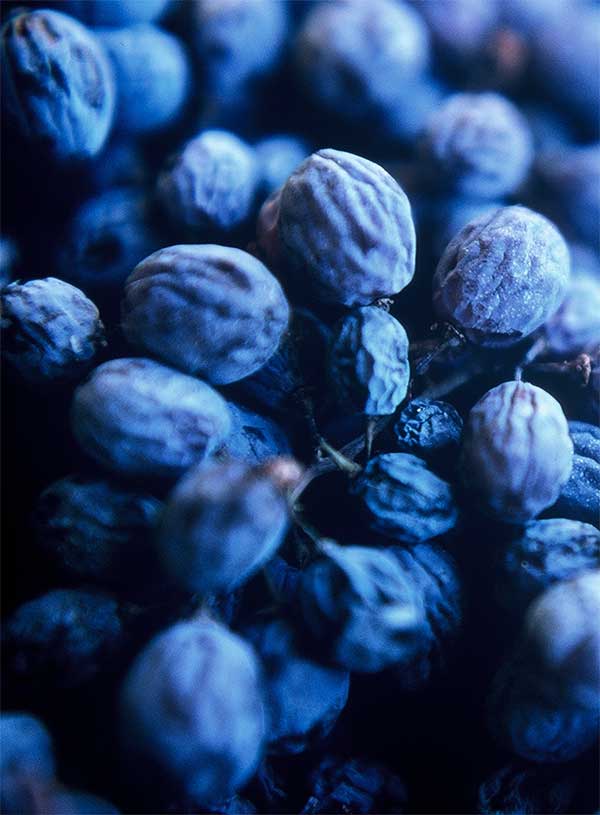 In three months of drying water inside bunches reduces by 30-40%, and the sugars concentrate. During the drying process additional and complex aromas develop inside the grapes.
At the end of the drying period they look like raisins, but there must still be enough juice left to make wine. A juice that is too concentrated would not be able to ferment.
Warmer and warmer Autumns are reducing the drying time. Recently grapes crushing often starts at the beginning of December.
Seeing the drying rooms and smelling the intoxicating air, full of the scents of the raisining grapes, is one of the most exciting moments during a visit to a winery that produces Amarone. To try this experience you need to plan your visit to Valpolicella between the beginning of October and mid-December.
Among the most beautiful fruit rooms to visit there are the ancient and traditional ones of Villa Mosconi Bertani or Serego Alighieri, the immense ones of Tommasi or the modern and super technological ones of Allegrini, Masi or Dal Forno.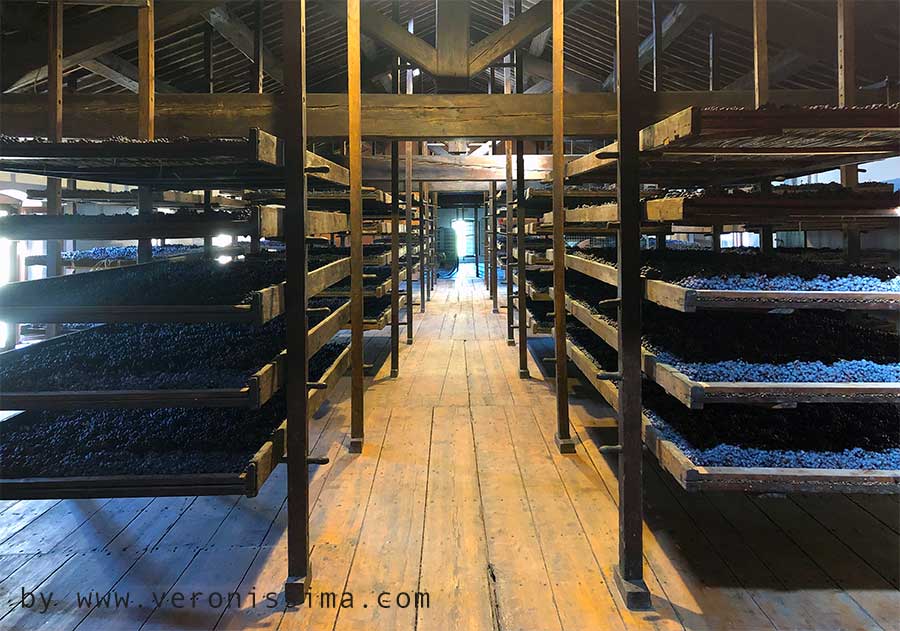 Fermentation
Fermentation takes place in winter, in the coldest period of the year. Once it was in mid-January, now more and more often it is at the end of November or mid-December. The low temperatures and the high concentration of sugar make the action of the yeasts very hard and slow. Complete fermentation can take up to 40-60 days compared to the 10-14 days it takes to make a wine in autumn from fresh grapes. A slower fermentation, however, allows to preserve all the aromas of the grapes. Production regulations state that the percentage of alcohol inside an Amarone must be at least 14%. Nowadays it is almost impossible to find an Amarone below 15%, with most of them around 16% and some that can even reach 17%.
Amarone Aging
After fermentation the wine is not yet ready to become Amarone. It must now move on to the ageing stage. All producers in Valpolicella must follow strict rules if they want to label their wine as Amarone DOCG (Denominazione di Origine Controllata e Garantita). Amarone must therefore age at least two years before being bottled and released.
Almost all wineries age their Amarone in oak barrels. The combinations of shape, size and origin of the wood are endless.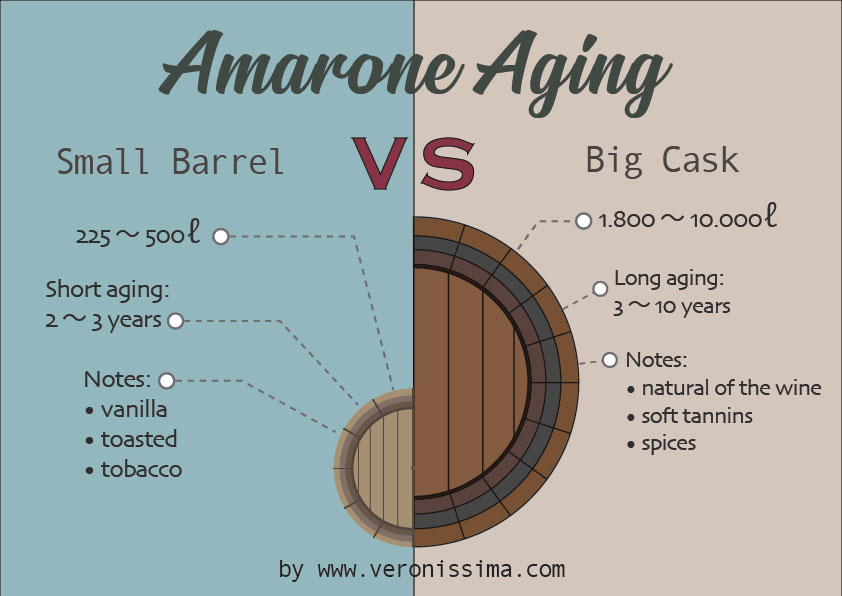 Broadly speaking, we can distinguish 2 approaches to the maturation of Amarone. On one side there is the small barrel. Barrique of 225 litres or >tonneau of 5-600 litres normally in charred French oak. Aging is faster and after 2-3 years the Amarone is ready. Wood releases hints of vanilla, roasted coffee and cocoa, although intensity depends on the age of the barrel and degree of internal charring. Wineries like Allegrini were among the first to make extensive use of the barrique. Other examples of wineries that prefer the small barrel are Dal Forno, Ferragù, Fratelli Vogadori.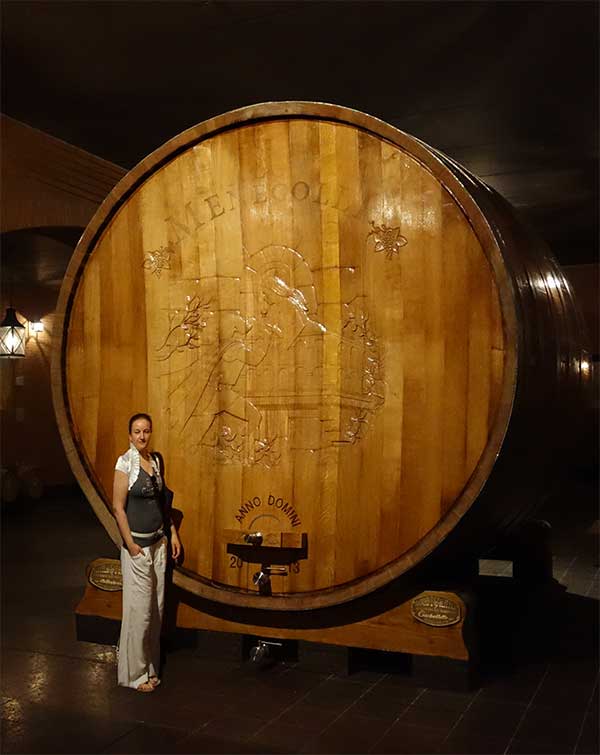 There are then producers who use large barrels, from 18 to 100 hectolitres and more, although the most typical size in Valpolicella is 25 hl. They are made with Balkan oak, mainly from Slavonia.
The aging of Amarone in large barrels is slower, on average 5-6 years. For some Amarone Riserva it can be up to 10 years.
Slavonian oak is neutral, it does not add any distinctive aromas to the wine, but enhances its natural qualities.
Among the producers who age wine in large casks there are Quintarelli, Bertani, Meroni, Villa Spinosa, etc.
In the cellars of Valpolicella you will see some of the largest wine barrels in the world.
Variations
There are wineries that experiment with woods other than the usual oak, such as acacia, chestnut (G.B. Bertani) or cherry (Serego Alighieri). Cecchini Leonardo ages Amarone for two years only in steel tanks, enhancing its fruity character. Recently some cellars are experimenting aging in terracotta jars (Mizzon) and even marble* (Musella).
* The production regulations actually state that Amarone must age for at least two years before bottling, but do not specify in which type of container.
Is Amarone Expensive?
With such a long and laborious process do you still think that Amarone is an expensive wine? Surely for Italian standards, with so many excellent wines at reasonable prices, Amarone is not cheap. If you buy it directly from the winery the price can range from 25 € to 250 € per bottle depending on the producer and vintage. The price of a quality Amarone is on average between 35 and 70 € per bottle. To which you must add shipping costs. On the other hand, Amarone is certainly not an everyday wine.
Amarone Pairing
The Romans used to say "de gustibus non disputandum est", that is, one should not discuss the tastes of others. If you want to drink an Amarone with sushi and sashimi, who are we to say no?
But maybe the best combination of Amarone is with foods with intense and complex flavors that balance the power and structure of the wine. Wild game, tasty braised and roasted meats with spicy sauces, or mature cheeses.
These are only general indications as the styles of Amarone are many and varied. They range from very concentrated and tannic wines to more elegant and balanced ones. Each one is suitable for different dishes.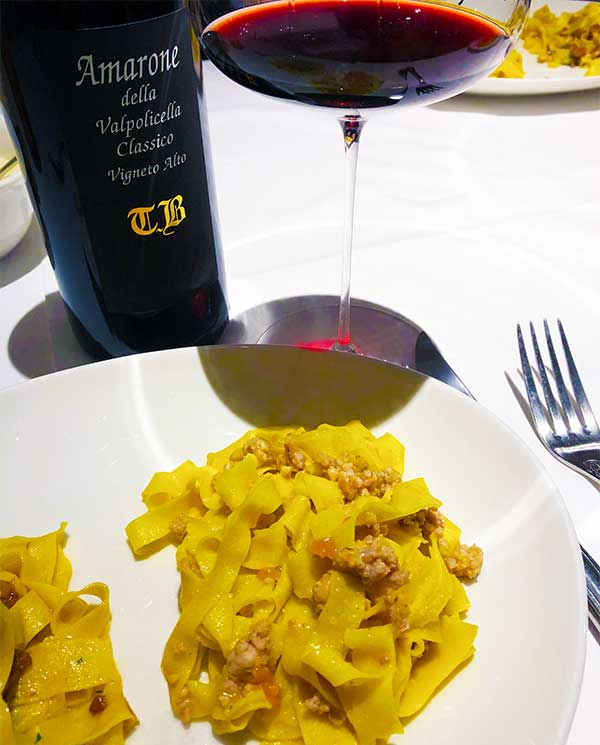 In Verona, Amarone is typically served with "pastissada de caval" (horse stew), fettuccine with donkey or duck ragout, mixed boiled meats with pearà sauce, and long aged Monte Veronese cheese.
It can even become the ingredient of the typical Amarone risotto.
In any case Amarone is a wine for special occasions: birthdays, Christmas, anniversaries and celebrations, when you usually cook something special and elaborate.
Actually it can also be a meditation wine, especially if it is an old and complex vintage.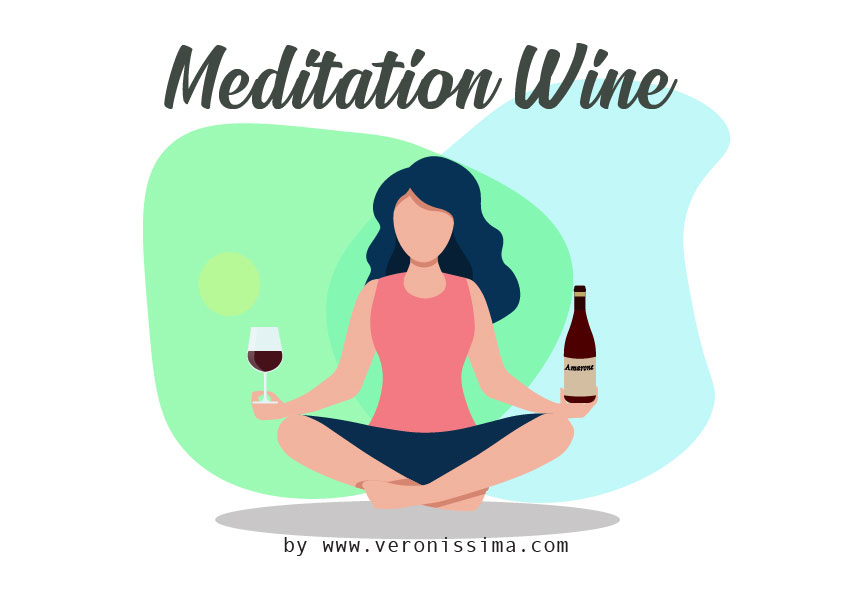 This is how in Italy we define a wine that you can drink without matching it with food, but only for the pleasure of appreciating its refinement and elegance, maybe at the end of a meal. And what better way to meditate than a good Amarone with 16% alcohol?
Amarone Tasting
What do you have to expect from an Amarone wine?
Like all Valpolicella wines produced from Corvina and Rondinella grapes, Amarone has distinct fruity aromas, especially within the first 10 years. Characteristic notes are cherry, black cherry, black currant, blackberry, plum often in the form of dried fruit, in spirit or jam.
Quite common are also floral hints of rose, violet, hyacinth. Over time, spicy notes such as cinnamon, licorice, nutmeg, cloves intensify.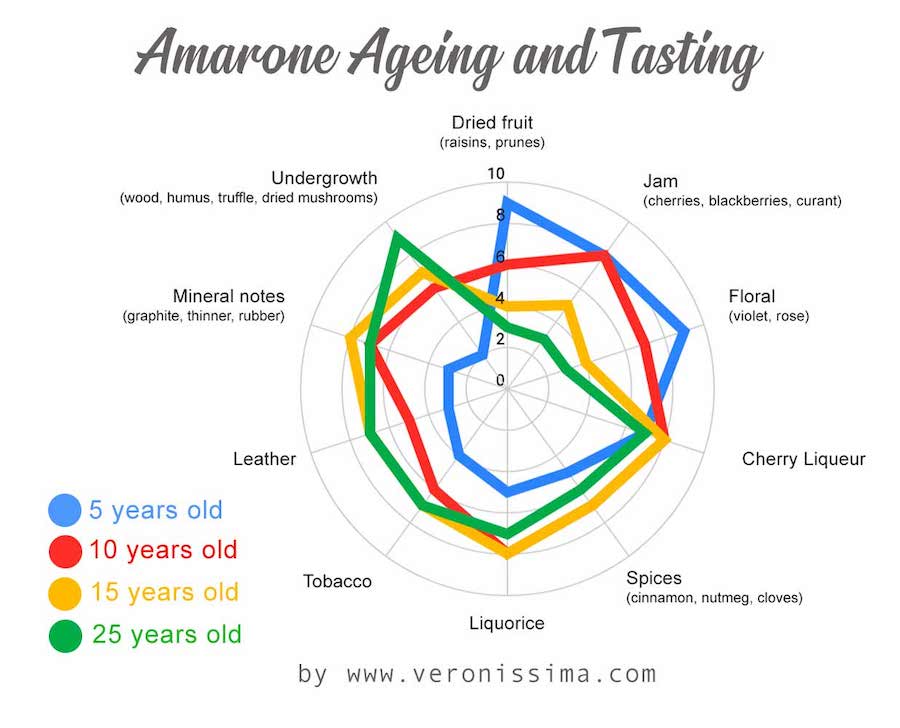 Barrel aging adds sweet notes of vanilla (especially for wines aged in small barrels), roasted coffee beans and ground coffee, cocoa, chocolate, pipe tobacco. Bottle aging is also very important for the sensory profile of Amarone. Wines properly aged in the cellar for ten or more years enrich with tertiary scents of leather, cigar box, dried mushrooms, undergrowth, balsamic hints of mint and eucalyptus.
For great vintages, mineral notes of resin, graphite, tar, solvent often stand out on the nose.
Bottles with 20 or more years of age take on notes of old wood, dried leaves, peat, which give an elegant touch of maturity, although not everyone appreciates it. It is therefore good to understand your own tastes to know at what degree of maturity to open a bottle.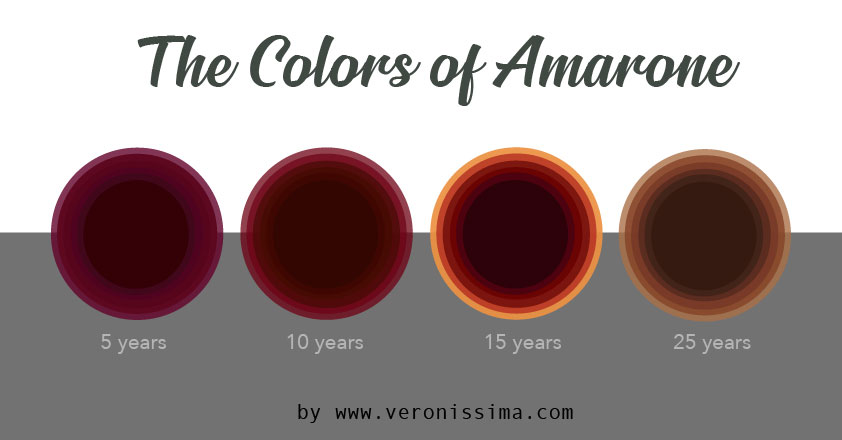 The color of Amarone is also an indicator of age or evolution stage. Young Amarone will have a beautiful intense ruby color that will turn to garnet over time. Amarone 10-15 years old will develop orange hues. Very old vintages will tend to brick color. The intensity of the colour may fade and at times suspended deposits may develop that do not necessarily affect the drinkability of the bottle.
Amarone Styles
There are almost 400 wineries in Valpolicella and they all produce Amarone. Each winemaker therefore tries to create a wine with a personality and character that distinguish it.
In general, recent years have seen a division into two major styles.
On the one hand there are wineries that have maintained a traditional approach: classic blends that include Molinara, low residual sugar (under 4-5g/l) and long aging in large barrels. These Amarones are dry and with good acidity. The use of native grapes alone gives a not excessively intense colour. They are complex and structured wines without being intrusive, with a balance that makes them perfect for pairing with food. Their stylistic characteristic is elegance. Wines of this type are Amarones from Valentina Cubi, Meroni, Bertani.
Then there are the new generation Amarones. They have appeared on the market since the second half of the 90s. Very full-bodied wines, with a higher sugar content (10-11 g/l). In the blend can appear small percentages of non-traditional grapes, which give darker colors and more unusual hints. Ageing normally takes place in barriques. These Amarones have exuberant intensity, made to amaze at first sip. For this reason they are a little more difficult to match with food but perfect as meditation wines. Their stylistic characteristic is power, with notes reminiscent of jam and red fruit compote, sweet spices, chocolate, coffee. Among the most representative wines of this style are Amarone di Zenato, or Forlago di Fratelli Vogadori.
Amarone Riserva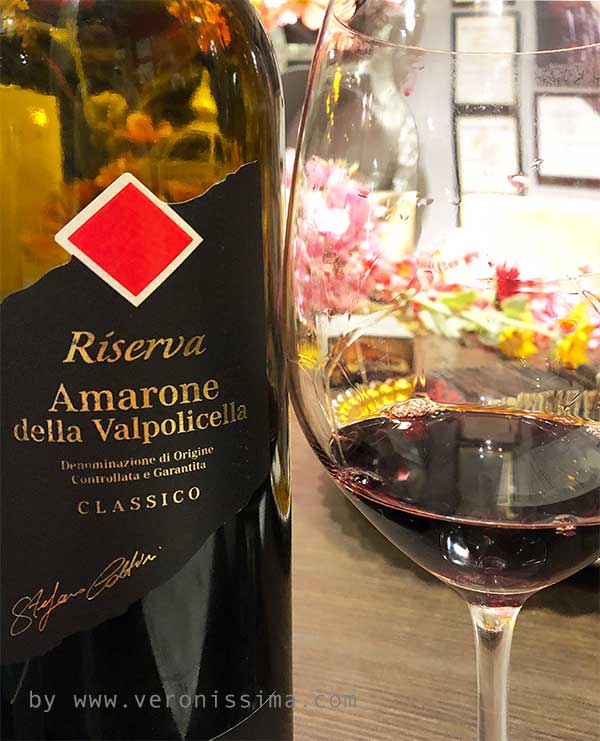 The word "Reserva" may appear on the label of some Amarones. According to production regulations, an Amarone "Riserva" is an Amarone with a non-reducing dry extract* of at least 32g/l, bottled at least 4 years after harvesting. Considering the 3 months of grape drying, the 3-4 months of fermentation, racking, etc., it means that an Amarone Riserva has been in cask for at least 3 years. Many wineries in Valpolicella produce an Amarone Riserva to differentiate their offer with a basic Amarone, produced every year, and a "Riserva" for special vintages or with the grapes from a particularly suitable single vineyard.
* The dry extract are the substances dissolved in a liquid. In wine they are polyphenols, acids, salts and everything that does not evaporate such as water and alcohol. Non-reducing extract is the dry extract excluding sugars. It gives an indication of the structure of the wine. The higher it is, the more full-bodied the wine will be.
Which Amarone?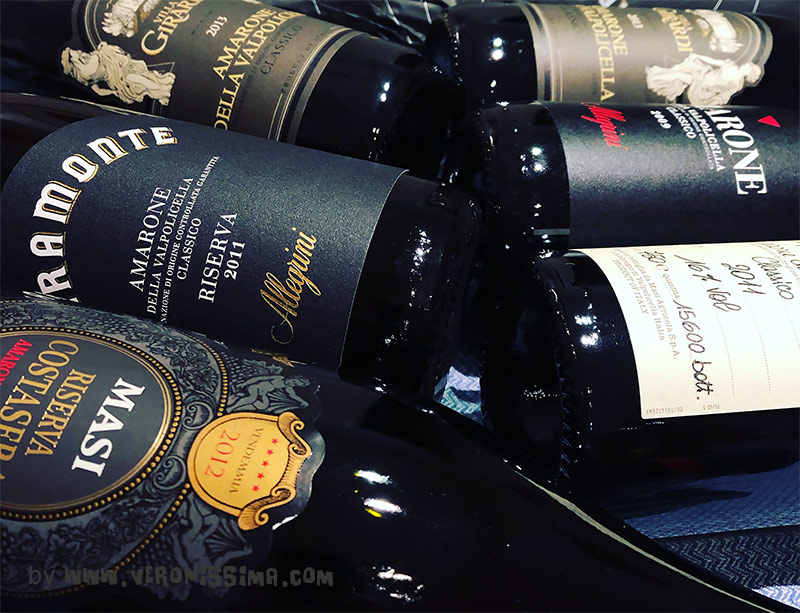 You've never tasted Amarone and you're curious to try it?
Our advice is to start with an easy one, not too expensive, easily available but still of good quality. Entry level Amarones from important and consolidated wineries such as Masi, Tommasi, Pasqua, Sartori, are definitely a good starting point. Different vintages have fairly uniform quality, and you should find them in most wine shops and restaurants.
For the next step you can try more complex Amarones with more marked vintage differences. They are more expensive but still quite available. For example G.B. Bertani, Speri, Tedeschi.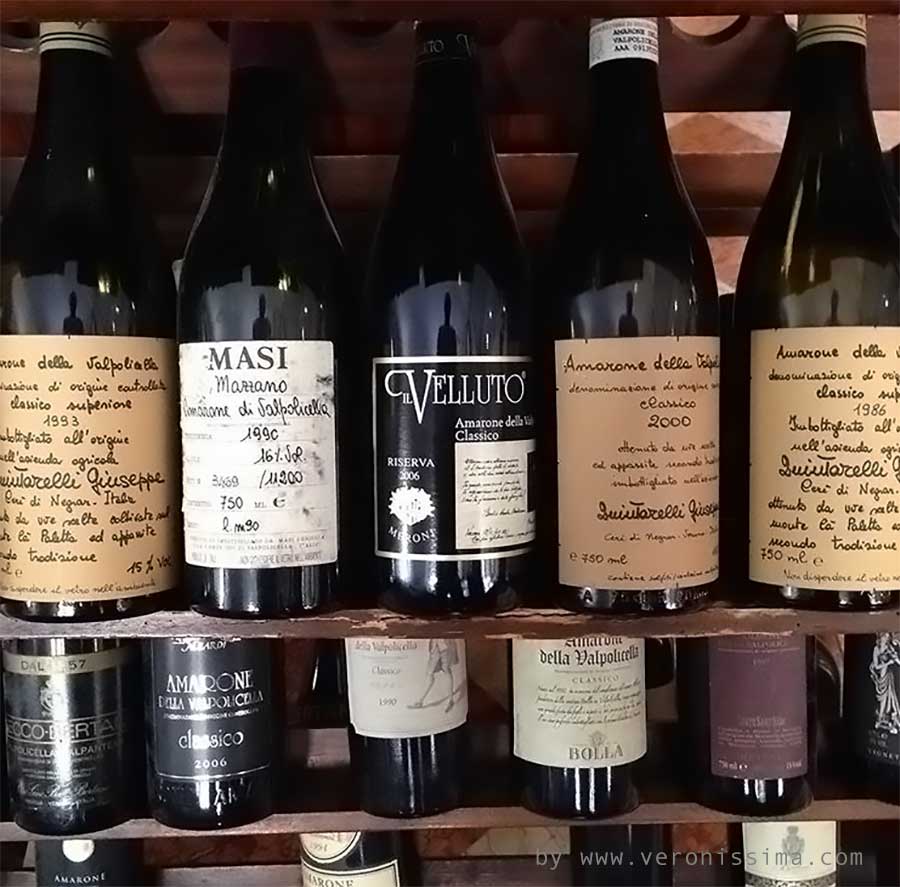 Once you have set some reference points, you will be ready to venture out in search of more sophisticated and niche wines. They are made by small wineries, not necessarily expensive, but not always easily available such as Meroni, Fratelli Vogadori, Valentina Cubi, Carlo Boscaini, Ferragù, etc..
If you want to try the top products of Valpolicella, with higher prices, there are wineries like Quintarelli, Dal Forno, Zymé.
All these wineries are available for visits and tastings. Tell us which are your favourites and which you would like to visit during a tour. We can book tours with tastings in all the wineries that produce Amarone.
Best Amarone Vintages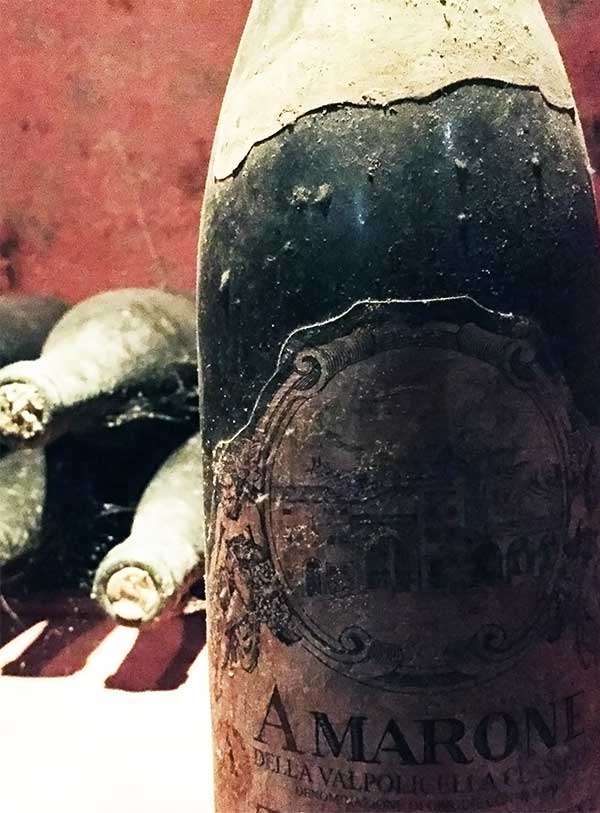 Amarone is one of the wines with the greatest ageing potential in the world.
This means that you will find many old vintages in restaurants and wine shops. But which are the best?
The 2015 is so hyped up that has become almost mythological. It is young, and at the moment (2020) some great producers have not yet bottled it. Hurry up and put a few bottles aside because they'll sell quicly and could reach high prices on the secondary channels.
2016, 2017 and 2018 will also be good vintages. They are still in the barrels for now. 2019, on the other hand, had a rainy summer and harvest and at the moment doesn't bode well.
Going back in time, 2011, 2010, 2007, 2005, 2003, 2001, 1998 are also quite famous. 1997 is a memorable year but is now almost impossible to find. Going even further, there are 1995, 1990, 1988, 1983. And they are not necessarily too old. If properly stored in the cellar a great vintage of Amarone can continue to evolve for 30 years and more. It will give you increasingly complex and refined aromas and scents.
Private Label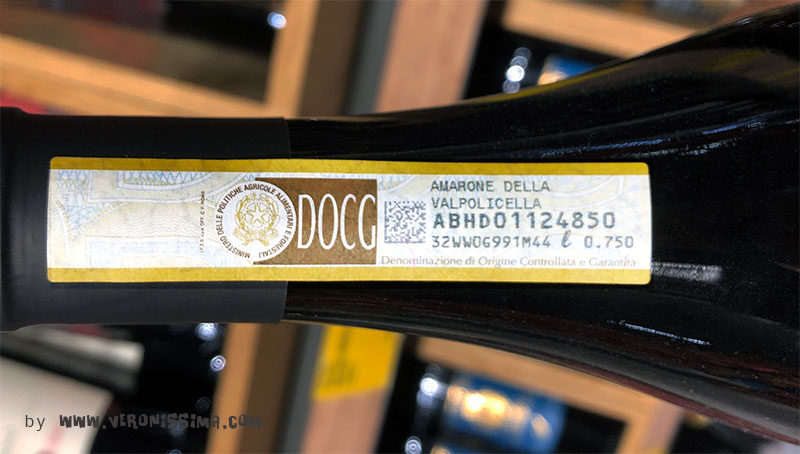 Have you tasted an Amarone but can't find information about the winery that produced it?
If on the bottle neck there is the DOCG tag (only for vintages after 2010), almost certainly it is an authentic product but it could be a private label Amarone.
An importer, distributor or merchant who does not own vineyards and wineries, has commissioned a winery in Valpolicella to produce Amarone on its behalf. The bottle will not be labelled with the name of the winery, but with that of the purchaser. This is a fairly widespread operation, especially in vintages where there is surplus of production. In doing so a winery will not increase the number of bottles with its flagship label thus inflating the market.
Send us a clear picture of the tag on the neck of the bottle and the back label. Through the serial numbers we will be able to tell you who actually made and bottled the wine and possibly book a guided tour there.
Visiting an Amarone Winery
Would you like to know more? All you have to do is come to Valpolicella and see for yourself how Amarone is made and taste various types of this amazing wine in the many cellars in the area.
Contact us and we will provide you with further information or we will organize for you a tour with Amarone tasting. We only provide private tours. Here you can find information on shared Amarone tours.