Verona Wines & Wine Tours
Verona territory represents one of the most important wine producing region in Italy and in the world. Both in terms of quantity, quality and historicity. So much that Verona can be consider a wine tour destination per se.
Bookings and Inquiries
Further information on Verona wines, winery tours
or
book a wine tasting tour:
+39 333 2199 645
info@veronissima.com
Winery Tours
A visit to a winery generally includes a walk in the vineyards, ageing cellar and is followed by a tasting of a selection of the most representative wines. A wine tour can also include a visit to historical sites such as castles, churches, picturesque villages, panoramic spots.
Half day tour
An half day tour starts and finish in the morning or in the afternoon. It lasts approximately 3-4 hours including transfer and allows to visit 2 to 3 wineries.
Full day tour
With a full day tour, 3-4 wineries can be visited together with a stop for lunch at one of the wineries or in a charming and tasty local restaurant.
Unless there are specific requests, wineries are selected among the most representative of the chosen area. More specific tours can also be tailored on customers' specific needs.
Major wineries have English speaking staff, but in any case our guides can provide translation and in depth explanations of wine making techniques, tasting notes, history and traditions. You will be able to talk about wine and wine stories with old wine makers or passionate new generations involved in wine business while sipping incredible wines.
---
Verona Wine Regions
Wide range of red wine styles: light, full body dry, sweet. Particularly famous for Amarone, one of the top Italian denominations.


Among the most exported Italian white wines. Grown on ancient volcanic soils it is characterised by a sharp and elegant minerality.


Light body red or rose produced on the beautiful slopes of eastern lake Garda.


Full body white from Turbiana vines grown on Southern lake Garda. Recently experienced a fast growth in popularity.


Pleasant, light, aromatic white from the rolling hills South-West of Verona.


Classic method sparkling wine from the mountains North-East of Verona province.


Getting to the wineries
From Milan, Venice, Bologna, by car or train, you can get to Verona directly in 1h/1h30'. The city also offer a wide range of accommodation and a lively downtown. From Verona, in less than half an hour drive you will find yourself surrounded by beautiful hillside landscapes and endless vineyards. There, among vines and cypress trees, you will find wineries.

There are many different winery styles: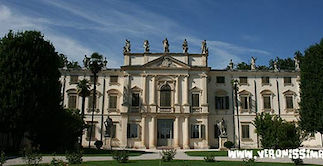 Villa Wineries
Beautiful Renaissance villas, pure architectural masterpieces, with centuries old vaulted cellars.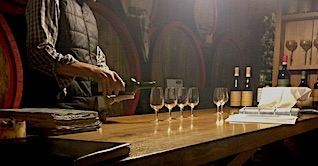 Family Run Wineries
Small family run boutique wineries. Small productions, cozy atmosphere, great wines and experience.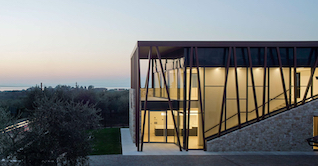 Modern Style
Modern style wineries designed by famous architects and using cutting edge technologies.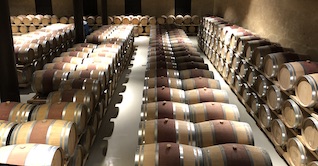 Big Brands
Big, industrial facilities owned by some of the most famous international brands, with huge barrels and cellars.
Most wineries are available for tours, and can be visited with advance booking. There you can stroll along their vineyards enter the humid and cool cellars full of the perfumes of oak, and of course taste their wines.
Other wineries are more jealous and do not like to have people around unless they are connoisseurs and really want to see where their favourite wine is produced.
A winery tour in Verona regions is a unique experience that will let you discover new wines and labels or will make unforgettable a special occasion.
---
Winery Events
Villas and wineries can be rented for events like wedding receptions, corporate meetings or private parties.
Our experienced tour and wine guides will help you in choosing the perfect combination of cellars and sights to suit your expectations and taste and make your experience memorable.
Verona is also a true world wine capital. In every season you will find wine related events. Here is a short list of the most important ones:
Vinitaly: world biggest wine expo (between March and April).
Hostaria: a wine tasting event all over Verona city center (generally in Autumn).
Anteprima Amarone: Amarone wine latest vintage pre-release tasting event (around January or February).
And many more. Send us an email to know what will be going on while you're in town.
---
Wineries
Here are some of the wineries we collaborate with or more often are requested to go to.
If your favourite winery is not listed below, please let us know. Our tour are fully customisable and we can arrange a visit to any winery in Verona wine producing regions.
Valpolicella
Allegrini
Bertani
De Buris
Meroni
Serego Alighieri
Santa Sofia
Tommasi
Villa Bellini
Soave
Rocca Sveva
I Stefanini
Coffele
Bardolino
Lugana
Custoza
Our wine guides are all fully licensed tourist with a special passion for Verona territory and its wines. Many of them are certified sommeliers and they are all passionate about wine, food and local culture. They will be able to show and explain all you need to know to appreciate the wines of Verona. In the planning of your wine tour in Verona we take care of everything: transport, English speaking guide, booking at wineries and even wine shipment if you want to bring few bottles back home.
It will be interesting, informative and fun.
We are happy if you use the information provided on www.veronissima.com to organize a self driven wine tour. Send us a feed back if you find them useful and share your pictures and impresson on our Instagram and Facebook page. Please keep in mind that in Italy alcohol limit in the blood for driving must be below 0.05% (0.5g/l).
For more specific details and information on wine tours around Verona province do not hesitate to contact:
+39 333 2199 645
info@veronissima.com