Verona Bicycle Tour
With a bike tour of Verona, in about two hours, you can reach even those squares and monuments that on foot would require an entire day to be included in a guided tour.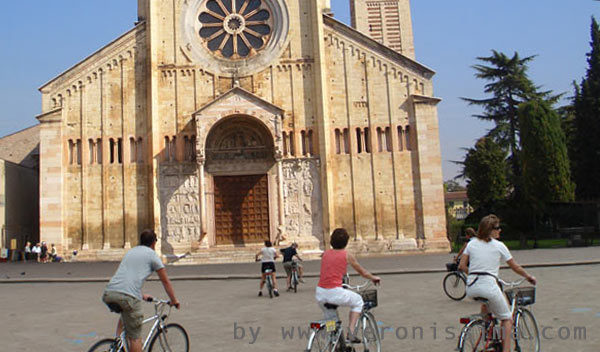 With a day trip by bike, you can also venture outside the city, along the Adige River, to Montorio Castle or into Valpolicella.
Oncoming Tours
Verona historical center is either pedestrian precinct or limited traffic area. In the past few years the number of bicycle tracks and their length has increased considerably and now they connect various areas of Verona. Bicycle it's probably the ideal way to visit Verona. With a bicycle you can easily reach important monuments such as the Venetian city walls and monumental gates, St. Zeno and St. Giorgio's churches, the Roman Theater which can be only visited with a coach or car. With the bicycle you'll be able to get right in front of monuments, sometimes even inside courtyards of museums and churches, without polluting and without the hassle of parking so you will get the most from the time the tourist guide is with you for the sightseeing tour of Verona.
For those who are well trained and fit, it is also possible to climb on the hills surrounding Verona, up to St. Pietro's Castle or the Sanctuary of our Lady of Louvre, from where you'll enjoy a breathtaking view above the town, and visit few Austrian fortresses.
On safe bicycle tracks you'll be also able to visit the eastern side of Verona, its Venetian gates such as Campo Marzio gate or Vescovo gate, and than, through the beautiful countryside, reach Montorio village with its beautiful medieval castle.
The Town of Verona has a system of Bike Sharing with many pick-up/drop-off points all around the city. Renting system for non Veronese citizens is a bit complicate and for similar rates it is possible to take bikes from a few efficient bike rent shop.
Many hotels in Verona city center have few bikes available for their guests.
For bigger groups it is possible to rent bicycle and whisper audio guide for all the participants of the guided sightseeing tour of Verona.
For any further information or detail on guided itinerary of Verona by bike or on other sightseeing tours in Verona:
Further information and bookings:
+39 333 2199 645 info@veronissima.com P.I. 03616420232 C.F. CPPMHL74L13L781C