Santa Maria Antica
Verona Churches
The church of Santa Maria Antica is inextricably linked to the history of the della Scala family, who made it their private chapel, incorporating it into the palaces of their court, and later their cemetery, building the mausoleums of their most illustrious members in the wall and courtyard of the small church: the Arche Scaligere.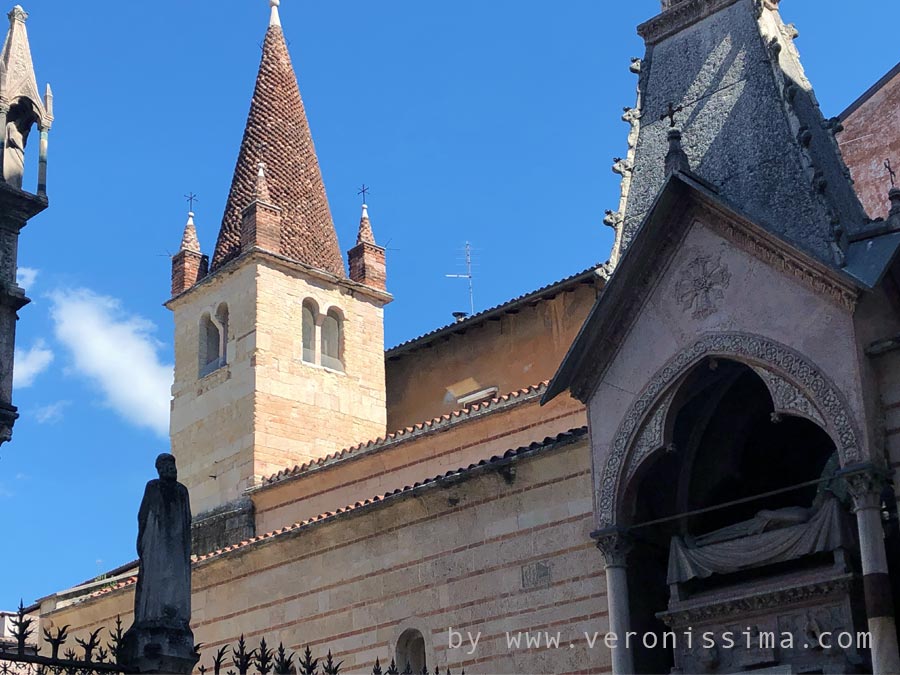 Oncoming Tours
Santa Maria Antica was founded as a Lombard church in the 8th century. A convent with orchard and vineyards was annexed to it, showing how Verona had become rural due to the depopulation of the centuries following the fall of the Roman Empire.
With the rebirth that followed the year 1000, public buildings were built around Santa Maria Antica, which in a short time incorporated it.
After the earthquake of 1117, it was rebuilt in a simple and elegant Romanesque style with typical capitals, splayed windows, the layered wall of tuff and brick and the splendid bell tower.
When the della Scala family established the seigniory in Verona and at the end of the 13th century moved to the new palace of Piazza dei Signori, Santa Maria Antica became the de facto private church.
The Arche Scaligere
The courtyard of the church then became the private cemetery of the Scaligeri. Here are buried the various lords of the Scala who ruled the city. Initially the tombs are large and simple sarcophagi made of red stone of Verona on the model of the Roman ones. With the death of Cangrande della Scala a real mausoleum was built, inserted in the very wall of Santa Maria Antica. Therefore, the main entrance to the church was moved from the facade, now almost completely hidden by the buildings that were leaning against it, to the side wall. The faithful, to enter, must pass under the sarcophagus of Cangrande.
If you want to know more
The Inside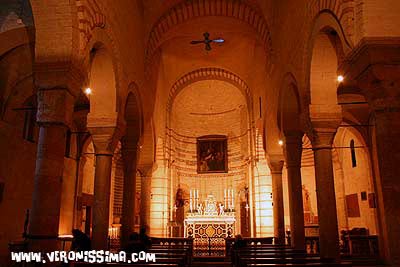 The interior of Santa Maria Antica is simple and austere, divided into three naves.
. The Baroque style altar added in the 1700s contrasts with the simplicity of the walls and the tufa apse.
St Rita
At the end of the left aisle there is a statue of Saint Rita of Cascia. She married an aggressive and violent man, but with prayer and patience she managed to convert him. She is now the patron saint of impossible causes and is greatly venerated by the Veronese faithful.
On 22 May, Saint Rita's Day, the church is always very crowded, especially with women, who come here carrying bunches of roses, the saint's flower, to have them blessed.
Guided Tours
Santa Maria Antica is a small church with a mystical and cosy atmosphere that, together with the Scaliger arches around it, allows you to completely immerse yourself in the medieval Verona. The entrance to Santa Maria Antica is free and the church is normally open on a regular basis even if it is closed at lunchtime.
For any questions or more detailed information about guided tours and tourist itineraries in Verona, write to: