Verona Guided Itinerary


Itineraries for Students


Verona by Night


Shakespeare's Verona


Verona by Bycicle


Undergroung Verona Tour


Verona by Plane


Roman Verona Itinerary


Middle Age Verona


Dante's Verona


Venetian Verona


Austrian Verona


Verona Churches


Sanmicheli's Verona


Verona Hidden Treasures


Museums of Verona


Itineraries in Valpolicella


Itineraries in Soave


Custoza


Lake Garda


Palladian Tours
The Scala Family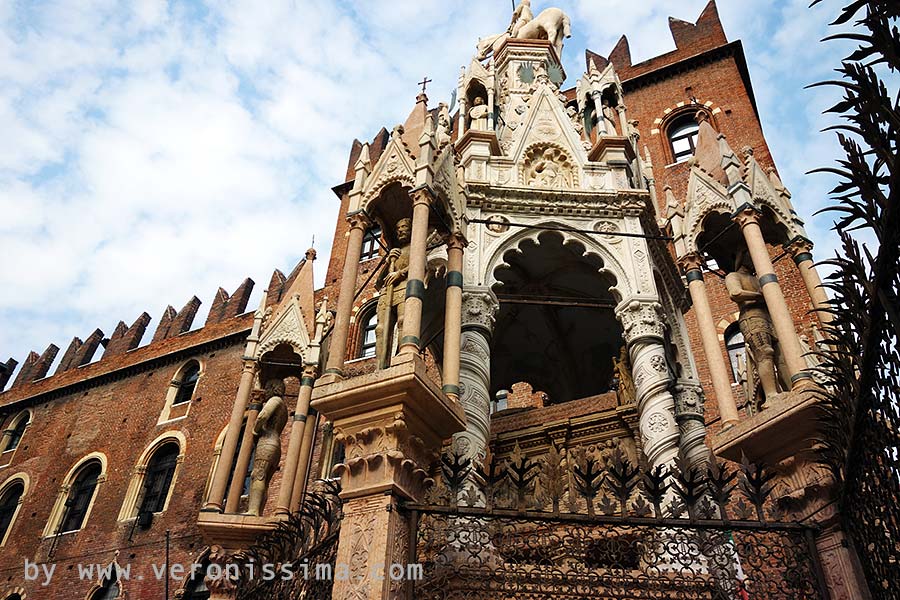 The guided itinerary in Shakespeare's Verona, following the places of the famous and tragic story that can be found in Verona, must stop at the Arche Scaligere, the tombs of the Scala Family. Arche Scaligere are the mausoleums of the lords that ruled Verona from the end of the thirteenth century until the end of the fourteenth century. Even if not a big cathedral, they are considered one of the most representative examples of Italian gothic architecture and sculpture.
Beside their high artistic value, the Scala family tombs allow to talk about the complex historical scenario in which the legend of Romeo and Juliet developed. The feud between the Guelph and Ghibelline parties to which the Scala family belonged, their rise to the control of the town and the fights for power among members of the same family, seem almost taken from a plot of a Shakespeare's tragedy. Mastino I, progenitor of the family and captain of Verona with Ezzelino da Romano, was stabbed to death on his way back home in Volto Barbaro, a dark vault linking Erbe square to Signori square (this too included in the guided itinerary), and Cangrande, the greatest lord of the Scala family, who gave hospitality to Dante, was poisoned in mysterious circumstances.
It is believed that Romeo and Juliet's legend might have taken place between the end of thirteenth century and the beginning of the fourteenth century, when Barolomeo della Scala was ruling Verona.
On the top of their monumental graves, the imposing and rather awesome horse statues of the great Scala family leaders stand out clearly against the sky: Cangrande, Mastino II e Cansignorio. They lived, fought, loved and ruled in medieval Verona.
For any question or further information on guided tours and Shakespearean itineraries in Verona:
There is no world without Verona walls...