Verona Guided Itinerary


Itineraries for Students


Verona by Night


Shakespeare's Verona


Verona by Bycicle


Undergroung Verona Tour


Verona by Plane


Roman Verona Itinerary


Middle Age Verona


Dante's Verona


Venetian Verona


Austrian Verona


Verona Churches


Sanmicheli's Verona


Verona Hidden Treasures


Museums of Verona


Itineraries in Valpolicella


Itineraries in Soave


Custoza


Lake Garda


Palladian Tours
Verona Walls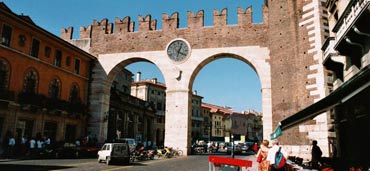 Bra gate was the main entrance of Verona in the age in which it is believed that the tragic story of Romeo and Juliet took place: the end of the thirteenth century.
After the fall of Roman Empire, the town of Verona kept on expanding and new walls were built. At the end of thirteenth century here ran the walls of Verona, a highly fortified town to resist the attacks of rival cities and plunderers in the dark ages.
Today Bra gates, not far from the Arena, are considered the way Romeo took when he left Verona on exile saying the famous words:
"There is no world without Verona walls,
But purgatory, torture, hell itself.
Hence-banished is banish'd from the world,
And world's exile is death."
These famous verses by William Shakespeare are engraved on a marble inscription placed on the wall of Bra gates together with a bronze bust of the Bard.
The inscription has been attached to the wall by Juliet's Club, the cultural association which takes care of answering all the love letters sent to Juliet from all over the world and organizes events and plays related to Shakespearean legend. The gates, together with the medieval Verona walls, still intact, are part of the Shakespearean guided tour of Verona.
"Walking with Juliet" it's a very unusual way to visit Verona. Ask a tourist guide to take you to visit all the Shakespearean places of Verona. For information:
There is no world without Verona walls...