Verona Guided Itinerary


Itineraries for Students


Verona by Night


Shakespeare's Verona


Verona by Bycicle


Undergroung Verona Tour


Verona by Plane


Roman Verona Itinerary


Middle Age Verona


Dante's Verona


Venetian Verona


Austrian Verona


Verona Churches


Sanmicheli's Verona


Verona Hidden Treasures


Museums of Verona


Itineraries in Valpolicella


Itineraries in Soave


Custoza


Lake Garda


Palladian Tours
Romeo's House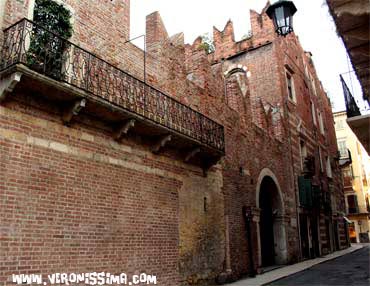 Walking with your personal tourist guide, in the very center of Verona, not far from Juliet's house and Scala family tombs, you'll find Romeo's house. Tradition has it that this rather compact thirteenth century house belonged to Romeo and his family, the Montecchi (Montagues). The house, articulated around a series of internal courtyards, is surrounded by a romantic atmosphere. Rather than a palace, Romeo's house looks like a castle, with its squat tower and the high defensive wall. This shape dates back to an age in which Italy was divided by feuding factions: the Guelphs and the Ghibellines. Family supporting one factions or the other were mortal enemies even if living in the same town. That is why the Montagues, even if in the very center of Verona, protected by the water of the river Adige and by city walls, felt the need to build themselves such a stronghold. On top of the wall of Romeo's house are still very evident the so called swallow tail battlements, symbol of the Ghibelline faction. Dante, who was in Verona at the beginning of the fourteenth century, in few verses of the Divina Commedia, talks about Montecchi and Cappelletti (Montagues and Capulets) and their rivalry:
Come and behold Montecchi and Cappelletti,
Monaldi and Fillippeschi, careless man!
Those sad already, and these doubt-depressed!
Dante doesn't say much about them and their vicissitudes, but for many people this is the final proof that Romeo and Juliet story is not just a legend.
Romeo's house today is a private building and can only be visited from the outside. On ground floor there's a typical Veronese osteria, a local restaurant, where traditional local cuisine can be tasted, especially horse and donkey meet dishes. Even if you cannot enter Romeo's house, from the outside you will feel all the gloomy atmosphere of thirteenth century Verona.
For any question or further information on guided tours, Shakespearean itineraries and weddings in Verona:
There is no world without Verona walls...