Verona Guided Itinerary


Itineraries for Students


Verona by Night


Shakespeare's Verona


Verona by Bycicle


Undergroung Verona Tour


Verona by Plane


Roman Verona Itinerary


Middle Age Verona


Dante's Verona


Venetian Verona


Austrian Verona


Verona Churches


Sanmicheli's Verona


Verona Hidden Treasures


Museums of Verona


Itineraries in Valpolicella


Itineraries in Soave


Custoza


Lake Garda


Palladian Tours
Juliet's House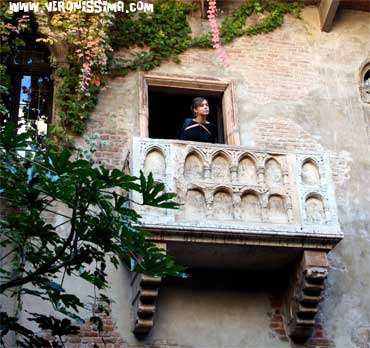 Juliet's house is, together with the Arena, Verona most famous place in the world. It is often the reason why so many tourists come to Verona every year.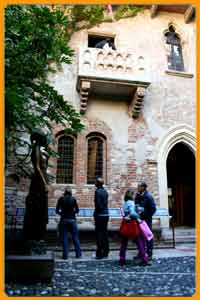 Come to visit Verona and discover, together with a tourist guide, the legends and stories that through the centuries contributed in indicating this building as the house in which the Capulet family lived together with their young young daughter Juliet. Discover the symbols, family crests and the rituals that in recent years developed around the romantic courtyard of Juliet's house, Juliet's balcony and Juliet's bronze statue. The walls in the entrance are completely covered by the names and promises of everlasting love written in many languages, by couples coming to Verona from all over the world.
On February 14th, Valentine day, and September 17th, Juliet's birthday, Juliet's house and its inner courtyard host events, readings, performances dedicated to Juliet and to love.
And now it is also possible to get married at Juliet's house.
For any question or further information on guided tours,Shakespearean itineraries, and wedding at Juliet's house in Verona:
There is no world without Verona walls...