Verona Guided Itinerary


Itineraries for Students


Verona by Night


Shakespeare's Verona


Verona by Bycicle


Undergroung Verona Tour


Verona by Plane


Roman Verona Itinerary


Middle Age Verona


Dante's Verona


Venetian Verona


Austrian Verona


Verona Churches


Sanmicheli's Verona


Verona Hidden Treasures


Museums of Verona


Itineraries in Valpolicella


Itineraries in Soave


Custoza


Lake Garda


Palladian Tours
Romeo and Tybalt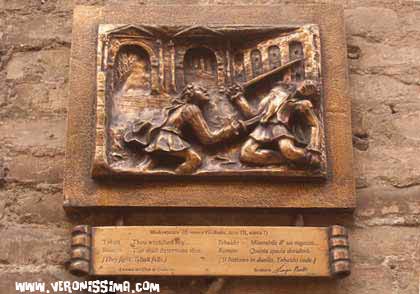 Following the legend of Romeo and Juliet with the Shakespearean guided tour of Verona you will reach Cavour Street on which, until the arrival of Napoleon in Verona at the end of eighteenth century, the famous Palio, an ancient horse race, was held.
There, on the external wall of Carlotti Palace, a grand Boroque style building, right in front of Porta Borsari, the old Roman gate of Verona, a bronze plate recalls the tragic duel between Romeo and Tybalt. The plate has been placed there by Juliet's Club, a cultural association which takes care of keeping alive the legend of the two tragic lovers of Verona with events, plays and commemorative plates like this, placed in Shakespearean places of Verona. Volunteers of Juliet's Club take also care of answering all the love letters addressed to Juliet from all over world.
The reference of Romeo and Tybalt plate, in this case, is not Shakespeare but the two Italian authors that before the Bard, wrote about the two tragic lovers of Verona: Matteo Bandello and Luigi da Porto. The former wrote that the duel took place close to the Roman gate, the latter that it was on the side of the old St Martin Castle (later called "vecchio", old), therefore in the place where, four centuries later, Palazzo Carlotti was built.
On the bronze plate, in the background, the shape of the Roman gate can be seen.
"Walking with Juliet" it's a very unusual way to visit Veron. Ask a tourist guide to take you to the Shakespearean places of Verona. For information:
There is no world without Verona walls...