Verona Guided Itinerary


Itineraries for Students


Verona by Night


Shakespeare's Verona


Verona by Bycicle


Undergroung Verona Tour


Verona by Plane


Roman Verona Itinerary


Middle Age Verona


Dante's Verona


Venetian Verona


Austrian Verona


Verona Churches


Sanmicheli's Verona


Verona Hidden Treasures


Museums of Verona


Itineraries in Valpolicella


Itineraries in Soave


Custoza


Lake Garda


Palladian Tours
Archeological Museum
and Roman Theater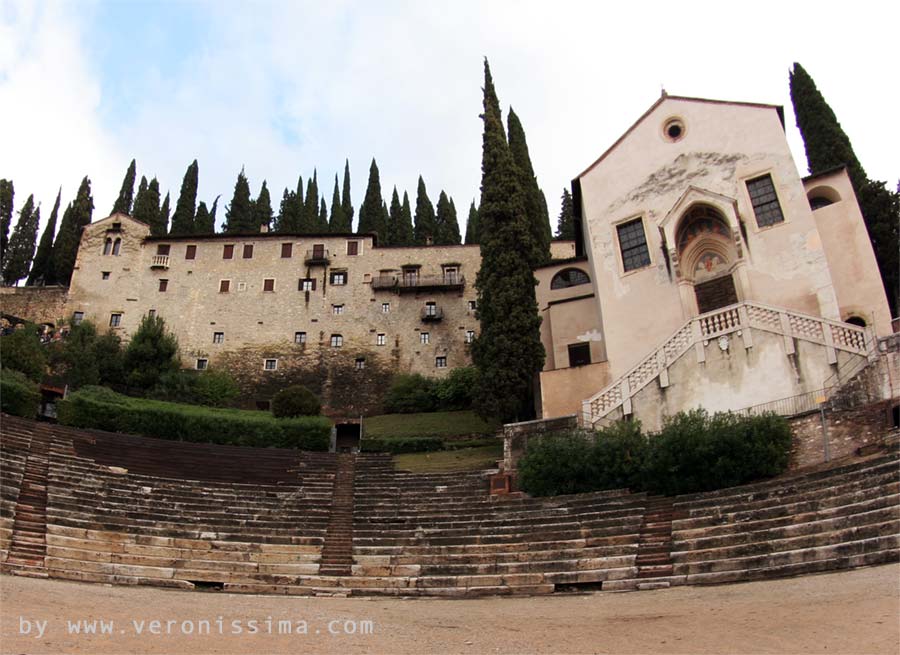 The memory of a legendary Roman theater in Verona never faded after the fall of the Roman Empire and the dark ages of the barbaric invasions. As early as the 10th century, houses and a church were built on top of the theater, completely hiding the seating area and the stage. Famous Renaissance architects, Andrea Palladio too, tried to imagine how the Verona theater might have looked like. Only in the 1800s Andrea Monga (1794-1861) a wealthy merchant, after purchasing the entire complex, conducted excavations and some demolitions. In 1904, the city of Verona bought the property and definitely brought the old theater of Verona back to life.
| | | |
| --- | --- | --- |
| | | |
| | The wonderful panorama that can be admired from the cells of the old Convent of St Gerolamo. On the background the Roman bridge (I century A. C.) and the episcopate whose tower was built using the stones from the scene of the Roman theater. | |
| | | |
Only the church of Saints Siro and Libera was preserved and still nowadays, with a quite surreal effect, rises alone from the stone steps of the theater.
In 1923, the city of Verona created the Archeological Museum in the cells, refectory and church of the old convent of St. Gerolamo. In it are exhibited mosaics, bronzes, statues, inscriptions, glass, ceramics and all the archeological finds collected all over Verona and its territory.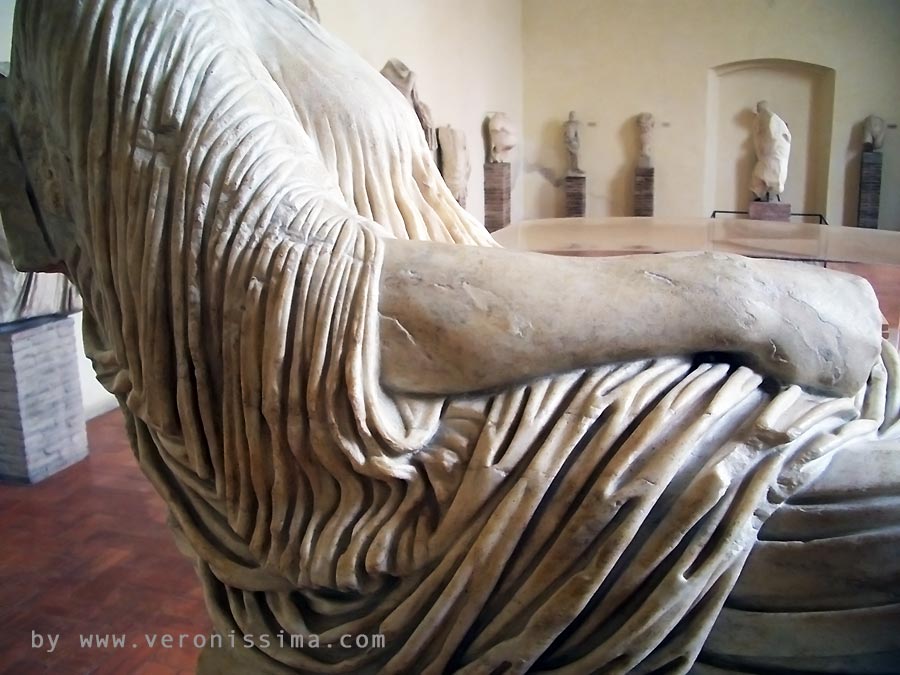 The refectory of the convent, under a painting representing the last supper, hosts a beautiful collection of imperial age sculptures.
| | | |
| --- | --- | --- |
| | | |
| | Many of the finds af the Archeological Museum of Verona comes from well known central streets and squares of Verona old town, written on the explanation label. Others, like this impressive bronze sculpture, were found in the river Adige, that even nowadays keeps on giving back old findings which who knows when and how had fallen in its water. | |
| | | |

| | | |
| --- | --- | --- |
| | | |
| | The mosaic pavements coming from a roman villa in Negrar (Valpolicella). Among the fragments there are some representations of gladiators with all their armors and weapons. It seems that even two thousands years ago people liked to have in their home "posters" of their best sport players. | |
| | | |
Together with a tourist guide, a visit in the Archeological Museum of Verona becomes a way to walk along an historical and artistic itinerary in the old and still used, roman theater, among hundreds of archeological findings.
For any question or further information on guided tours in the Archeological Museum and Roman Theater of Verona, or guided sightseeing itineraries in Verona: