Verona Guided Itinerary


Itineraries for Students


Verona by Night


Shakespeare's Verona


Verona by Bycicle


Undergroung Verona Tour


Verona by Plane


Roman Verona Itinerary


Middle Age Verona


Dante's Verona


Venetian Verona


Austrian Verona


Verona Churches


Sanmicheli's Verona


Verona Hidden Treasures


Museums of Verona


Itineraries in Valpolicella


Itineraries in Soave


Custoza


Lake Garda


Palladian Tours
Corte Sgarzerie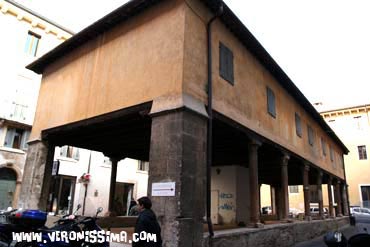 In William Shakespeare's England plays based on Italian stories and legends were already quite popular among theatre patrons. Critics were even complaining of how often Italian tales were copied just to please the public. Shakespeare took advantage of this popularity as, for example, in his writing of All's Well That Ends Well, Measure for Measure (taken from Italian tales) and of course Romeo and Juliet.
It shouldn't be forgotten that in the Italian peninsula there were some of the most powerful countries in Europe and rich bankers lending money to kings. Sixteenth century Italy, with its sumptuous courts, was Europe main artistic and cultural centre, with architects, painters, sculptors and craftsmen producing all sort of goods, especially precious silk and wool fabrics exported and appreciated all over Europe, especially among nobles and in royal courts. Silks, shipped to Venice from the Far East by rich merchants, were processed and woven in towns under Venetian influence like Verona. Wool clothes produced in Verona were particularly appreciated for their quality and beauty and exported all over the continent.
From Italian cities, together with goods, also the legends, the stories and the chronicles of Renaissance Italy often reached countries far away like England and contributed in creating that idea of Italy that still today fascinate the whole world. It should not surprise that William Shakespeare, who had never been in Italy, set many of his plays in Veneto region: Othello, the Merchant of Venice, the Taming of the Shrew, the Two Gentlemen of Verona and of course, Romeo and Juliet.
In Verona, the place where wool was woven and commercialized is Corte Sgarzerie (from garza, a type of wool fabric), a small, hidden and fascinating square, with a beautiful loggia which has recently been restored. It brings us back to the splendour of Renaissance age in the beautiful Verona, where those precious wool fabrics were produced. Together with them maybe, one day, the story of Romeo and Juliet left Verona to reach England where it become one of the most beautiful love story ever written.
For any question or further information on guided tours and Shakespearean itineraries in Verona:
There is no world without Verona walls...