Verona Wedding Locations
Juliet's Hall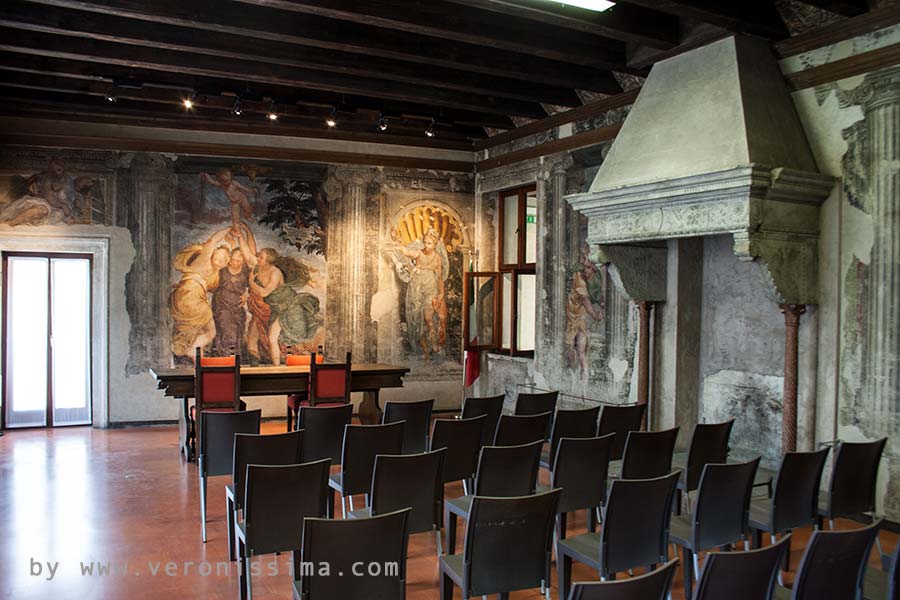 San Francesco al Corso at the end of the thirteenth Century was the only Franciscan monastery outside Verona Medieval city walls. This is one of the reason why it is traditionally considered the place were friar Lawrence, Franciscan himself, got Romeo and Juliet married, and where their troubled love story had its tragic epilogue.
At the end of the nineteenth Century San Francesco al Corso was transformed into a museum where the frescoed facades of Renaissance buildings of Verona and other works of art were recovered. The monastery structure, the cloister and the church were preserved. In the middle of the dark crypt under the church, a grave made of the typical red Valpolicella marble is considered the place where Juliet, believed to be dead by everybody, was laid down, where Romeo unable to withstand the sorrow for the lost of his spouse drank the poison and where Juliet stabbed herself to death seeing her beloved dead at her feet.
A room of the museum, beautifully decorated with sixteenth century frescoes, is traditionally the place where civil unions of couples from Verona, Italy and from all over the world take place. It might seem a bit gruesome, but considering that this is the place where Romeo and Juliet swore each other eternal love and were determined to take their oath to the most extreme consequences, Juliet's grave is a place of high symbolic meaning for a wedding ceremony.
Civil unions are held in Sala Guarienti, a dreamy hall dated 1500, with beautiful frescos and an ancient fireplace, ideal for wed parties of max 60 persons.
Weddings are performed on Saturday. Booking can be made at Verona City Hall.
Veronissima can take care of all the procedures to get married at Juliet's house in Verona and organize your wedding venue in the town of Romeo and Juliet.

For further details, advice or requests: